Top US Senate Democrat Schumer Wants Legislative Response To Banking Ills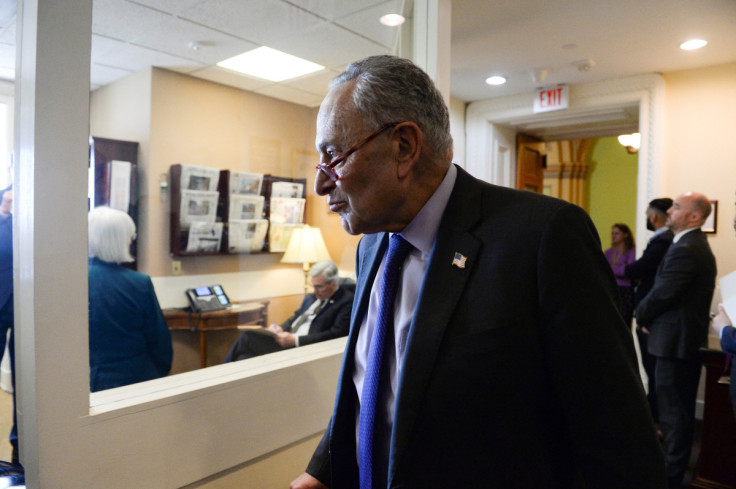 The U.S. Congress needs to act on bipartisan legislation strengthening banking industry controls, Senate Majority Leader Chuck Schumer said on Wednesday, amid global worries over the financial soundness of Credit Suisse and the collapse of Silicon Valley Bank.
"We need strong legislation and hopefully we can put something together that's bipartisan," Schumer told reporters following a closed policy lunch with his fellow Democrats.
Schumer's comments came in response to a question about whether he would support legislation spearheaded by Democratic Senator Elizabeth Warren, which would reinstate banking regulations and oversight rolled back under former President Donald Trump.
He declined to say whether he would support Warren's bill.
Calls for increased oversight of the U.S. banking industry grew as fallout from Friday's collapse of Silicon Valley Bank (SVB) widened.
Senate Banking Committee Chairman Sherrod Brown, however, downplayed the likelihood of Congress passing a "significant" banking bill anytime soon. "There are people who will introduce bills, but I cannot imagine -- with the hold that the banks have on Republicans in Congress -- that we could pass anything significant," Brown, a Democrat, told reporters.
Republicans hold a narrow majority in the House of Representatives and Democrats do not control enough votes in the Senate to advance legislation without Republican cooperation.
Brown said his committee would hold oversight hearings. "We'll bring in the regulators, for sure," he said.
Senators are largely unified on demanding answers from regulators about the SVB collapse.
"Most of our members want to have the question answered by the regulators, what happened? How come they were asleep at the switch and didn't see this coming?" Senator John Thune, the chamber's No. 2 Republican, told reporters.
He disagreed with Schumer on whether more legislation was necessary.
"I think it would be premature to start talking about solutions before we fully define the problem," he said.
Compounding fears of contagion from SVB's collapse is Credit Suisse, one of 30 global financial institutions considered systematically important by the international Financial Stability Board.
On Wednesday stock prices of the Swiss bank plunged after its largest shareholder, the Saudi National Bank, said it could not provide further financial support.
The news re-ignited jitters among investors about the resilience of the global banking system.
"Everybody is concerned" about the impact of Credit Suisse on the U.S. bank system, Senator Bernie Sanders, an independent who caucuses with Democrats, said on Wednesday.
"I don't see this being widespread but it's very, very important to stay on top of it and the administration is," Democratic Senator Debbie Stabenow, a senior member of the Senate Finance Committee, told Reuters. "Nobody takes this lightly and they're monitoring all of this very closely."
© Copyright Thomson Reuters 2023. All rights reserved.