Tornado Looters: Six Arrested For Looting Moore, Oklahoma Tornado Victim's Homes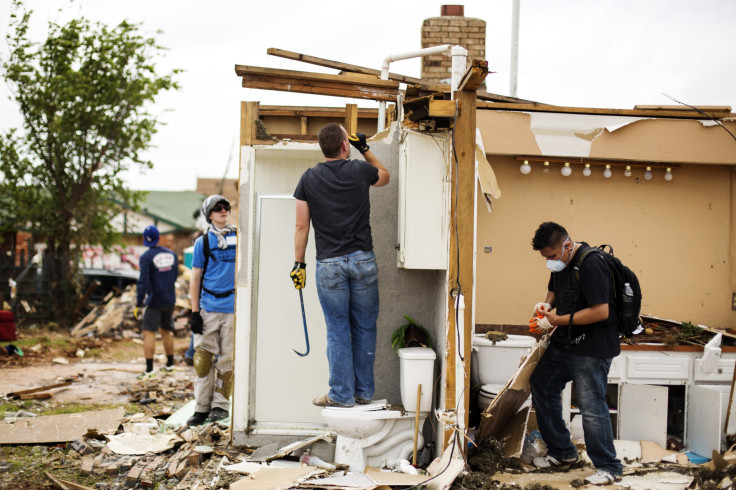 The Moore, Okla., disaster zone looked more like a gold mine to three Virginia-based individuals who were caught looting tornado victim's homes recently. According to The Oklahoman, the three males were among six that were arrested recently in connection with stealing possessions and profitable home materials following the destruction of the May 20 tornado.
Steven Corky Daniels, 36; Steve Costello, 44; and Justin Wagner, 25; were arrested by Oklahoma authorities Sunday after admitting they had traveled from Virginia to loot tornado victim's destroyed households. According to the report, Daniels was spotted by local police carrying utility wire, originally claiming to be the owner of a recycling company; Costello standing next to a vehicle containing a "large amount of steel and cooper utility wire."
Daniels was charged with the misdemeanor of disturbing a disaster area Monday and has since been released on bail. "[Daniels] advised he drove from Virginia to Moore ... with two other subjects for the purpose of removing steels and copper utility wire from the disaster area," stated an affidavit from the Cleveland County District Court.
The Oklahoman reported that three others were recently arrested for similar crimes. A 30-year-old Norman, Okla., resident, Maria Lopez, was charged with disturbing a disaster area on May 30. Lopez was arrested after locals reported the woman using children to sort through storm debris; several stolen items were reportedly found in her vehicle.
Edward Dean McDonald was charged with the same crime on May 29 after police witnessed the Moore resident "loading a refrigerator onto a dolly." The 45-year-old reportedly told police he was given permission to take the items. Osbaldo de Jesus Sagastume-Rodas, 59, was spotted loading "metal, copper wires, tool boxes" into a vehicle, a fellow Moore resident admitted to police he was an illegal U.S. citizen and was arrested on suspicious of looting.
One resident of Moore, the area where a tornado left 24 dead and 240 injured, claims to have lost thousands of dollars in materials since the deadly tornado, reporting more than $70,000 in items were stolen from his damaged property, including a $50,000 wristwatch.
The last massive tragedy on U.S. soil, the Boston Marathon bombings, also resulted in alleged lootings. One unidentified news station captured and broadcasted footage of multiple looters stealing marathon merchandise after souvenir stations were left unguarded following the terrorist attack in April.
© Copyright IBTimes 2023. All rights reserved.