Trayvon Martin Case: Skittles, Arizona Iced Tea Speak Out About 'Commercial Gain' In Death Of Florida Teen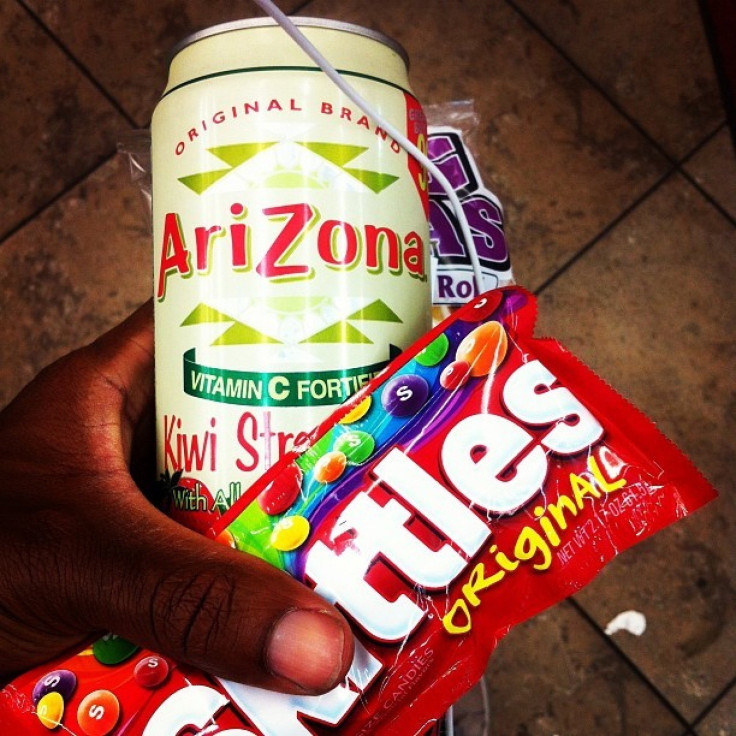 Skittles and Arizona Iced Tea have become symbols in the most talked about news this year, the Trayvon Martin case, regarding a 17-year-old Florida teen who was shot and killed Feb. 26 returning from the store to buy candy and a drink. After being thrust into national media attention, both companies have expressed their condolences for the family of Trayvon Martin and addressed accusations of commercial gain stemming from his death.
George Zimmerman, a 28-year-old neighborhood watch captain, shot and killed Martin with a Kel-Tec 9mm handgun in defense, as he believed the teen was up to no good, though Martin was armed only with Skittles and Arizona Iced Tea, found on him after he was pronounced dead.
Since the story gained national attention through social media, even from President Barack Obama, Skittles and Arizona Iced Tea have been key symbolic elements in the many protests and demonstrations on behalf of Trayvon Martin. In many grassroots movements for Martin, Skittles and Arizona Iced Tea, along with the hooded sweatshirt or hoodie worn by Martin, have become iconic in the case. Participants in the Million Hoodie March in New York City and Los Angeles carried the three items and were encouraged by celebrity Spike Lee to Send bags of skittles to the Sanford Chief of Police, demanding that George Zimmerman be brought to justice.
Everyone Wear A Hoodie Tomorrow &' Bring Skittles &' A Arizona To Show Respect To Trayvon Martin . #SpreadTheWord, wrote Twitter user J_Marks_ThaSpot.
This Trayvon Martin thing has got me eating Skittles> non-stop, wrote Twitter user anthonyjeselnik.
Skittles and Arizona Iced Tea serve as comfort for some who felt the ruling in the case was unjust or as a tribute to Martin, posting photos of themselves on social media websites with the items. However, many have expressed aversion to the commercial nature of the symbolism, offering an explanation that the companies have profited from the death of the Florida teen.
...I bet throughout the entire Trayvon Martin case their sales increase. Google skittles> and see what I'm talking about. Free advertising, wrote Twitter user Melod1Q.
This whole Trayvon thing just making Skittles and Arizona richer - That's all y'all doing - The black dude gets killed and ppl make more $$, wrote Twitter user Adisa_SF2D.
Thrust into the spotlight from critics who believe Skittles and Arizona Iced Tea have profited from the death of the teen, the companies finally spoke out regarding their roles in the case amidst accusations of commercial gain.
First, Wrigley, a division of Mars Inc. and the maker of Skittles.
We are deeply saddened by the news of Trayvon Martin's death and express our sincere condolences to his family and friends, Wrigley spokesperson Jennifer Jackson-Lut said in a statement. We also respect their privacy and feel it inappropriate to get involved or comment further as we would never wish for our actions to be perceived as an attempt of commercial gain following this tragedy.
Similarly, Arizona Beverage Co. based in Cincinnati, Oh. addressed the case as well in a statement to HLN.
Arizona Iced Tea would like to express our sincere sympathies to Trayvon's family and friends, global communications director Jackie Harrington told HLN. At this time, we will make no further comment as we wish to respect the family's privacy and grieving time and feel it is inappropriate to become involved in a private family matter.
Still, others on Twitter are not happy with just a statement acknowledging the teen's death.
@Skittles are you going to donate some of the money or start a foundation with the money you have made from this travesty? wrote Twitter user ForTheByrdz.
You have to wonder if @DrinkAriZona & @skittles would even donate a portion of the profits they've gained from this #TrayvonMartin case? wrote Twitter user AhmedistheOne.
© Copyright IBTimes 2023. All rights reserved.
FOLLOW MORE IBT NEWS ON THE BELOW CHANNELS