Tropical Storm Lee Hits Texas with Wind, Some Rain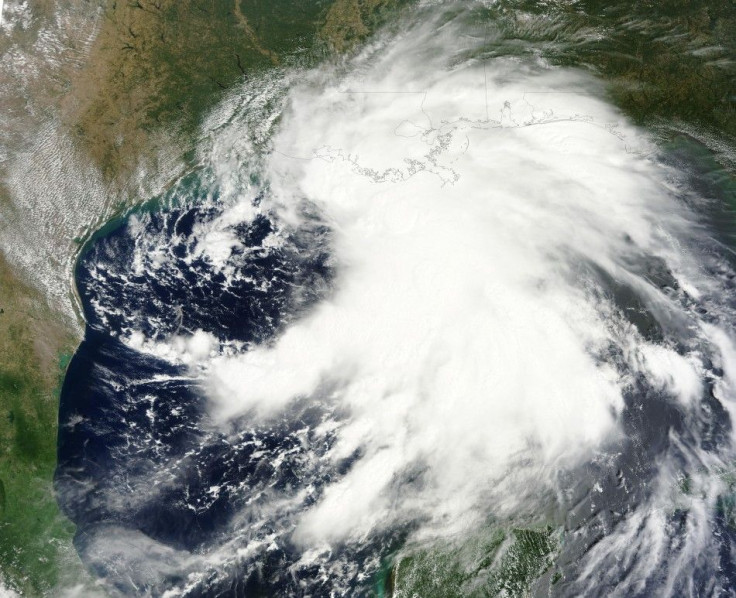 James Taylor once sang, I've seen fire, and I've seen rain, and Texas was seeing some of both on Sunday, courtesy of Tropical Storm Lee.
But unfortunately for the drought-weary state, what Texas got most was the wind: Strong, gusty winds whipping up the wildfires that have burned more than 3.5 million acres of the parched state this season.
On Sunday evening, some 1,000 homes were being threatened in Bastrop County, just east of Austin, as a 14,000-acre wildfire raged out of control and caused evacuations.
In neighboring Travis County, fires caused evacuations and burned homes in neighborhoods to the north and west of Austin, Texas. The fires have caused officials in Austin to ask local media for help in contacting every available firefighter in the area to help with the blazes.
We're a little on edge right now, Texas Forest Service spokesman Tom Berglund told Reuters on Sunday. We have several fires that we thought we had put out, but these winds came up today and started them up again.
As for rain, most Texans are going to have to wait a little longer to see the end of a drought that has already caused more than $5 billion in economic losses.
Lee flirted with the Texas-Lousiana border but ultimately is expected to avoid the Lone Star State.
It sure would have been nice had this storm moved a little to the west and parked itself over Texas for a couple of days, said Ed Levy, a meteorologist at the Weather Channel.
The wind is causing problems for firefighters who are battling a dozen brush and grass fires all over the state.
Berglund said that in addition to feeding the fires, the winds are also drying out any humidity brought in by the tropical storm, prompting officials to issue a critical fire danger alert for the eastern two thirds of Texas. A red-flag wind advisory was also in effect for parts of Texas.
Adding to the danger are thousands of dove hunters fanning into the woods on the first weekend of the state's huge mourning dove season, and the increased outdoor activities caused by the Labor Day Weekend, officials said.
The fire danger we are experiencing poses a severe threat to lives and property, said Texas Forest Service Assistant Director Mark Stanford. This, along with the outdoor activities due to the holiday weekend, will increase the probability for the development of huge and destructive brush fires.
Berglund said firefighters had responded to at least two fires Sunday caused by barbecue pits that went out of control due to the wind.
One brush fire that scorched several acres was caused by a juvenile burning love letters, Berglund said.
I think he was a little surprised that more than the letters ended up burning, he said.
Portions of extreme southeastern Texas have gotten several bands of rain from Lee.
But Capt. Chris Phillips, who runs fishing charter boats into the Gulf of Mexico with Sabine Outdoor in Sabine Pass, Texas, next to the Louisiana border, said the storm has done little but whip up the waves.
We're not going to get out into the Gulf today. The winds are just too strong -- 30 to 40 miles per hour, Phillips said. We did get some rain, and we can sure use it.
Phillips said the rain will be good for duck hunters, when Texas duck hunting season begins next weekend.
The problem is, around here, we don't have any fresh water left at all.
Southeast Texas as far west as parts of Houston got showers from Lee, Levy said, but they caused more trouble than good.
At one point, about 18,000 CenterPoint Energy customers in the Houston area were without electricity, due mainly to power lines downed by gusty winds.
The winds should die down across the eastern two thirds of the state by Sunday evening as Lee continues its slow trek eastward, Levy said.
A cold front coming into Texas, while it will not bring rain, will bring another kind of relief: the end of triple-digit temperatures.
August in Texas was the hottest single month ever recorded in the state, capping what climatologists say could be the hottest summer on record in the U.S. Most areas have seen little respite from daily highs over 100 degrees since mid-July.
High temperatures for most of the state will be in the 90s, but that will feel like a January blizzard to heat weary Texans, Levy said. Forecasts called for lows dipping into the 50s and 60s across Texas throughout the sunny, dry week.
We'll get rain one of these days, Levy promised. We need a lot, and the problem is, we'll probably get it all at once.
© Copyright Thomson Reuters 2023. All rights reserved.