Trump Calls McConnell's Wife 'Crazy', Accuses The Couple Of Trying To 'Get Rich On China'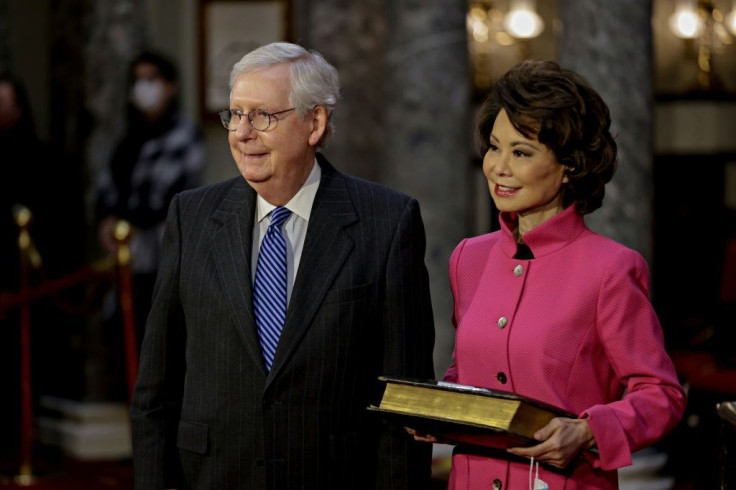 KEY POINTS
Trump blasted McConnell for saying the GOP might not win the Senate
McConnell said Republicans are more likely to flip the House than the Senate due to 'candidate quality'
Trump accused McConnell and his wife Elaine Chao of 'getting rich on China'
Former President Donald Trump has lashed out at Senate Minority Leader Mitch McConnell and his wife, ex-Transportation Secretary Elaine Chao, and accused the couple of "getting rich on China."
In a statement posted on Truth Social on Saturday, Trump called Chao a "crazy wife" and blasted "broken down hack politician" McConnell for saying that the Republicans may not win the Senate in the 2022 midterm elections because of "candidate quality."
"Why do Republicans Senators allow a broken down hack politician, Mitch McConnell, to openly disparage hard working Republican candidates for the United States Senate," Trump wrote. "This is such an affront to honor and to leadership. He should spend more time (and money!) helping them get elected, and less time helping his crazy wife and family get rich on China!"
Chao's family owns the shipping company Foremost Group which transports iron ore, coal and bauxite to and from China. Her sister, Angela, currently serves as the company's CEO.
While Chao had no formal ties to the shipping company, a government watchdog in 2021 alleged that she used her position as the Trump administration's transportation secretary to support her family's business. The report alleged that Chao used her office's staff and resources to edit her father's Wikipedia page as well as promote his biography, "Fearless Against The Wind."
Chao was also accused of failing to disclose her family's connection to the Chinese shipping industry during her confirmation hearings in 2017, according to The New York Times.
Chao was the first Trump official to resign following the devastating riot at the Capitol on Jan. 6, 2021. In a statement announcing her resignation, she called the riot a "traumatic and entirely avoidable event."
Trump's disparaging tweet against Chao and McConnell came after the Senate minority leader on Aug. 18 said Republicans are more likely to flip the House than the Senate because of the "candidate quality."
"Senate races are just different, they're statewide. Candidate quality has a lot to do with the outcome." McConnell said.
While McConnell did not name anyone in his statement, his comments came after a number of Republicans backed by Trump won the GOP nomination in Ohio, Pennsylvania and Georgia.
© Copyright IBTimes 2023. All rights reserved.