Trump Yemen Raid Update: Over 30 Airstrikes On Terrorist Strongholds In Yemen Over Past Two Days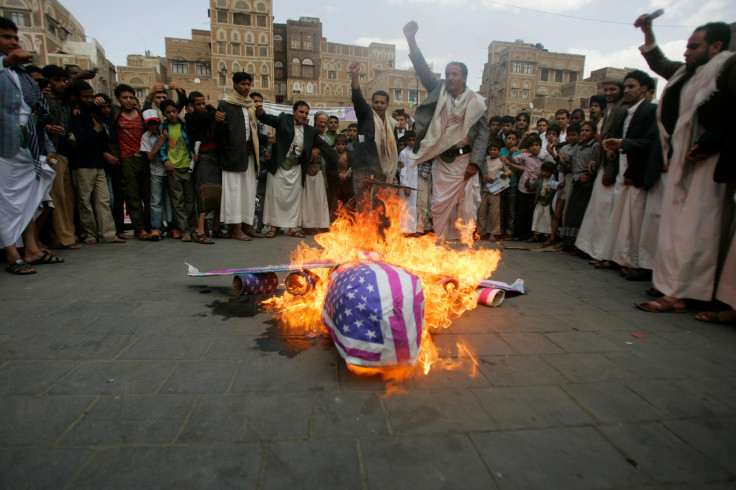 The United States military has escalated its airstrikes against al Qaeda in Yemen, and has conducted over 30 airstrikes using armed Reaper drones and attack planes over the past two days, the Pentagon said Friday.
The ramp-up in attacks al Qaeda in the Arabian Peninsula, or AQAP, follows a ground mission on January 29, five days into Donald Trump's presidency, which led to the death of a U.S. Navy SEAL and over 20 civilians, including children. At least 14 al Qaeda militants were also killed in the raid.
Several questions over whether the raid was worth the loss of Navy SEAL Chief Petty Officer William "Ryan" Owens — an elite U.S. special operator — and an Osprey aircraft have since been raised. Reports also suggested that no valuable intelligence had been recovered, and Yemen, concerned by the civilian casualties, prohibited the United States from conducting ground missions against suspected terrorist groups in the country.
However, on Friday, a U.S. Defense Department official set the record straight on the "botched" SEAL team raid by confirming that the mission helped in the recovery of computers, cellphones and other materials which have since been accessed by analysts to identify phone numbers and names used to located terrorist hideouts, according to the New York Times.
Pentagon spokesman, Capt. Jeff Davis also said that the airstrikes conducted on Thursday and Friday were planned before the January raid and emphasized that they were "conducted in partnership with the government of Yemen and were coordinated with President [Abed Rabbo Mansour] Hadi."
Yemen has been engulfed in a conflict for over a year and a half that has so far led to the deaths of over 10,000 people. The conflict began with the Houthis (Yemen's Zaidi Shiite minority) rebelling against President Hadi's government in late 2014. The conflict escalated into a civil war in 2015 after Hadi was backed by a Saudi-led coalition of mostly Sunni Arab countries. The country is now reeling under a massive humanitarian crisis.
The United Nations relief aid chief on Tuesday said that with 19 million out of Yemen's 26-million population now requiring some form of assistance, the country is at a "serious risk of famine."
"Today, almost 19 million people in Yemen need humanitarian assistance. Seven million people don't know where their next meal is coming from and we now face a serious risk of famine," Stephen O'Brien, the U.N. under-secretary-general for humanitarian affairs, said.
© Copyright IBTimes 2023. All rights reserved.