Trump's Election 2020 Solution To 'Female Recession'? 'We're Getting Your Husbands Back To Work'
KEY POINTS
Trump pleaded for the support of female voters during a rally in Michigan
The president promised to get the female voters' husbands back to work
He previously asked suburban women to support his campaign during a rally in Pennsylvania two weeks earlier
President Donald Trump on Tuesday promised women at a campaign rally in Michigan that he would help their husbands "get back to work," offering up what seemed to be a solution to the vexing problem of growing unemployment among women that is being termed a "female recession."
At the rally in Lansing, Mich., Trump promised to help the husbands of female voters rebound from the economic hardships that have resulted from the coronavirus pandemic and subsequent lockdowns.
"I'm also getting your husbands, they want to get back to work, right? They want to get back to work. We're getting your husbands back to work, and everybody wants it," Trump said. "And the cure can never be worse than the problem itself."
Trump also claimed that his support among women voters could help him defeat Democratic nominee Joe Biden on Election Day, USA Today reported.
"We're going to do great. And I love women, and I can't help it. They're the greatest. I love them much more than the men," the president said.
Trump's rally in Michigan comes following multiple reports that show women account for 54% of the job losses due to the coronavirus pandemic. Working mothers were also forced to reduce their hours by up to five times to care for their children as childcare options have been heavily impacted.
Only 9% of mothers working from home received a promotion, compared to 34% of men with children, Qualtrics reported. The same study found that only 13% of women working remotely received a pay raise, compared to 26% of fathers working from home.
Many experts say the reports show the country's first "female recession" and warned that it sets back the decades of progress made toward women's economic empowerment, Salon reported.
The president made similar comments during a rally two weeks earlier in Pennsylvania, where he asked suburban women to support his reelection campaign.
"Can I ask you to do me a favor? Suburban women, would you please like me?" Trump said. "Please. I saved your damn neighborhood, OK?"
He later claimed during an interview with Lesley Stahl on CBS' "60 Minutes" that he was only joking by asking suburban women to show him support.
"Oh, I didn't say that. You know, that's so misleading. ... I say jokingly, Suburban women, you should love me because I'm giving you security.'"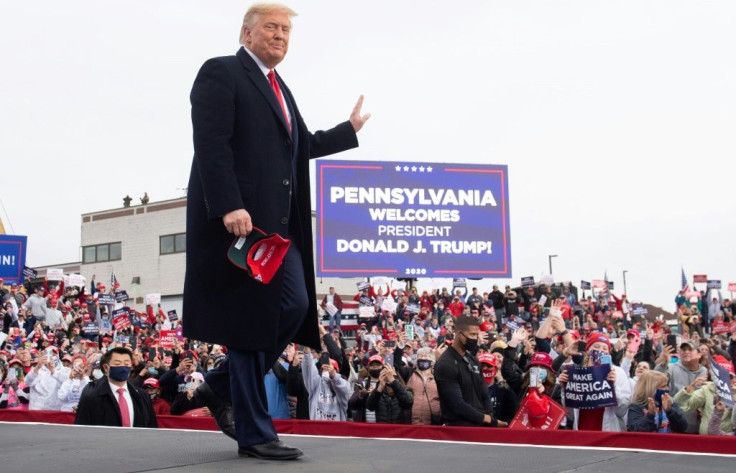 © Copyright IBTimes 2023. All rights reserved.