The Truth About 'Dance Moms': 8 Shocking Facts About Abby Lee Miller's Hit Lifetime Series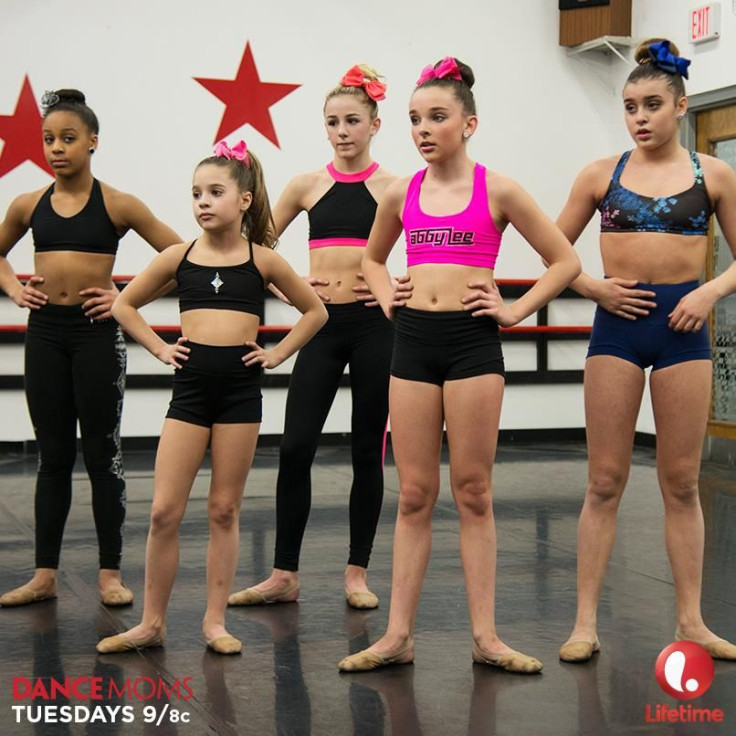 Lifetime's reality-TV series "Dance Moms" is no stranger when it comes to on-camera drama, but what fans of the dance competition program may not know is that some of the most shocking happenings actually occur behind-the-scenes. With four (and a half) seasons under the belt, the a midseason finale set to air Tuesday at 9 p.m. EDT on Lifetime, here are eight shocking facts about the truth behind ALDC coach Abby Lee Miller's hit series "Dance Moms":
Abby Lee Miller was bankrupt before 'Dance Moms'
While girls and their stage mothers may be clamoring to be a member of Miller's elite competition team today, the longtime dance coach wasn't always such a hot commodity. According to a report from TMZ in January, Miller reportedly filed for bankruptcy in December 2010, several months before the first episode of "Dance Moms" aired on Lifetime due to customers "lack of interest" in attending her Pittsburgh-based studio. According to court documents, Miller owed more than $400,000 after falling behind on real estate taxes.
Show was originally meant to star the kids, not Abby
While Miller may be the leading force behind a majority of "Dance Moms" TV drama, she wasn't the intended star for the Lifetime program. In an interview with Pittsburgh Magazine Miller revealed that the series was originally created to follow five dancers and their "involved" mothers from five different cities throughout the country for a 6-week docuseries. So what happened? Miller (who was auditioned only after the show's leads were secured) and her Pittsburgh-based customers apparently stole the show. "They decided there was a whole lot of crazy in Pittsburgh," Miller told the magazine.
The show is edited, not scripted
"It's not scripted one iota," dance mom Jill Vertes confirmed during a June 2013 meet and greet, later admitting that certian situations on "Dance Moms" are "enhanced" or "manipulated" by producers.
Former "Dance Moms" star, Kelly Hyland, who called the show "scripted" during a dance-related outburst last July, has since revoked her claims on Twitter, admitting that the series regulars do not follow a script. "The show is not scripted or staged," Hyland posted. "It is just very edited... to make me look bad."
Moms claims that producers make Abby appear nicer
"Abby goes rogue all the time," said mom Christi Lukaisak during a June 2013 appearance, referencing one stand-out moment when Miller, 47, tossed a chair at dancer Paige Hyland, 13. "They soften her a lot than what you see on television. You should see the bad stuff. They would never show the bad stuff," she said. The kids also seem to agree, when prompted to comment on how Miller acts when the cameras are not rolling during a September 2013 Q&A in Pittsburgh, the ALDC dancers all had similar responses. "She's worse in real life," said Chloe Lukasiak, 12. "Yeah, she's really mean. Don't like her," said Brooke Hyland, 16.
Christi has tried to quit the show
Like her fallen cast member Kelly Hyland, Lukasiak claims she has also tried to quit the series on multiple occasions (despite her six season contract) due to her belief that the children are not treated with respect by Miller and Lifetime producers. "I wanted off the show. Enough was enough," Lukasiak revealed during an April 2013 fan event, referencing to one episode during season three when her daughter Chloe was yelled at by Miller for losing her hat during a routine. "Our bottom line is we are still mothers. We try to protect our children but our hands are tied because we are in a situation where we are under contract with Lifetime and cannot leave."
Kalani is not a real member of the team?
While Kalani Hilliker, 13, was deemed an official member of the ALDC team in season four of "Dance Moms" she isn't reportedly a "real" member of their elite group. In an interview with AfterBuzz TV Aftershow in February dancer Maddie Ziegler, 11, revealed that Hilliker, an Arizona-native from Club Dance Studio, only performs with the ALDC while filming the program. "She doesn't really go to the studio," said Maddie when discussing the show's newest member. "My group is with Nia, Chloe, Kendall."
…And Chloe might not be either
Despite dancing with the ALDC since the beginning of her career, Miller hinted on "The View" back in January that Chloe may also no longer be a true member of her elite team. When prompted to discuss which girls are in her group following her explosive fight with mom Kelly Hyland, Miller responded by saying that Hyland's two children, Brooke, 16, and Paige, 13, are no longer members as well as one other unidentified child. "Her two and another one, they are not members of the Abby Lee Dance Company," said Miller. "They walk into my studio to shoot the show, that's it. The other children, Maddie, Kendall, Nia, Mackenzie, they're there every day."
The kids take pyramid bets
Instead of getting upset over their place on Miller's infamous pyramid each week, Chloe says the girls have fun with the weekly routine in which Miller rates her dancers based on their previous week's performance. "It doesn't really bother me that much. I actually kinda get excited for pyramid," Chloe dished during a meet and greet last month. "We take bets," she said.
FOR FREE to continue reading
✔️ Unlock the full content of International Business Times UK for free
offer available for a limited time only
✔️ Easily manage your Newsletters subscriptions and save your favourite articles
✔️ No payment method required
Already have an account?
Log in
© Copyright IBTimes 2023. All rights reserved.