'Dance Moms' Star Dishes On Chloe Lukasiak's Exit From Abby Lee Miller Series, Says Goodbye After Explosive Season 4 Finale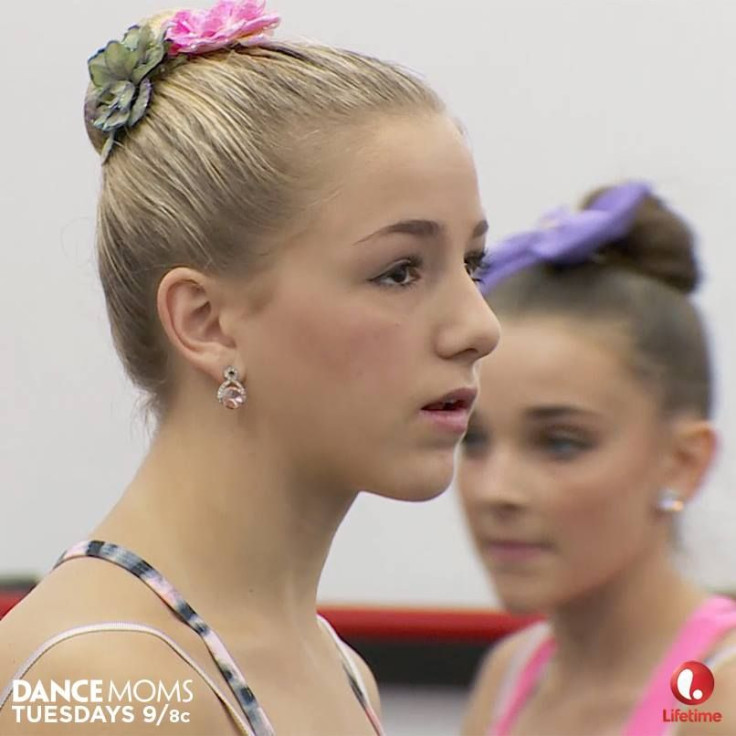 Is she in or is she out? After Chloe Lukasiak tearfully admitted to no longer wanting to study dance under Abby Lee Miller's tyrannical reign in Tuesday's Season 4 finale of "Dance Moms," fans were left hanging in regards to her possible involvement in Season 5. Despite there being no official word from the Lifetime network or the longtime ALDC dancer, one of her co-stars, dance mom Jill Vertes, dished on Chloe and her mom Christi Lukasiak's exit from the program Thursday.
"Want to say thank you for all of ur support. Kendall and I will greatly miss Chloe and Christi!" Jill said on Twitter. "At the end of the day we r all only human."
While the mother-daughter duo have yet to officially address rumors that they have parted ways with the program, Christi's latest tweets have given some "Dance Moms" fans hope of a possible return next season.
"Hey @Dancemomchristi I hear your not going back ???" former "Dance Moms" star Kelly Hyland said to Christi on Twitter Tuesday following the Season 4 finale premiere. Hyland, who was booted from the series for a physical altercation with Abby in Nov. 2013, only recieved two cryptic responses from her former co-star in response. "Where did you hear that?" Christi said before later posting this telling tweet:
Ahead of the series finale, it was speculated that Chloe, 13, and her mom, Christi had parted ways with Abby's Pittsburgh, Pennsylvania ALDC after the teen was spotted posing for a group photo with Studio 19 Dance Complex in September according to one "Dance Moms" spoiler site. The network added fuel to the rumors of their speculated leave by promoting the finale using the tagline, "This season finale could be her last dance."
During the finale, Christi tearfully told cameras she would not allow Abby to hurt her daughter any longer after the coach called her daughter "washed up." Christi later alleged that Abby had also made fun of Chloe's physical appearance, a comment reportedly related to the teen's unspecified medical condition.
"As a mom, I can't sit by and let her sit by and watch this woman destroy my child anymore," Christi said. "My line has been crossed. Dance isn't worth it."
Abby and the rest of the "Dance Moms" cast have yet to comment on Chloe and Christi's alleged leave.
Whether Chloe decides to stay or go, one thing is for certain, she will no longer tolerate Abby's controversial antics. Following the emotional episode's debut, Chloe premiered her anti-bulling, self-love, Just For Kix campaign "Nobody Is You."
"No one is going to be me down anymore because NO ONE is me and #nobodyisYOU," Chloe said on Twitter Tuesday. The video touting the campaign has since received over 79K views.
The "Dance Moms" Season 4 reunion airs Tuesday, Oct. 14 at 9 p.m. EDT on Lifetime.
© Copyright IBTimes 2023. All rights reserved.