Chloe Lukasiak Top 10 'Dance Moms' Moments Ahead Of Season 4 Finale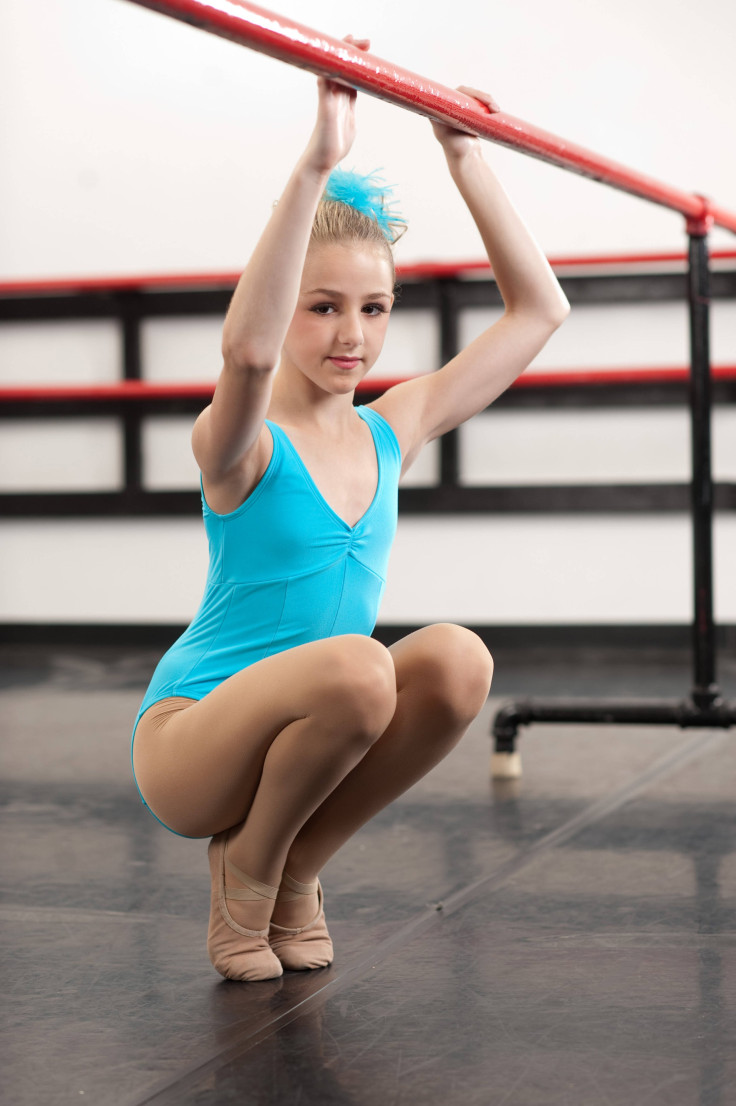 If the previews for the "Dance Moms" Season 4 finale are any indication, Chloe Lukasiak may officially part ways with Abby Lee Miller's ALDC on Tuesday night's installment, "Here We Come Hollywood, Part 2." While her leave from the series has yet to be confirmed, fans are already mourning the potential loss of the 13-year-old fan favorite. Whether or not Chloe and her mom, Christi Lukasiak, decide to leave the program, in honor of her three-year run on the hit Lifetime reality series, here are Chloe's top 10 "Dance Moms" moments:
1. LUX Music Video
After a season of Miller continually comparing Chloe to her teammate Maddie Ziegler, the girls headed to Los Angeles to audition for singer LUX's music video, "It's Like Summer." While Maddie and her mother Melissa thought the win was in the bag, Chloe ultimately walked away with the starring role, playing a younger version of the burgeoning singer-songwriter.
"Chloe, you've got that thing that is just working for this video right now," the producer, Seven, told Chloe.
"I'm so excited," Chloe said. "I finally did it! I made it big in Hollywood!"
2. Joffrey Ballet Scholarship
An exclusive invitation to try out for a Joffrey Ballet summer scholarship took the ALDC to New York in Season 2. "I'm very excited for the ballet audition. I've never done something this big before in my entire dance life, so it's every man for himself," Chloe said. Her mother, Christi, also offered some encouragement. "This is like your forte. You're good at ballet. You look like a ballerina. You have a beautiful body. Go in there and win," she said.
While the audition's judges slammed most of Miller's students for performing more tricks than actual technique, Chloe's natural ballet abilities made a positive impression. "Your natural, just God-given, ability is fantastic. You really have something special just please get into more ballet class," said one of the judges.
Weeks later, Christi received a call from the ballet institute, and Joffrey Ballet leader Davis Robertson invited Chloe to join their summer program on a full scholarship. "She was at the top of our list," he said.
3. Beef Jerky Commercial
While Chloe's appearance in the Candy Apples beef jerky commercial is not her proudest "Dance Moms," moment, it is still very memorable. In Season 2, Miller's rival, Cathy Nesbitt-Stein, invited Chloe to help advertise her husband's Mike's Canton, Ohio, meat business. Unfortunately for the young performer, the gig required her to wear a suit covered in beef.
"From the moment I walked through the door, all I can think is what did I get Chloe into, and I really hope I did the right thing," Christi said. "She does not want to be a little dancing sausage."
Cathy said the unique costume was inspired by Lady Gaga's controversial 2010 VMA's attire. "If she can wear a meat dress, then Chloe can wear a sausage outfit," she said.
While Chloe was initially upset by the strange wardrobe, she ultimately fulfilled her duty as the ad's lead. "Last time I had a professional job, we were all in a music video having fun," she said. "This time I'm in a stinky, dried-up, disgusting beef jerky meat suit."
4. School Comes First
Unlike Maddie, Chloe admitted during Season 4 that she is not interested in leaving school in order to pursue a full-time dancing career. "I love dancing, and you know I couldn't imagine my life without dancing, but I couldn't imagine my life without school either," Chloe told her mom after Abby told Christi to pull her daughter out of public school. "I really like going to school because it keeps me normal. I like being able to see my friends. I want to be able to have a life where I can go to school and dance."
5. Nationals Win
After forgetting her Season 1 nationals number onstage and failing to win, Chloe walked away with a trophy for her nationals solo routine in Season 2. Despite going head-to-head with the Candy Apples dancer Justice, and her longtime competitor, Maddie, she managed to win first for her lyrical routine "Silence" by one-fifth of a point. Her performance win even earned her applause from Abby.
"It feels really good to be winning junior Ms. Energy" said Chloe. "This is a really good step in my dance career, and I just hope that Maddie is happy for me too because I'm always happy for her when she wins."
6. The Engagement
After Melissa secretly became engaged to her longtime boyfriend in Season 2, Abby attempted to extract details about the proposal from Chloe and Melissa's daughters, Maddie and Mackenzie.
"I can't believe you're not more excited about the wedding," Miller told the girls. "What do you think of the ring?"
While Maddie and Mackenzie stayed silent in an effort to abide by their mom's wishes of keeping the engagement under wraps, Chloe almost spilled the beans. "I love the story," said Chloe.
"Wait a minute! What story? Tell me!" Abby asked, only to be shut down by Chloe. "Nothing!" she said before walking away.
"We're not supposed to tell Abby anything," Mackenzie later told cameras. "She's a blabbermouth!"
7. Black Swan
Despite Chloe's sweet demeanor, Abby had her portray the role of the evil swan in her and Maddie Ziegler's Season 1 lyrical/ballet duet "Black Swan." The number, which earned the duo a first-place overall win at nationals, is admittedly one of Chloe's favorite performances.
"I loved it so much because we got to play completely different characters. I got to be sweet and you got to be evil like you love to be," said Maddie during the series' Season 4 special "Girl Talk."
"The best part about it was the mean one won!" said Chloe. "It was just a really good way to dance with one of my best friends."
"This new duet was a little edgier and Chloe looked gorgeous. She was evil, she was sophisticated and she was stunning," Abby said of the number. "They went out their like gangbusters and knocked it out of the park."
8. Dream on a Star
In Season 1, Cathy attempted to sabotage Chloe's win by having her student, Taylor, compete in the same category using the same song. Despite Taylor taking the stage first to perform to "Dream on a Star," Chloe ultimately showed the Candy Apples dancer, placing first overall at the competition.
9. Two Girls, One Solo
After three seasons of fielding complaints from Christi that Maddie got better choreography, Abby had Chloe and Maddie compete the same dance onstage. While Chloe was deemed the first-place winner during the competition's award ceremony, Maddie, who originally placed second, was later found to be the true winner. After Abby approached the judges following Chloe's win, the judges found they had miscalculated the dancer's scores. Despite being visibly upset, Chloe clapped for Maddie's win and voluntarily handed over her trophy.
"The director of the competition told us that there was a mistake in the scores and that I didn't really win and that Maddie won. I was a little upset but I was really happy for her," Chloe said through tears.
10. Chloe beats Kamryn
Despite Abby's decision to give each of her girls a direct competitor during Season 4, Chloe managed to beat out her competition, ensemble team member Kamryn Beck. While Abby reportedly tried to sabotage Chloe's win by pulling the judges aside and complaining that she didn't deserve to place ahead of her dancers, Chloe ultimately kept her first-place score.
The "Dance Moms" Season 4 finale airs Tuesday, Oct. 7, at 9 p.m. EDT on Lifetime.
© Copyright IBTimes 2023. All rights reserved.
FOLLOW MORE IBT NEWS ON THE BELOW CHANNELS