Abby Lee Miller Accused Of Making Fun Of Chloe Lukasiak's Eye In Edited 'Dance Moms' Season 4 Finale Scene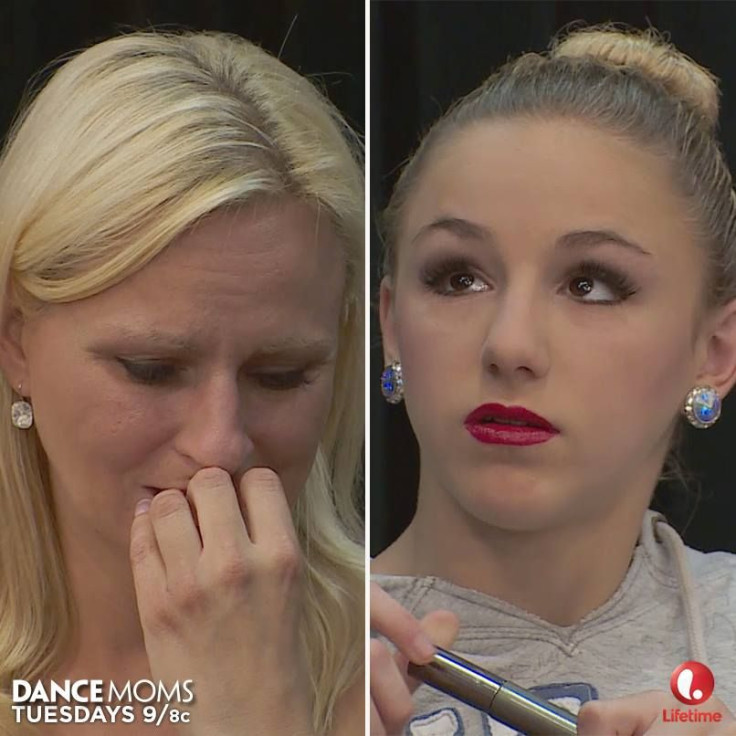 On the "Dance Moms" Season 4 finale Tuesday night, viewers witnessed ALDC coach Abby Lee Miller and dance mom Christi Lukasiak go head to head. While the Lifetime show made their altercation appear to be over Abby's comment to Christi that her daughter, Chloe Lukasiak, was "washed up," the "Dance Moms" star is now claiming that the scene was edited in Abby's favor.
Following the premiere of "Hollywood Here We Come, Part 2," Tuesday night, Christi slammed Abby on Twitter for allegedly insulting her 13-year-old daughter Chloe's physical appearance during the televised fight, a comment which never made it to air. "Actually, Abby actually made fun [of] Chloe's face caused by a medical condition there, NOT HER DANCING," Christi said.
Christi first spoke out about Abby's alleged comments regarding Chloe's looks, specifically her eye, after taping the Season 4 finale at In10sity Dance L.A. Nationals Invitational in Los Angeles in July. "Abby just made fun [of] Chloe's appearance caused by a health issue," Christi said in a since-deleted tweet. "I'm sure it will be edited to protect her. What a piece of trash."
One mother from ALDC's rival studio, the Candy Apples, backed up Christi's claims.
"What exactly did Abby say to Chloe? Did she say it straight to her face or behind her back?" a viewer asked Jo Anne Morales, mom to dancers McKenzie and Gavin Morales, on her Tumblr page.
"It was mocking her eye and telling her to get it fixed! It was really sad!" Jo Anne said according to one "Dance Moms" spoiler site. "We were all so upset for Chloe and her mom! Chloe is the sweetest girl! She has a big heart [and] is always kind and respectful to me and my kids!"
Abby has yet to address Christi's accusations, but that hasn't stopped "Dance Moms" viewers from slamming the infamously tyrannical coach for allegedly bullying her longtime student.
"Wasted words on a worthless ... To attack [on] Chloe's lazy eye ... You should FAIL now #NOMOREFAMEFORYOU," said one Twitter fan Wednesday. "Insulting a kid's dancing is one thing, but insulting a 12-year-old's physical appearance as a 40-year-old make you TRASH," said a fan. "How dare you say what you did where Chloe could hear you. You should be ashamed," said another viewer.
Viewers have also taken to "Dance Moms" official Facebook page to share their upset over Abby's alleged comments with the network, many requesting Lifetime and Abby, who also serves as an executive producer on the series, be made accountable for her actions.
"Support Chloe and the other young dancers that Abby Lee Miller and Lifetime make a profit off of by verbally abusing and mistreating. They are peddling human suffering for a profit," said one Facebook fan Wednesday.

"My heart breaks for Chloe and I will no longer be watching this show after what I saw tonight. For an ADULT to act that way to a child is not ok … Lifetime shame on you for allow this bullying. Who is gonna stand up to Abby?" said another viewer. "I used to believe Abby used tough love for these girls," said a fan. "But now I see she is nothing more than a bully. She crossed the line…"
The "Dance Moms" Season 4 reunion special airs Tuesday, Oct. 14, at 9 p.m. EDT on Lifetime.
© Copyright IBTimes 2023. All rights reserved.