UBS Overcomes Rogue Trading Loss To Post Smaller-Than-Forecast Net Profit Decline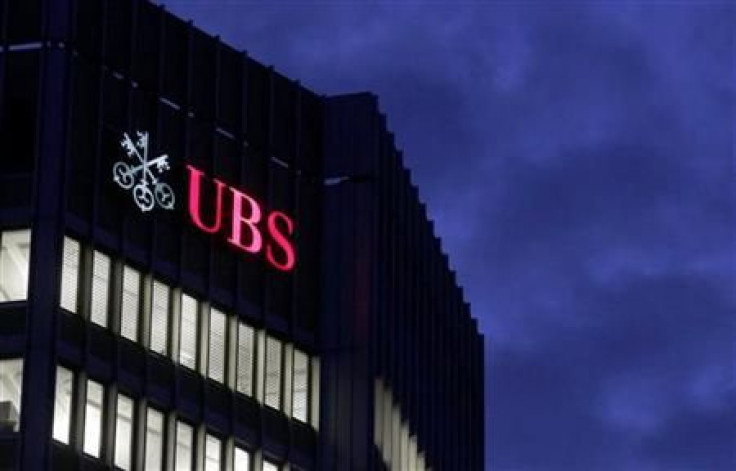 Swiss bank UBS AG overcame a 1.8 billion Swiss franc ($2 billion) rogue trading loss to post a smaller than forecast fall in third quarter net profit on Tuesday as its core wealth management business performed well.
Managing money for wealthy clients held up well, with strong inflows to the bank's Americas unit, despite tough economic conditions and the bad publicity of the trading scandal, made public two weeks before the quarter ended.
Although net profit for the third quarter fell by 39 percent to 1.018 billion francs at UBS, it beat average analyst forecasts for 276 million, after big one-off items flagged earlier this month had a more positive impact than expected.
Adjusted for one-off items, pre-tax profit was 588 million francs, beating most forecasts, analysts said.
"A strong performance in wealth management operations, offset by a worse than expected investment banking performance," said Espirito Santo analyst Andrew Lim.
"The underlying operating profit figure is not as strong as at first glance."
UBS shares were up 3 percent at 11.48 francs at 1213 GMT, outpacing a 0 . 3 percent rise in the European banking index .
Interim Chief Executive Sergio Ermotti, appointed after Oswald Gruebel quit over the trading loss, described the quarter as "very challenging for both the industry and the bank" and said the fourth quarter had started with "increased evidence of strain to the financial system".
In the absence of a resolution of the euro zone debt crisis and an improved U.S. economic outlook, "current market conditions and trading activity are unlikely to improve materially, potentially creating headwinds for growth in revenues and net new money," the bank said.
INVESTMENT BANK RESTRUCTURING
Ermotti said he was finalising plans to restructure the troubled UBS investment bank ahead of an investor day on Nov. 17, but the broad strategy was already clear.
"Our goal is to continue to be the preeminent wealth management franchise in the world together with a very strong presence in Switzerland," he told a call for analysts.
"We want to have a strong, profitable, focused investment bank and asset management businesses to support this strategy."
Chief Financial Officer Tom Naratil said the bank would only give details next month of any possible new job cuts from the restructuring as well as details on when it plans to resume paying a dividend and how it will build its capital.
Naratil said an internal investigation into the trading scandal showed its controls had not been effective, with shortcomings related to confirmation with counterparties. He further disciplinary action might be necessary.
Earlier this month, the bank accepted the resignation of the two co-heads of global equities, Francois Gouws and Yassine Bouhara, over the unauthorised trades.
Kweku Adoboli, who is accused of running up the trades, made no application for bail last week and will appear for a plea and case management hearing next month.
The bank, which already said the scandal had not resulted in many clients withdrawing their money in the quarter, said inflows into its Swiss and international wealth management business fell to a disappointing 3.8 billion francs.
While it saw continued inflows in Asia-Pacific and other emerging markets as well as from the ultra wealthy, the European offshore business reported net outflows due to pressure on Switzerland's tax haven status.
But it saw a better-than-expected 4 billion francs of net inflows in its Americas wealth management business, as CEO Robert McCann, a former Merrill Lynch executive hired two years ago, started to see his turnaround strategy bear fruit.
UBS described the U.S. inflows as a "clear vote of confidence" and Naratil said they had been strongly fuelled by client advisors with UBS for more than a year, although he declined to comment on global client trends in the current quarter after the trading loss.
"Wealth management has not blown out the light this quarter," said Kepler analyst Dirk Becker. "We will see how the trading incident might have further affected the group's reputation only in the coming quarters."
ACCOUNTING GAIN
Rival Deutsche Bank also reported forecast-beating third-quarter profits on Tuesday, as retail banking and asset management offset a slump in investment banking, but similarly warned that the near-term outlook was highly dependent on the resolution of the euro zone debt crisis.
UBS said a 1.765 billion franc gain on the value of its own debt and 722 million from the sale of treasury-related investments helped make up for the trading loss and 387 million francs of restructuring costs it booked in the quarter.
This accounting gain -- which occurs because the bank could profit from buying back its own bonds at lower levels -- also gave a big boost this quarter to profits at most U.S. banks.
However, UBS results also mirrored their U.S. peers in showing declining bond and stock revenues as sovereign debt worries spiralled in the three months to September.
The investment bank posted a pre-tax loss of 650 million francs as it said revenues fell across all business areas due to the difficult market conditions and the strong Swiss franc.
The foreign exchange business made the best of the turmoil, with revenues more than doubling on volatility and good client flows, but it was not enough to make up for losses elsewhere.
"Q3 results once again confirmed the need for urgent action in UBS' investment banking businesses especially given further regulatory and structural challenges," said Sarasin analyst Rainer Skierka.
Ermotti said a programme announced in August to cut 3,500 jobs from the bank's some 66,000 staff was on track but said the bank would remain vigilant on costs, echoing similar comments from Deutsche Bank which on Tuesday said tough market conditions could lead to more job cuts
© Copyright Thomson Reuters 2023. All rights reserved.