Unions Wage Turf Battle For Millennial Newsrooms, But What Will A New Labor Look Like?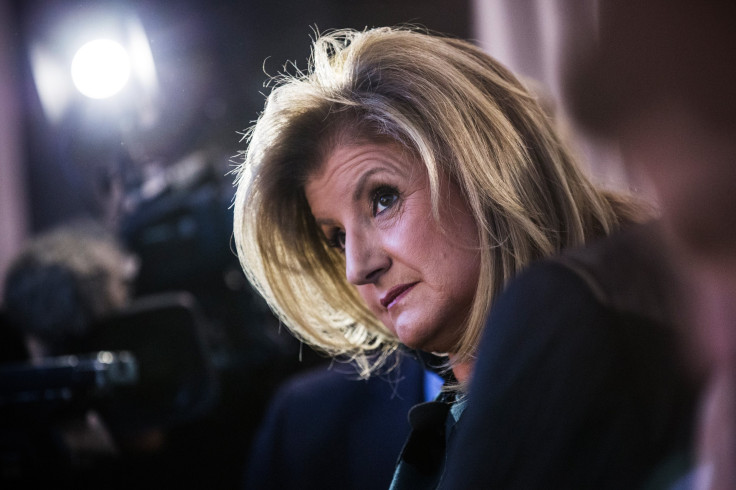 For all the think pieces written about disruption in new media, not one "thought leader" predicted the sudden and swift unionization of digital newsrooms that has taken hold this year. What began as a transparent but precarious experiment at Gawker Media turned into a success that soon led to union drives at Salon, the Guardian U.S., Al Jazeera America, the nonprofit ThinkProgress and the extremely for-profit Vice Media.
The momentum rolls on: Last week, International Business Times reported that the mammoth Huffington Post, perhaps the best-known digital-only media outlet, was the latest shop to stage a union drive, which employees confirmed in a statement Wednesday. The future seems bright for those hoping for a dose of solidarity in new media, or, at least, brighter than it was before.
But now that digital journalists have taken the leap into Unionland, the work begins of hammering out the contracts of tomorrow. Employees, management and bystanders alike may wonder: What does a unionized digital newsroom even look like? In the age of live-blogging, Web traffic bonuses and round-the-clock access to work email, will staffers push for the same types of contracts and benefits as their colleagues of old, or those still in print and broadcast? And what happens when management pushes back?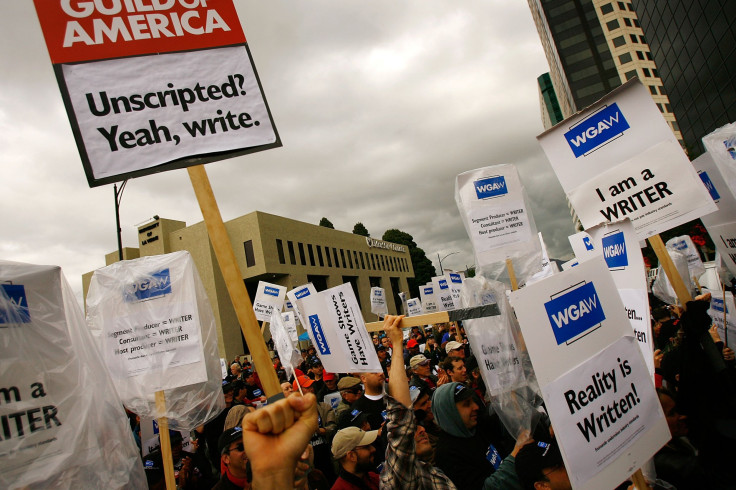 Turf War?
The answers may lie in a turf war between the more traditional NewsGuild (founded in 1933 as the Newspaper Guild of America and now part of the Communications Workers of America) and the new player in the journalism industry, the Writers Guild of America, East.
Politico reported in September on the makings of a rivalry between the two, as the NewsGuild shored up its operations in digital media to the tune of $500,000 (in the form of a grant from its parent union) while the WGAE earned credit for the initial slew of successful union drives. Members of the former aren't entirely happy that the WGAE gets credit for unionizing "the first digital newsroom" at Gawker when the NewsGuild won contracts years before for the left-leaning news websites Truthout and In These Times, not to mention the digital workers at the New York Times, the Washington Post and the Daily Beast.
Despite playing down the competition to Politico, the two unions competed recently for Al Jazeera America, which went to the NewsGuild, and Huffington Post, which went to the WGAE.
"We're not trying to create a rivalry," NewsGuild President Bernie Lunzer told Politico last month. "Is there some competition? Sure, in terms of the organizations, I guess."
Now that the movement has gained even more momentum, elbows are a little sharper.
"I'm hearing that the WGA cut sweetheart deals to get recognition" from management, said Mike Elk, onetime Politico labor reporter and a rank-and-file member of the NewsGuild, in an interview with IBT. He was one of many staffers to organize the labor magazine In These Times, and is currently organizing a conference of labor activists and reporters in Louisville, Kentucky.
No contracts have been negotiated by the new bargaining units yet, but Elk pointed to a New York Times report that suggested that Gawker staffers working with the WGAE were wary of demanding "pricey pension plans," set work hours and no protections against layoffs. Instead they reportedly opted for good severance pay; salary minimums and a bar against changes to the company health plans without union approval, the Times reported.
"I'm worried the Writers' Guild is gonna cut weak contracts," Elk said.
The WGAE, unsurprisingly, doesn't see things that way.
"Well, I'm really glad [Elk] knows what the contract is gonna be, because we certainly don't," said Lowell Peterson, executive director of the Writers Guild of America, East. "We've had one contract meeting at Gawker so far. We've just started, and the priorities at each shop are different."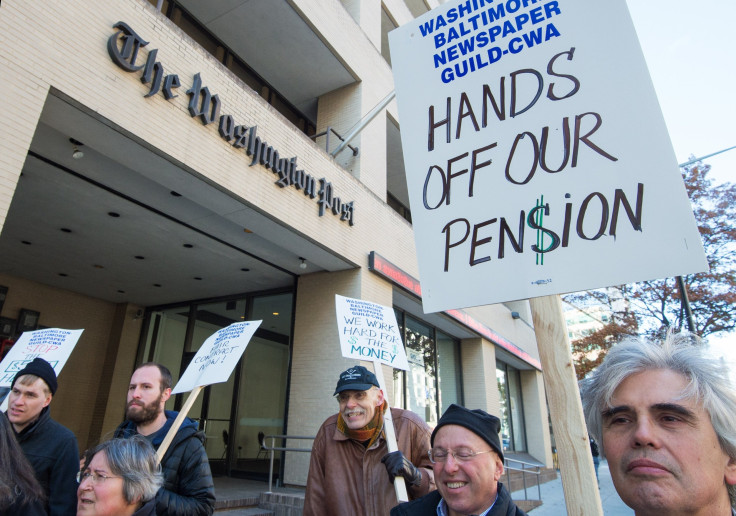 A New Kind Of Job
Any beef between the NewsGuild and the WGAE raises the broader question of whether digital journalists want, and are going to get, contracts that reflect a new kind of job.
"It's true that these are not going to be the same contracts that the NewsGuild used to negotiate -- because even their contracts are not the same now as they were in 1985!" Peterson said. "People have told us, 'We're not looking for a newspaper contract.' That's not a criticism, that's just not our world. It's not better or worse, it's different."
But the president of the NewsGuild of New York, Peter Szekely, said he really didn't see much of a distinction between the old age and the new.
"Are there differences in the digital realm? Yeah, there are. I think they're mostly at the margins," he said. "I think what we're still talking about is people who are telling stories and who have a passion for their work, and these are the kinds of people who have been our members ever since we were founded."
Szekely said protections like robust "just cause" provisions, which prohibit the unfair termination of employees, and which his WGAE counterpart didn't specify, should remain a basic part of any contract.
"Every one of our contracts has a 'just cause' provision. I cannot emphasize enough the importance of that, especially in a newsroom," said Szekely, who spent most of his life as a reporter. "When you're talking about the news, there's a diversity of opinions of how things should be covered. We want journalists in the newsroom we represent to feel free to express themselves, and you can only really do that with confidence if you know your contract has a just cause provision and you can't be thrown out the door.
"That's what we have in our current contracts, and I'd hope to see it in the digital landscape as well," he added.
Sara Steffans, a former journalist in the Bay Area News Group in California and now secretary treasurer of the CWA, parent union of the NewsGuild, seemed to synthesize the two points, saying some basic tools that unions have always used could be adapted to address issues particular to new media. She pitched unions as an essential way to avoid exploitation in a dynamic and sometimes brutal new media market.
"I'm really concerned about people trying to adapt to a changing industry," she said. "We stretch to meet these new skills, but these standards are always changing."
The "just cause" provisions, for example, could protect those who fall into hot water in an industry drunk on aggregation, where standards for attribution are shaky and writers can take the fall for a business model that encourages copying other people's work. The foggier line between fiery blogging and fearless reporting is another area where standards could shield a journalist from blowback in a field that demands more and more incendiary clickbait from writers.
"I think people think of newspaper contracts from the '70s like, 'a reporter can't do photography and vice versa,'" Steffans said. "Those things are going away."
Strike The Strikes
The current union wave feels like a gentler approach than some may associate with an industry known for some muscular shows of force by organized labor. The NewsGuild has threatened walkouts at Reuters, fought hard against a pension freeze at the Washington Post, and this year just barely avoided striking the Philadelphia Media Network. And despite the skepticism of people like Elk, the Writers Guild -- until recently known for representing TV and film writers in addition to some broadcast journalists -- dug its heels in during the infamous Hollywood writers strike of 2007-08, along with its sister union, the Writers Guild of America, West.
But so far the rhetoric surrounding unionization in the digital realm has been light, with workers shying away from any ultimatums or talk of flexing muscle.
"A lot of professional people right now don't like the idea of being in combat with their boss," said Steffans. "It's a misperception that organizing strongly has to be so combative. To me, your editors and the people you deal with day to day aren't the real problem; the real problem is the corporate pressure for increasing profits."
"You can feel that every day at any media company," she added. "That's where the real fight is, against this pressure from the top to drive down every good standard that ever existed."
At this point, the only company to refuse voluntarily recognition of its workers has been Al Jazeera America, which was overruled by a vote run by the National Labor Relations Board. The rest of the union drives have all been relatively painless victories. Gawker's Nick Denton stepped out of the way. Arianna Huffington has already said she'll "embrace" the decision of her staff, and AOL chairman Tim Armstrong has more or less shrugged. ("The bottom line is there is a tremendous amount of momentum in that space, and to some degree that is a very positive development.") Even the corporate hipsters at Vice signed off in relatively short order.
Peterson thinks one reason things have gone smoothly so far is that many new media shops are run by self-described liberals and free spirits.
"As a general matter, the owners identify as progressive, and that puts some pressure on them not to be nasty," Peterson said. "There's a lower tolerance for the union-busting of old. There's a restraint the Hearsts of the world didn't feel."
But the resistance from Al Jazeera America -- which has racked up its fair share of billable hours while retaining the services of the self-described labor-busting law firm DLA Piper -- could be the first of many bumps in the road for those looking to organize. While support from Huffington herself is significant for HuffPost employees, she is not the only one calling the shots: the heads of the new owner Verizon, hardly a softie on labor rights, will eventually have a seat at the table. BuzzFeed CEO Jonah Peretti has gotten ahead of any organizing at his own shop and declared that a union isn't "the right idea" for his employees.
And for those who have already won their recognition, now comes the hard part. "Contract bargaining is hell," Elk said, recalling his days at In These Times -- a pro-labor journal -- and elsewhere. "It's hell."
At some point, any one of the unionized shops may have to bare its teeth. Will there be strikes at Gawker? Scabs at Vice?
"I have no idea!" Hamilton Nolan, who kickstarted the effort at Gawker, told IBT. "I don't think anyone wants a strike," he added. "Most workers don't want a strike, and I don't think the companies want strikes, either. Any union in any industry always has the possibility of a strike as its hole card, but it's to everyone's advantage not to let it get to that point."
But Peterson insisted that when things get ugly, the guilds will have their members' backs.
"Listen, the Writers Guild knows how to organize when the employers are against us," he said. "We know how to do it."
He added, "We're pleased that it hasn't happened yet. But it probably will."
FOR FREE to continue reading
✔️ Unlock the full content of International Business Times UK for free
offer available for a limited time only
✔️ Easily manage your Newsletters subscriptions and save your favourite articles
✔️ No payment method required
Already have an account? Log in
© Copyright IBTimes 2023. All rights reserved.