United Airlines Pilot Freaked Out Passengers With Tornado Warnings: Report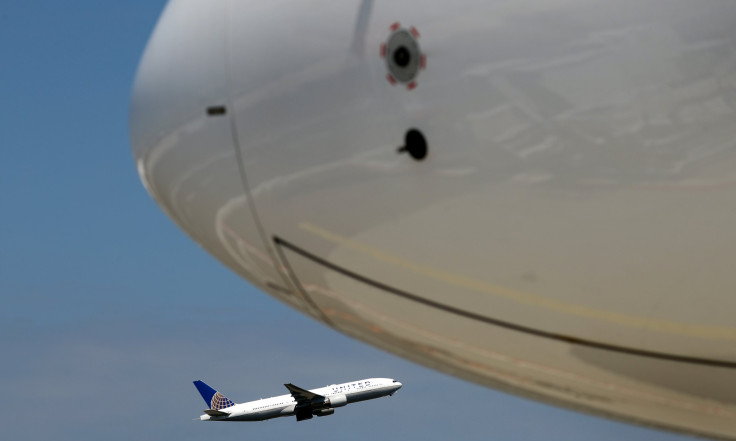 The passengers aboard a United Airlines flight, bound for Newark, had a harrowing time Tuesday night after the pilot announced the plane would be flying through "horrific storms including tornadoes," a report published Wednesday by Nj.com claimed. However, United Airlines has told the International Business Times that the passengers would be compensated.
People in the flight — that had already been delayed in Chicago by two hours — were so freaked out even before the plane took off that a flight attendant had to make another announcement to pacify them. The attendant took to the microphone and said there was no need to worry and that pilot's warnings did not mean it was unsafe to fly, passenger Pamela Kent was quoted as saying by NJ.com.
"He seemed angry," said Kent, a Princeton resident, who was traveling with her daughter Jessica. "He said 'we're going to be flying through horrific storms including tornadoes.'"
The pilot further scared the travelers aboard the overbooked flight by instructing them to "get to know your neighbors," and the journey would be "very turbulent," Kent said.
She added that after some time, as the flight was preparing to taxi to the runway, the passengers received another shock as they were told by the pilot the plane had some maintenance issue and had to return to the gate. That angered some 50 passengers, including Kent, to such an extent that they asked the attendants to let them get off the plane as they said that they would seek alternative ways to reach Newark.
Kent also complained about the feeling of uneasiness among the passengers after the pilot gave frequent warnings. "You want a pilot to have confidence. There was not that feeling," she said. However, till then, the pilot and crew were also finished with their duty hours and a new crew had to take over.
United Airlines said it was looking into the incident. "We would never put our crew or our passengers in a situation where it was unsafe to fly," airline spokeswoman Natalie Noonan was quoted as saying in media reports. "The safety of the passengers and the crew is always our No. 1 priority."
In an e-mailed statement to the International Business Times, the United Airlines said, "United flight 1997 from Chicago to Newark was delayed Tuesday night due to weather (conditions) in the New York area. Prior to takeoff, the aircraft returned to the gate in Chicago due to a mechanical issue. Customers boarded a new aircraft and continued on their journey. Customers are receiving compensation and we apologize for this inconvenience."
Newark Liberty International Airport (EWR) tweeted Tuesday night that bad weather had caused flight disruptions.
A local meteorologist said Tuesday tornado warnings were issued for places in New Jersey and Pennsylvania and that it was a cause of concern, a report said.
There have been several instances of this nature in the past when passengers were freaked out by their pilots. In June, ahead of a flight from Malaga, Spain, to Bristol, United Kingdom, a pilot of easyJet reportedly asked its passengers for a show of hands if "broken plane" should be flown back from Malaga to Bristol. These allegations were denied by the airlines, the Telegraph reported.
In another similar incident in 2014, passengers were left traumatized after a Monarch Airlines pilot told them that a technical problem could have led them to "a quick, watery grave," according to the Telegraph.
© Copyright IBTimes 2023. All rights reserved.
FOLLOW MORE IBT NEWS ON THE BELOW CHANNELS