Update: Tracey Matthews, 'My 600-Lb Life' Subject, Loses 218 Pounds After Dr. Nowzaradan Agrees To Surgery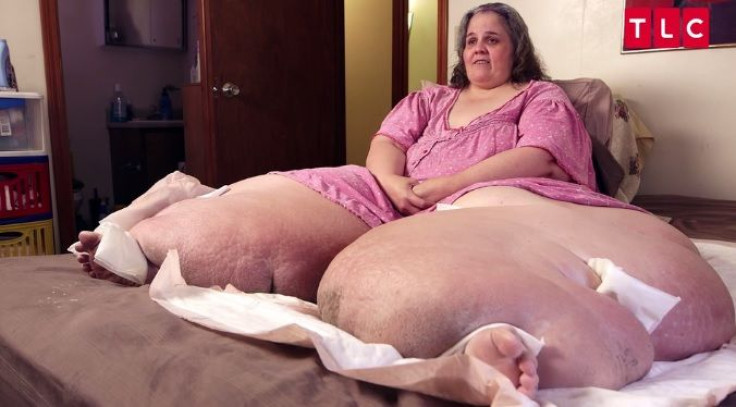 Tracey Matthews, the subject of Wednesday's "My 600-Lb Life," lost more than 200 pounds after bariatric surgeon Dr. Younan Nowzaradan agreed to perform weight loss surgery on her. Matthews carried a majority of her weight in her legs, which were swollen with lymphedema and infected with cellulitis.
Matthews, a 44-year-old grandmother from Ohio, started the weight loss journey at 605 pounds. Four hundred pounds of that weight was in her legs. Her husband, Anthony, would have to lift them up so she could get out of bed.
READ: Where Is 'My 600-Lb Life' Star Tracey Matthews Now?
To get a second chance at life, Matthews and her husband drove 20 hours to seek help from the Houston, Texas, doctor. "Every day that passes my lymphedema gets worse and worse. I have to try and do this," she said about making the long trek. Her husband agreed, saying: "Tracey really needs this, so we are willing to take this risk, this chance of going way down there and being rejected."
Ultimately, though, Matthews was rejected. The lymphedema in her legs posed too much of a risk. Dr. Nowzaradan sent her home with the goal to lose more than 100 pounds. If she could get down to 500 pounds he would perform skin removal from her legs, which would also relieve the fluid.
After losing nearly 90 pounds and then gaining half of it back, Matthews didn't get back on track until she followed a strict diet. After nine months, Matthews got her weight down to 439 pounds and was approved for weight loss surgery.
READ: Dr. Nowzaradan's Diet Plan For 'My 600-Lb Life' Patients
Even though things with her husband used to be tense, their relationship improved once she lost weight and had surgery on her legs.
"I feel like we are starting to grow in a new direction. I am excited about the future now for me and for us as a couple," she said. "I have hope again and I don't ever want to go back to a place where I don't."
Follow me on Twitter @mariamzzarella
© Copyright IBTimes 2022. All rights reserved.
FOLLOW MORE IBT NEWS ON THE BELOW CHANNELS