U.S. And China Meet For Strategic Talks As Obstacles Loom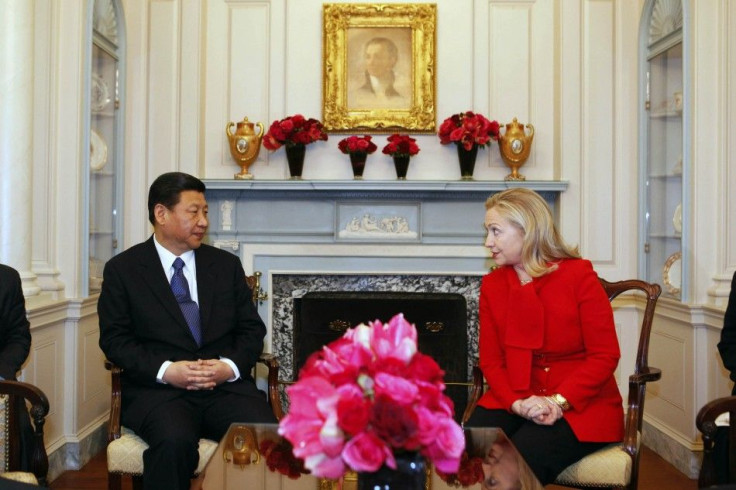 U.S. Secretary of State Hillary Clinton and Treasury Secretary Timothy Geithner will arrive in Beijing on Wednesday to attend the fourth annual U.S.-China Strategic and Economic Dialogue, a high-ranking forum for leaders to discuss and share viewpoints on a wide series of political, security, economic, and geostrategic issues that affect relations between the two countries.
This year, differences will be particularly pronounced and careful diplomacy may be paramount, as a range of disagreements buffet U.S.-China relations.
On April 13, North Korea failed in its attempt to launch what it called a weather satellite, condemned by the U.S. and its regional allies as a ballistic missile test and a danger to Northeast Asian security. Although China eventually joined other U.N. Security Council members in denouncing the launch, Western analysts believe that it has been persistent in resisting pressure from the U.S. to be tough on its friend and neighbor, North Korea. Chinese experts on North Korea often argue that improving economic relations with the North is the best way to integrate the pariah regime in the international community and moderate its behavior.
On April 15, U.S. defense analysts pointed out that ballistic missile-carrying equipment used in a military parade in North Korea in fact came from a major state-owned aerospace company in China.
On March 23, the U.S., supported by the EU and Japan, brought a case before the WTO regarding China's restriction on rare earth exports (over which it has a virtual monopoly), vital for high-tech and sustainable energy manufacturing. China's ministry of Industry and Information technology says past restrictions were necessary to consolidate Chinese industries and prevent further environmental damage; the U.S. Congress worries it is a means to undercut U.S. industries and leave important military supply chains vulnerable.
Over the past week, the U.S. has held large military exercises with a key Southeast Asian ally, the Philippines, even as China and the Philippines remain embroiled in a dispute over sovereignty claims in the South China Sea. Chinese and Filipino ships have faced off since April 10 over a disputed area known as Scarborough Shoal. Many in China see the exercises ultimately as targeted against Chinese interests in the region, and are concerned about improving U.S. defense relations with their neighbors: Vietnam, Philippines, and India. China has held its own naval exercises with Russia during this time, which has alarmed U.S. ally Japan.
In the U.S., increasing concerns over China's military growth and Taiwan's ability to defend itself against mainland Chinese forces has led some Congressmen to push for renewed offers of U.S. weapons, such as F-16 jet fighters, to the island government. China has voiced its opposition to U.S. weapons sales to Taiwan in the past, and has expressed that it considers the move a red-line to holding negotiations on other economic and security related subjects.
The two countries are even butting heads outside of East Asia, as they take varied stances on the unrest and uprisings in Syria. China has remained firm in its policy of noninterference in the domestic affairs of foreign states, but its actions are widely seen in the West as supportive of the Assad regime.
But even outside of international, economic, and military issues, Chinese domestic politics is also presenting its own points of friction and upset for the bilateral relationship.
In early February, the deputy mayor and recently demoted chief of police of Chongqing, Wang Lijun, made a surprise visit to the U.S. consulate in the neighboring city of Chengdu. Western analysts believe he was attempting to defect to the U.S. Although Wang later left the consulate, he may have first revealed critical information to U.S. diplomats.
Wang has been a critical link in the Chinese government's efforts to connect Bo Xilai, the past party chief of Chongqing and Politburo member, to a vast network of corruption; as well as implicating Bo's wife in the murder of British businessman Neil Heywood. Wang's arrival in the U.S. consulate was the first stage in a massive political scandal that has rocked the country and created international concern for China's political stability.
And that's not all: other factors may weigh on Clinton and Geithner's meetings with their Chinese foreign policy and economic counterparts, State Councilor Dai Bingguo and Vice-premier Wang Qishan.
On April 22 Chen Guangcheng, a blind, self-taught lawyer and Chinese civil rights activist, escaped from house arrest in Shandong province, and subsequently went into hiding with the assistance of colleagues and friends. U.S. based human rights group ChinaAid claims that Chen is now under U.S. protection.
Bob Fu, founder of the organization, says that He [Chen] is under the protection of the U.S. Embassy in Beijing.
The event is being ignored by official media in China, but has gained the spotlight in Western news. Human rights groups in the U.S. have pushed the Obama administration to make Chen's formal release, along with concerns for other Chinese dissidents, a major issue in diplomatic talks.
The human rights groups, however, may have to wait longer than they'd originally hoped. Well-known Chinese dissident and astrophysicist Fang Lizhi, who passed away earlier this month in Texas, waited for more than a year inside the U.S. Embassy in Beijing before being allowed to leave for asylum in the U.S.
Chinese foreign policy analysts in the U.S. say that the focus on human rights and humanitarian issues from American diplomats is a major headache for their Chinese counterparts, who see it as a means to humiliate China. The Chinese government has been vocal in its opposition to U.S. concerns for Chinese human rights in the past, and sees the issue as interference in its domestic affairs.
Issues related to Chinese politics may be especially sensitive this year, especially as China wrestles to deal with the Bo Xilai scandal and prepares for a critical political transition.
This could be the biggest bilateral mess that we've faced in a very long time, Christopher Johnson, senior adviser to the Center for Strategic and International Studies, a major think tank in Washington, D.C., told Bloomberg.
© Copyright IBTimes 2023. All rights reserved.
FOLLOW MORE IBT NEWS ON THE BELOW CHANNELS