US court clears Harry Potter author of plagiarism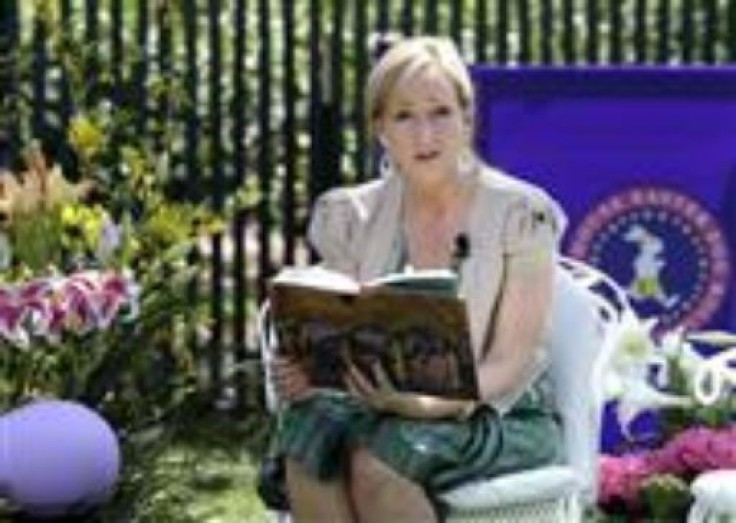 J.K. Rowling, author of Harry Potter series was cleared of plagiarism charges filed by Paul Allen, trustee of late author Adrian Jacob's estate in a landmark judgment on Thursday.
Dismissing the case, U.S. judge Shira Scheindlin reportedly said, ...the contrast between the total concept and feel of the works is so stark that any serious comparison of the two strains credulity, said a Reuters report.
Scholastic Corp, the U.S. publisher of the books, welcomed the verdict in a statement saying, the court's swift dismissal supports our position that the case was completely without merit and that comparing Willy the Wizard to the Harry Potter series was absurd.
Jacobs, who wrote The Adventures of Willy the Wizard -- No 1 Livid Land in 1987 died in London in 1997. His estate claimed that Rowling's agent Christopher Little was once asked to work for Jacob but later on he became Rowling's agent and alleged he helped her in writing Harry Potter series amounting to copyright violation.
Rowling, however, maintained that she was not aware of Jacobs's book until the copyright suit was filed in 2004. Earlier in October, a London court too dismissed a similar plea by Allen. The story of Harry Potter revolves around the adventures of an English boy who discovers he inherited magical powers from his parents, who were wizards but killed by an enemy.
Rowling, a single mother in Edinburgh, Scotland, began writing the first of the series Harry Potter and the Philosopher's Stone in mid 1990s which was published by Bloomsburry in 1997. Tweaking the title as Harry Potter and the Sorcerer's Stone, the book was published in the United States in Oct. 1998.
Her second book Harry Potter and the Chamber of Secrets published in July 1998 became the no.1 bestseller in BookTrack list. In the same year, Warner Bros bought film rights to both the books.
The runaway success of Rowling's Harry Potter series dominated the first decade of the 21st century and the last and seventh in series Harry Potter and the Deathly Hallows sold more than 11 million copies during the first 24 hours of its release.
The seventh film Harry Potter and the Deathly Hallows: Part 1 was released in November last year while the final movie is to be released in July this year.
© Copyright IBTimes 2023. All rights reserved.
FOLLOW MORE IBT NEWS ON THE BELOW CHANNELS