'Vampire Diaries' Season 7 Spoilers: Why Stefan And Caroline's Love Differs From His Relationship With Elena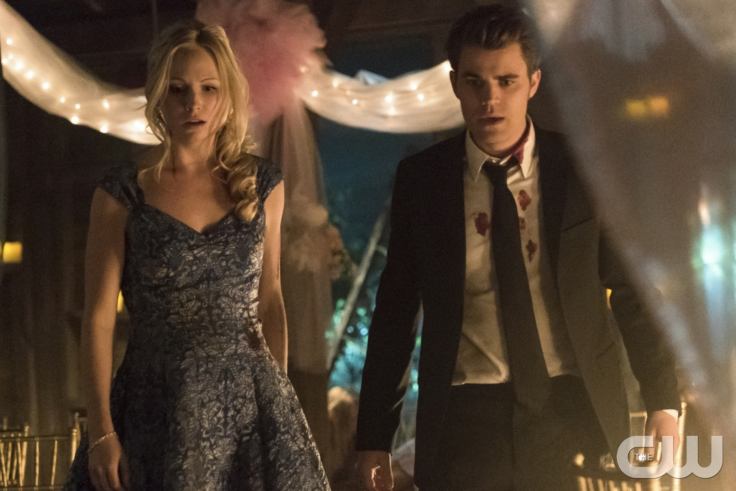 Though Elena (Nina Dobrev) will be missed on "The Vampire Diaries," her love triangle plotline definitely won't be. Paul Wesley revealed that he is thrilled that his character Stefan is finally moving on with Caroline (Candice Accola) in Season 7. He's particularly happy because Caroline isn't interested in Damon (Ian Somerhalder) or anyone else.
"It's nice he has a girl who reciprocates," Wesley told TV Guide. "Not that Elena didn't reciprocate, but I felt like Elena was constantly torn between the two brothers. It's nice to be with a woman who's not torn about being with you! She's all about [him]."
Accola, who announced her real-life pregnancy on Monday, added that the feelings are definitely ideal, but the circumstances are not. As usual, the vampires will have plenty of obstacles in their way. "Fans of the couple shouldn't expect this perfect romance, but what the characters feel for each other is very perfect," she said.
Of course, Caroline won't give into her feelings for him right away. "What's fun about coming and finding them in Season 7 is that feeling of, 'Where do we stand in our relationship?'" executive producer Caroline Dries told TV Equals in July. "Where it's like a little awkward, and they're friends, but they're not friends. They obviously like each other. So we'll be sort of exploring the newness of where they are now."
Fans shouldn't worry too much about Stefan and Caroline figuring out their relationship. Showrunner Julie Plec has hinted that Caroline will eventually get her happy ending.
"At the end of the pilot she says, 'Why doesn't anybody ever pick me?'" Plec said at ATX Television Festival in June. "You realize, here's a girl who's trying so hard to matter and she's over trying, she's overcompensating. What you've done in a TV series is you've set up a girl, that by the end of her run as a character, she will be the one that gets picked first."
"The Vampire Diaries" Season 7 premieres Thursday, Oct. 8, at 8 p.m. EDT on The CW.
© Copyright IBTimes 2023. All rights reserved.