'Vampire Diaries' Star Candice King Returns To Season 7 Set After Giving Birth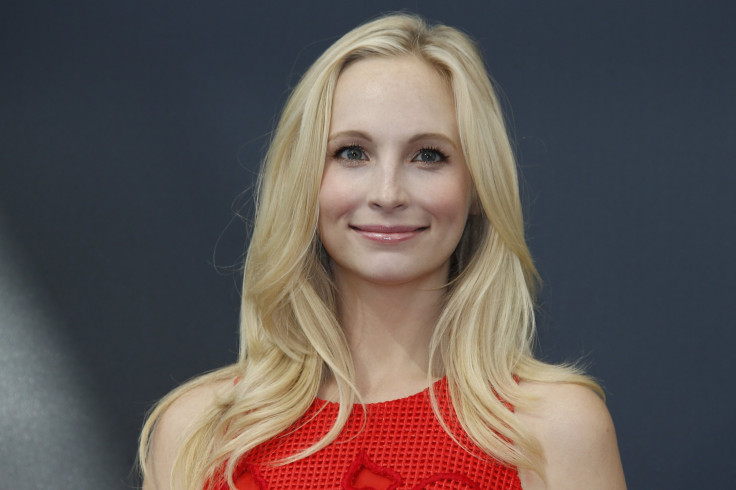 Viewers of "The Vampire Diaries" know that they'll have to say goodbye to a fan favorite character for a few episodes. Candice King, who plays Caroline, took several episodes off for maternity leave earlier this year. However, she let her Instagram followers know she returned to the CW drama's set Wednesday.
It seems King will be back in time for the Season 7 finale of "The Vampire Diaries," and judging from the colorful sign, her cast and crew were happy to have her back. As previously reported, the 28-year-old actress gave birth to Florence May on Jan. 15. This is her first child; her husband Joe King, a guitarist from the Fray, has two older daughters.
Viewers still haven't seen Caroline written out of "The Vampire Diaries," but she'll be gone for about four episodes this spring. However, showrunner Julie Plec revealed that Caroline is missing from that many episodes every year. "She actually won't be gone that long," Plec told E! Online in January. "I think [episodes] 16 to 20, maybe. Actually, it's the same contracted amount she's in every year. It's just all in one stretch. It turned out to work out okay!"
The actress may have been taking a break from work, but she certainly didn't take an Instagram hiatus. King has informed followers about her recent hangouts with former "TVD" actress Kayla Ewell and date nights at hockey games with her husband. Her husband recently showed off a picnic they shared with baby Florence.
"The Vampire Diaries" viewers will have to hope Caroline's hiatus is as laid-back. With vampire hunter Rayna (Leslie-Anne Huff) on the prowl, she could end up running for her life rather than spending her days having picnics.
"The Vampire Diaries" Season 7 airs Fridays at 8 p.m. EST on the CW.
© Copyright IBTimes 2023. All rights reserved.