Verizon Strike Update: 45K Workers Near Two Weeks on Picket Lines, Negotiations Remain Stalled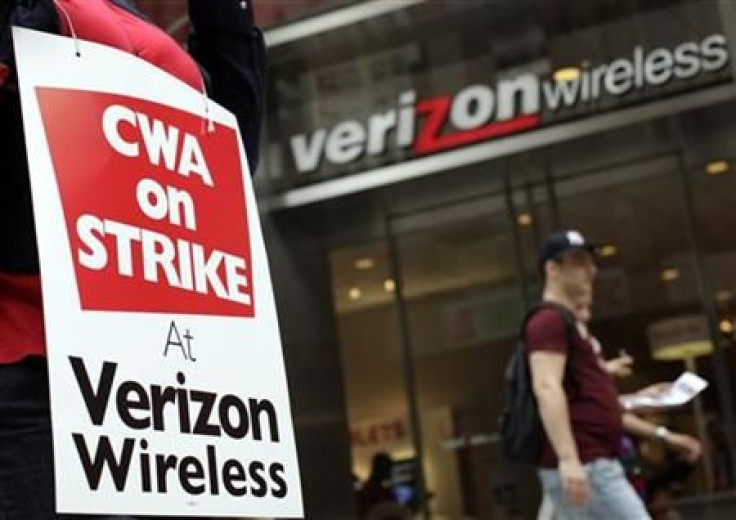 Sacrificing paychecks and anchoring picket lines for almost two weeks now, nearly 45,000 striking Verizon landline workers in the northeast remain entrenched in a battle to get the communications company to negotiate a new contract in good faith. But at this point, talks remain stalled.
As more than 350 different picket lines extend throughout the region on a daily basis in front of Verizon wireless stores and other locations, union workers continue pushing the theme that the company trying to kill middle class America, while Verizon holds out, saying workers must face the economic reality of the situation.
The Communications Workers of America (CWA), a union organization representing many of the striking workers, or roughly 33,000 who live in New York, New Jersey and Pennsylvania, is urging the company to stop union busting and negotiate fairly. The strike began Aug. 7 after the company put a list of some 100 items in front of the union and talks broke down.
In the nearly two weeks since, workers haven't received paychecks and are nearing an Aug. 31 deadline when they'll lose company health benefits. Their only option will be paying for health benefits themselves through gap programs like COBRA. Both sides have launched advertisement campaigns in the effort to sway public opinion about the strike that has become tense, and bitter.
CWA president Larry Cohen recently condemned Verizon's refusal to negotiate on proposals that would involve union member pay cuts and concessions on health benefits. He cites high pay received by Verizon executives and strong company performance yielding high dividends as reasons Verizon should come to the table.
This is totally unacceptable coming from a company that had plenty of money to pay $10 billion to shareholders this year, and $258 million to its top five executives over the last four years, said Cohen.
The governor of Maryland and 19 members of Congress have sent letters to Verizon asking them to come to the negotiating table in good faith, in the attempt to end the strike. Also, some prominent state-elected officials, including some Democrats who receive large union contributions, have publicly said a prolonged strike should be avoided.
New Jersey Sen. Barbara Buono, D-Middlesex, called on Governor Christie to intercede in the situation with mediation.
With New Jersey's unemployment rate already above the national average, there is extra urgency to protecting middle-class jobs, which are the backbone of our state's economy, Buono wrote in a letter to Christie. A prolonged strike will mean reduced tax revenues for the state, increased strain on the public safety net, and less stability in an already shaky housing market.
But after almost two weeks, Verizon hasn't budged. Its landline business, where most of the striking workers are employed, is declining as more customers turn to wireless solutions. The communications company says workers must face that reality.
Verizon spokesman Rich Young says striking workers characterized as middle class in the fight might be a wrong description. When people describe these workers as middle class, and we see technicians making close to $90,000 a year, some might consider that upper middle class, said Young.
Late this week, Verizon, the second-largest telecommunications company in the U.S., laid out its reasons in a public statement as to why the company continues hold out with such a strong hand. Verizon's proposal includes a highly competitive pay and benefits package near the top of those offered by comparable companies, the company stated on its Web site.
The company says its benefits package for union workers must be overhauled since its landline business is in decline.
Health care costs continue to rise, the company stated. Verizon's health care plans are classified as 'Cadillac Plans' by the U.S. government, and cost the company $4 billion annually covering 800,000 employees, retirees and their families.
The unions and our employees must work with the company to find ways to address these economic realities, the company said.
© Copyright IBTimes 2023. All rights reserved.