VIDEO Aaron Rodgers Amazing Touchdown: Looking Back At 5 Greatest NFL Hail Mary Plays After Packers Win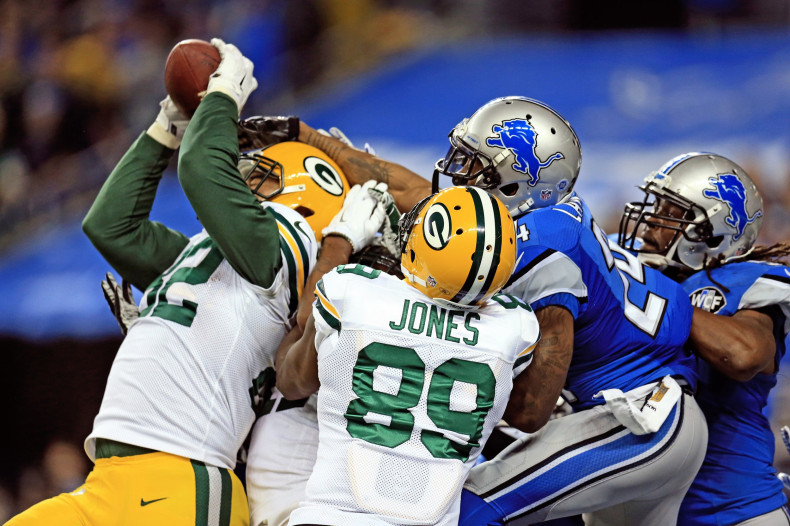 Thursday night's game between the Green Bay Packers and Detroit Lions featured one of the most improbable finishes in NFL history. The Packers won on a 61-yard pass that ended the game, instantly becoming one of the great all-time Hail Mary plays.
The pass capped off the greatest comeback in Green Bay history, as the team survived a 20-0 deficit early in the contest. A questionable facemask penalty on the previous play gave Aaron Rodgers the chance to heave the ball from the Detroit 35-yard line.
Green Bay has been involved in a few of the most famous Hail Mary plays in NFL history. Here's a look at five of the most memorable ones.
Dallas Cowboys vs. Minnesota Vikings (1975 Divisional Playoff Game)
It's the play that made "Hail Mary" part of the NFL lexicon. Roger Staubach threw a desperation pass to Drew Pearson that helped the Cowboys advance to the conference title game. After the win, Staubach told reporters that he closed his eyes and said a Hail Mary when he was knocked down on the play.
Minnesota Vikings vs. Cleveland Browns (Dec. 14, 1980)
The pass that became known as the "Miracle Catch" helped the Vikings earn a playoff berth. With Minnesota on the Cleveland 46-yard line with five seconds left, Tommy Kramer heaved a pass that was batted around and nonchalantly grabbed by Ahmad Rashad to clinch the NFC Central title for the Vikings.
Atlanta Falcons vs. San Francisco 49ers (Nov. 20, 1983)
The pass helped the Falcons defeat the 49ers, 28-24. It was one of the most improbable Hail Mary plays, considering Bill "White Shoes" Johnson had to skirt around multiple defends after grabbing the ball at the five-yard line. If instant replay had been around, the call likely would have been overturned.
Cleveland Browns vs. New Orleans Saints (Oct. 31, 1999)
The Browns were looking for their first win since they had left the NFL in 1995, and they got it as a result of a 56-yard touchdown pass. Tim Couch was ultimately a bust as the No.1 pick, but one of his best moments came when he threw this pass 60 yards. It was tipped and caught by Kevin Johnson.
Seattle Seahawks vs. Green Bay Packers (Sept. 24, 2012)
The play that became known as the "Fail Mary" might have been the biggest reason why the 2012 NFL referee lockout ended. M.D. Jennings appeared to have made the interception for Green Bay, but the replacement refs ruled that Golden Tate had possession as the two players both had their hands on the ball when time expired.
© Copyright IBTimes 2022. All rights reserved.