VIDEO Home Run Derby 2013: Highlights Of Yoenis Cespedes' Win, Results From Contest At Citi Field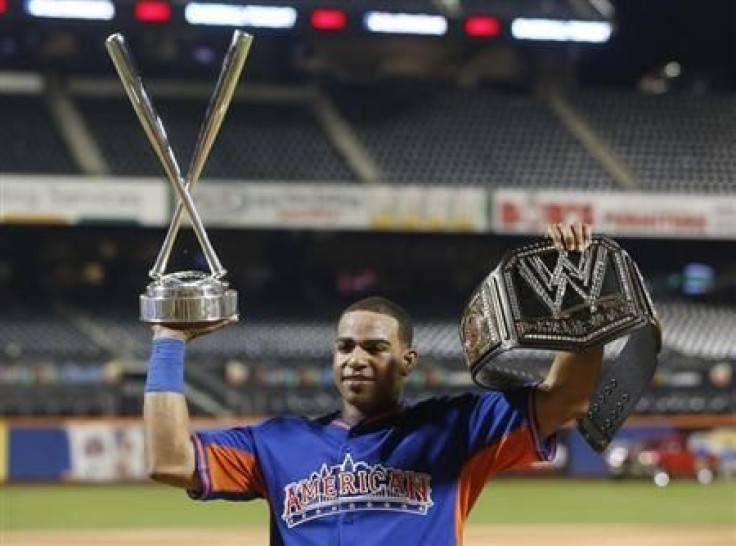 Yoenis Cespedes took home the 2013 Home Run Derby crown on Monday night at Citi Field. He entered the contest ranking sixth among the eight competitors with 16 long balls on the season, and beat out former champions Prince Fielder and Robinson Cano.
The final round came down to a few of the best young power hitters in baseball, as the Oakland Athletics outfielder squared off against Bryce Harper of the Washington Nationals. Cespedes hit nine homers, compared to Harper's eight, to seal the victory.
In all, Cespedes hit 32 home runs on the night. He shined brightest in the first round, where he blasted 17 home runs. No other player reached that mark in their first two rounds, total. His homers combined to go almost 2.5 miles, with the clincher being sent 455 feet into center field.
Cespedes's performance was one of the best that the Derby has ever seen. His 32 put him third all-time, behind Bobby Abreu's 41 in 2005 and Josh Hamilton's 35 homers at Yankee Stadium in 2008.
Chris Davis and his 37 home runs on the season entered the Derby as the favorite, but he didn't make it out of the second round. Still, he ended the night with the longest shot at 502 feet. Cano and David Wright weren't able to come up big in front of the New York fans, as they failed to make it past Round One.
Below are video highlights from the 2013 All-Star Home Run Derby, as well as the results of each round.
Round One
Yoenis Cespedes (17)
Bryce Harper (8)
Chris Davis (8)
Michal Cuddyer (7)
Pedro Alvarez (6)
Prince Fielder (5)
David Wright (5)
Robinson Cano (4)
Round Two
Yoenis Cespedes (6)
Bryce Harper (8)
Michal Cuddyer (8)
Chris Davis (4)
Round Three
Yoenis Cespedes (9)
Bryce Harper (8)
© Copyright IBTimes 2023. All rights reserved.