VIDEO 'SNL' Cold Open: Watch Cecily Strong Mock Marjorie Taylor Greene's Conspiracy Theories
"Saturday Night Live" shined a spotlight on the antics of controversial Congresswoman Marjorie Taylor Greene by parodying some of her QAnon conspiracy theories in the cold open.
The nearly 8-minute sketch featured cast member Kate McKinnon playing a host of the fictional talk show "What Still Works" and Cecily Strong playing Greene, a Republican member of the House of Representatives.
Strong's Greene character made her debut on the talk show by offering McKinnon a gun and sharing some of her conspiracy theories.
"I believe the Parkland shooting was a hoax. The teachers were actors, and the children were dolls," Strong said.
"I believe 9/11 was a hoax. Did anyone actually see it happen? I think that the California wildfires were caused by Jewish space lasers."
Other people parodied in the sketch included a GameStop investor, Mark Zuckerberg, Jack Dorsey, O.J. Simpson and Tom Brady.
Although "SNL" found humor in Greene's conspiracy theories, the folks in Washington have raised serious concerns about her public comments. On CNN's Sunday program "State of the Union," Sen. Rob Portman, R-Ohio, called for party leaders to confront Greene and remove her from congress.
"I think Republican leaders ought to stand up and say it is totally unacceptable what she has said," Portman told Dana Bash.
"I saw a couple videos over the weekend, and one had to do with violence as I see it. There is no place for violence in our political dialogue. By the way, there is no place for violence in our country. I mean, this is something we got to get away from. So yeah. I think people ought to speak out clearly."
Along with supporting QAnon theories Greene has also liked posts calling for the murders of prominent Democrats, including House Speaker Nancy Pelosi.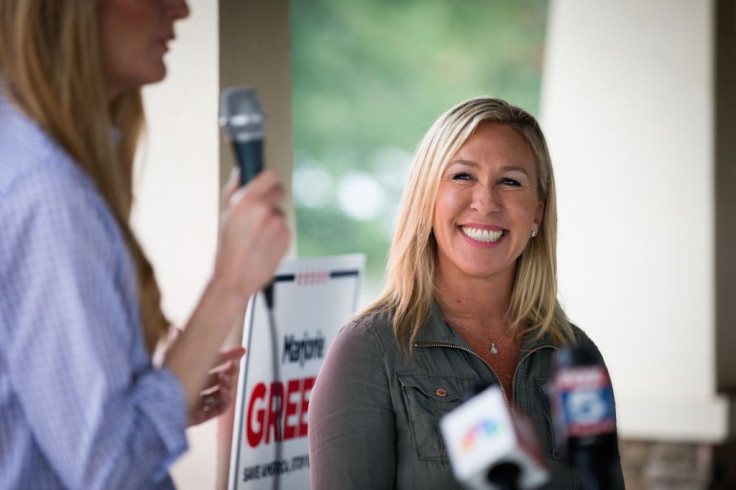 © Copyright IBTimes 2023. All rights reserved.