VIDEO: Two White Counter-Protesters Mock Death Of George Floyd During Black Lives Matter March In New Jersey
KEY POINTS
Two white men among Black Lives Matter counter-protesters were recorded recreating and mocking the death of George Floyd
The first was identified as a corrections officer by the New Jersey Department of Corrections, which said the man was suspended and under investigation
The second was identified as a FedEx officer and promptly fired after the video appeared on social media
A white corrections officer was suspended Wednesday after a video emerged online of him mocking the death of George Floyd during counter-protests in New Jersey. A second white counter-protester was fired by FedEx in response to the video.
The counter-protests took place Monday in Franklinville, New Jersey, as Black Lives Matter protester marched. Counter-protesters were predominantly white and seen screaming at Black Lives Matter protesters while waving signs reading "All Lives Matter" and "Trump 2020."
Among the counter-protesters, the two men were seen mocking the death of Floyd, who died after a Minneapolis police officer pressed his knee on Floyd's neck for nearly nine minutes. One man was lying on the ground while the other had his knee on the man's back to recreate the scene. The latter individual continued screaming at marchers, saying if Floyd had complied with police he would not have died.
One of the protesters filmed the scene and uploaded it to social media shortly after.
"It automatically brought me to tears," Daryan Fennal, a local Black Lives Matter protest organizer, told reporters. "The display yesterday showed me that racism is real, racism is alive, it's right next door to you."
The New Jersey Department of Corrections first identified the man with his knee on the other counter-protester as one of their officers. While his name has not been released, the department said he worked at Bayside State Prison in Maurice River Township, New Jersey, and he was suspended while the incident was under investigation.
"We have been made aware that one of our officers from Bayside State Prison participated in the filming of a hateful and disappointing video that mocked the killing of George Floyd," the department said in a statement.
FedEx identified the man being kneeled on as one of their employees and was promptly fired for his involvement in the act.
"We do not tolerate the kind of appalling and offensive behavior depicted in this video," FedEx said in a statement. "The individual involved is no longer employed by FedEx."
New Jersey Gov. Phil Murphy also took to Twitter to condemn the act, saying people can't "let the actions of a few distract" them from "dismantling systemic racism."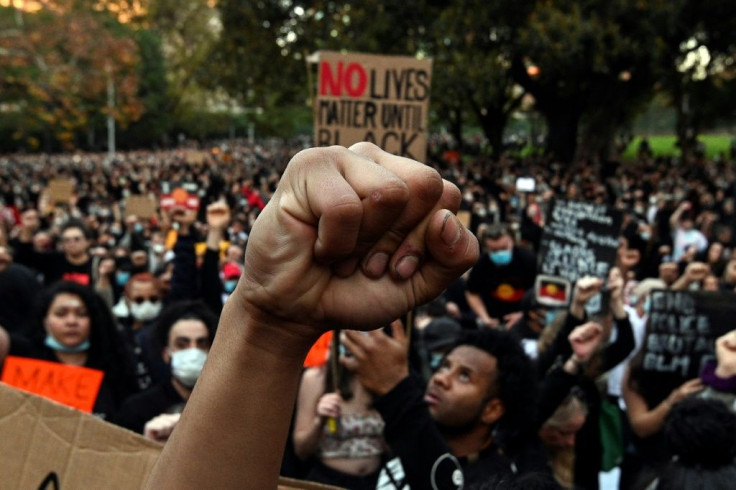 © Copyright IBTimes 2023. All rights reserved.