VIDEO USA Basketball Highlights: Anthony Davis, Kyrie Irving, Kenneth Faried Lead Americans Over Slovenia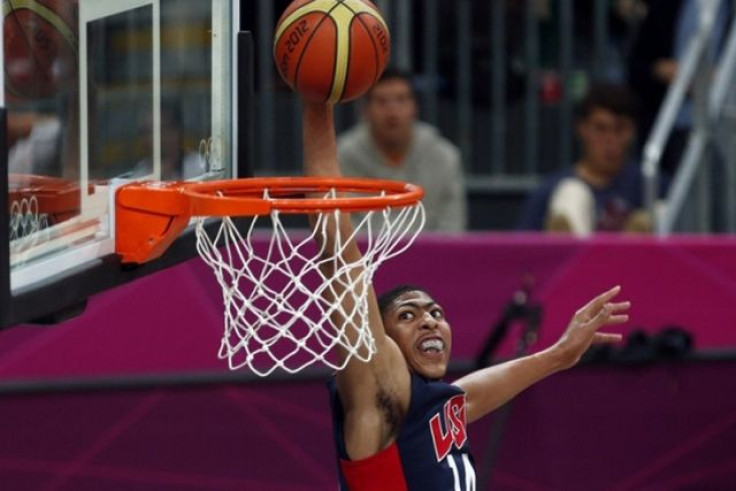 In their final tune up to the 2014 FIBA World Cup, the U.S. Men's National Basketball team made easy work of Slovenia on the island of Gran Canaria, Spain, to finish undefeated in exhibition matches with a comprehensive win on Tuesday, 101-71.
Slovenia, led by Phoenix Suns guard Goran Dragic, managed to keep the game interesting in the first quarter by not allowing the U.S. to break the game open. By halftime, the U.S was only up 46-35. But the Yanks were able to go on a 22-4 run in the third quarter to prevent any type of comeback in the final minutes.
Head coach Mike Krzyzewski received solid play in the key against the overmatched Slovenians. New Orleans Pelicans Anthony Davis had 18 points, 11 rebounds, four blocks and four steals, while Denver Nuggets big man Kenneth Faried finished with 14 points. In typical fashion, Faried gave a hustling effort to keep Slovenia off the boards.
Chicago Bulls star Derrick Rose, who has been rested in the exhibition matches after suffering a torn meniscus in his right knee in 2013, came off the bench and had a quiet performance. Cleveland Cavaliers point guard Kyrie Irving started and scored 13 points, including a clever left-handed layup in the first quarter.
The U.S. begin group play on Saturday with a match against Finland in Bilbao, and will also face Turkey, New Zealand, the Dominican Republic and Ukraine in pool play.
© Copyright IBTimes 2023. All rights reserved.