'Vikings' Season 4 Spoilers: Creator Reveals Details Of New Season, Teases Time Jump And Ragnar's Fate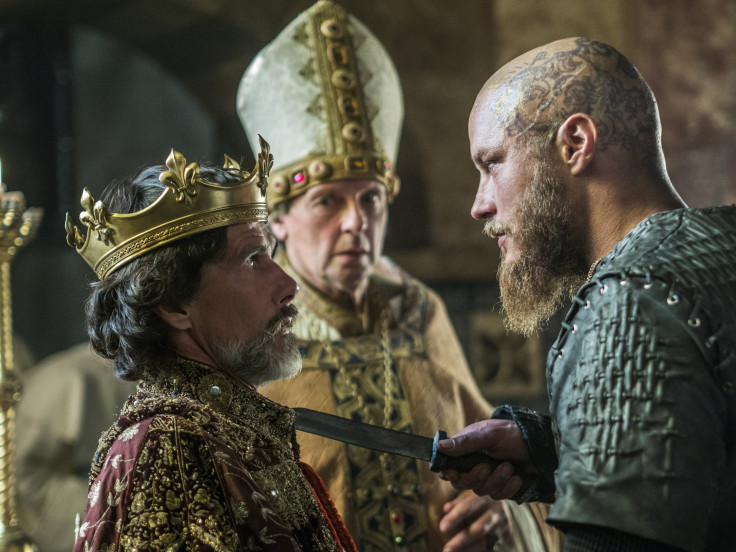 Alexander Ludwig wasn't kidding when he told International Business Times that the end of Season 3 would be "insane." It absolutely was! The finale concluded on a jaw-dropping note: Ragnar (Travis Fimmel) was alive (sort of), Rollo (Clive Standen) was offered an opportunity to become a Count of Paris and Floki (Gustaf Skarsgard) had just learned that his bearded bestie knew he was the one responsible for Athelstan's (George Blagden) death. Basically it's safe to assume that Season 4 of the hit History Channel series is going to be bigger, better and even bloodier than the last -- and we can't wait!
The historical drama, created by Michael Hirst, was renewed for a fourth season in March and is slated to premiere in 2016. That means fans have more than enough time to theorize what kind of drama will be going down in the forthcoming installment of the ax-swinging series.
But audiences don't have to speculate too much. Hirst always has been very open regarding the direction he plans to take the show. Following the Season 3 finale, the showrunner told the Hollywood Reporter that viewers should anticipate a bit of a time jump in Season 4.
"Some time has passed," he confirmed. "The journey home took a little longer than they supposed. It hasn't been an easy run across to Paris or a straight run back. They'll have been away for a couple of years, something like that."
Due to the time jump, fans will learn Ragnar's fate rather quickly. Viewers were forced to watch the king's health plummet in the final few episodes of the third season, which is why his return from the dead in Paris was so shocking.
"It's very important to note that he's not only sick, he's hovering between life and death. So that impacts hugely on the beginning of season four, which we're working on now," Hirst explained to the outlet. "It's a big story point. It's very important that Ragnar is weakened, ill and hovering between life and death when we come back for season four."
Ragnar's death would significantly affect the plot -- it would force the crown to be passed on to Bjorn (Alexander Ludwig), it would change the dynamic of the series and it would mean that Lagertha (Katheryn Winnick)/Ragnar shippers better stock up on tissues. (We couldn't be the only ones who were vying for the rekindling of their relationship all season, were we?)
"I'm like most of the fans. I would love to see them get back together. It's a great love story. They came from virtually nothing. It was a very passionate, close, loving family," Hirst dished to Entertainment Weekly, adding that although he can't confirm whether Bjorn's parents would get back together in Season 4, he can say they still will be very involved in each other's lives. "They'll never not be closely involved."
Although the fourth season will kick off with a spotlight shinning on Ragnar's storyline, Hirst confirmed that the plot won't always center on the Nordic ruler.
"It will be devastating for audiences to witness the death of a great character and the end of a magnificent role," Hirst told the Hollywood Reporter. "Travis has been absolutely charismatic and magnificent. But by that stage, his sons will be young, hot guys and hopefully the audience will already be engaged with them and want to follow them."
Ragnar's offspring -- a group that has grown with the birth of his and Queen Kwenthrith's (Amy Bailey) son) -- each will follow their own destinies and journeys, which hopefully we will be lucky enough to witness if the show is renewed for more seasons.
"They'll be very powerful figures in their own rights. Instead of following one charismatic leader, hopefully we're going to have four young charismatic leads to follow," Hirst said.
In fact, Hirst even divulged that he plans on concluding the "Vikings" series with a scene of Ragnar's sons.
"My plan was always to take them to North America," he admitted to Entertainment Weekly. "The last scene is the sons of Ragnar, in an open boat, dying of thirst and hunger. They've been at sea for a long, long time. And then suddenly this land comes up on the horizon. This green, misty, wonderful verdant land. And that's the end."
What are you most looking forward to in Season 4 of "Vikings"? Sound off in the comments section below!
FOR FREE to continue reading
✔️ Unlock the full content of International Business Times UK for free
offer available for a limited time only
✔️ Easily manage your Newsletters subscriptions and save your favourite articles
✔️ No payment method required
Already have an account? Log in
© Copyright IBTimes 2023. All rights reserved.