Vikings' Wide Receiver Simpson Arrested On DWI Charge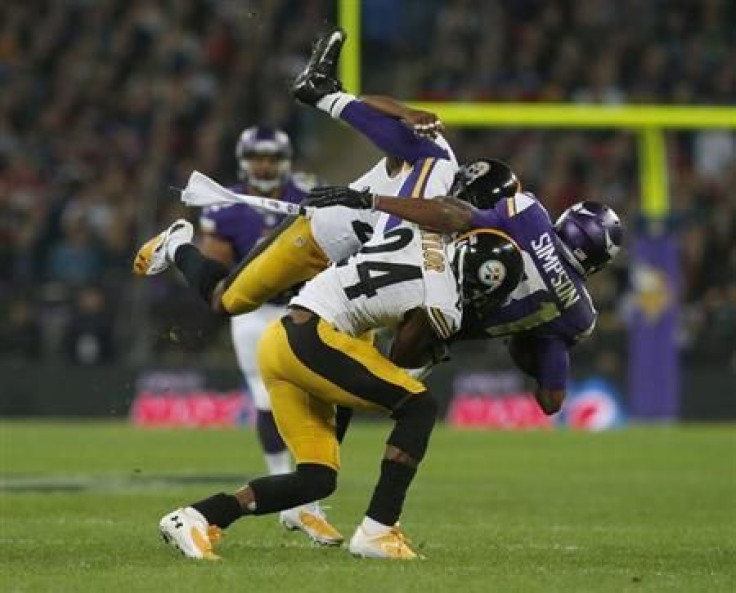 Minnesota Vikings wide receiver Jerome Simpson was arrested early on Saturday on a charge of driving while impaired after a state trooper found him visibly intoxicated in a stalled car in Minneapolis, authorities said.
The trooper came across Simpson at about 4 a.m. in a red Dodge Charger stalled on the shoulder of I-394 westbound out of downtown Minneapolis, the Minnesota State Patrol said.
Simpson, 27, told the trooper he was coming from the Pour House, a local bar, but denied drinking, according to arrest data provided by the state patrol. The football player had watery eyes and slightly slurred speech, it said.
Simpson was arrested on a DWI charge after being given field sobriety tests. At the Hennepin County Jail, he refused to take a breath test, the state patrol said.
He was booked for driving while impaired and test refusal. He was being held without bail, according to the National Football League website.
The Vikings said the team was "aware of the matter."
"We are continuing to gather information and will have further comment at the appropriate time," it said in a statement.
In 2012, Simpson was sentenced to 15 days in jail and three years probation on a felony drug-related charge, the NFL said.
He has compiled 33 receptions for 491 yards and no touchdowns this season, the league said.
(Reporting and writing by Ellen Wulfhorst; Editing by David Brunnstrom)
© Copyright IBTimes 2023. All rights reserved.