Violence Against Women Act: History Of Reauthorization, And Why Democrats Win No Matter What
Analysis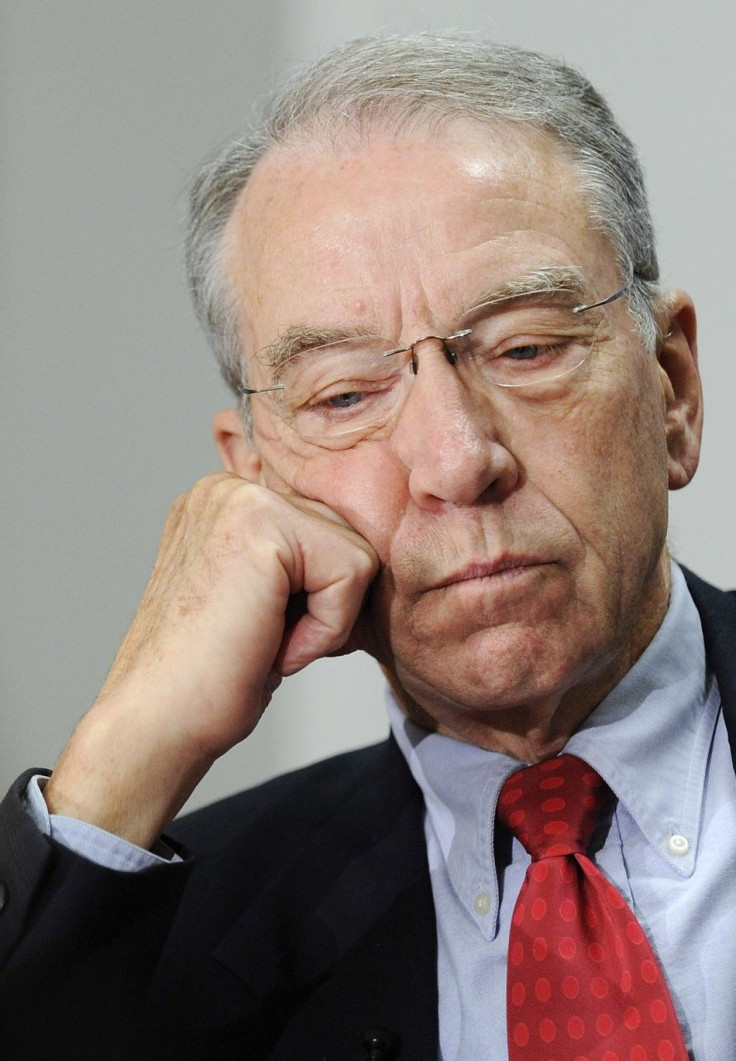 The Violence Against Women Act is at the center of an explosive debate in Congress this week. The measure, which is now due for reauthorization, allocates federal funding to provide resources for victims of domestic abuse.
The bill is encountering some staunch resistance. Sen. Dianne Feinstein (D.-Calif.) said she was stunned by the delay during a Thursday speech on the Senate floor. Never before had there been any controversy in all of more than a decade and a half, in all of this time about this bill, she continued. This act is the centerpiece of the federal government's effort to combat domestic violence and sexual assault.
The Violence Against Women Act has been painlessly reauthorized twice during its long history. But ever since Senate Democrats added some new provisions, things aren't going as smoothly as they once did.
A Never-Ending Story
The bill won bipartisan support when it was first introduced by former Sen. Joe Biden (D-Del.) in 1994. I have become convinced that violence against women reflects as much a failure of our nation's collective moral imagination as it does the failure of our nation's laws and regulations, said Biden on his motivation to draft the measure.
His legislation established programs and federally-funded resources, making it easier for victims of violence to access legal assistance and battered women shelters. It also strengthened penalties for repeat sex offenders and enabled illegal immigrants to seek legal recourse.
The bill was reauthorized in 2000 under Bill Clinton. That version authorized more programs, included provisions for cyber-stalking and dating violence, and put greater emphasis on immigrant protection.
The last version, signed in 2006 under George W. Bush, added still more programs to the bill, including Culturally and Linguistically Specific Services. And in 2010, the Justice Department ruled that criminal provisions in the bill could be applied in cases of same-sex partnerships.
So there is a clear history of expansion and liberalization of the Violence Against Women Act. But this time, some Republicans think it's gone too far.
Points of Contention
No one in Congress has declared unequivocal opposition to the Violence Against Women Act; politicians on both sides of the aisle avow dedication to the cause. But for Republicans, the devil is in the details.
For instance, the new law would make it easier for illegal immigrants to get U visas, which are given to crime victims so that they can seek legal recourse and sustaining employment. Critics point out that these visas are often used fraudulently as a way for undocumented residents to get their foot in the door.
Some Republicans also take issue with the fact that the new version would extend protection to victims of violence in same-sex partnerships.
And there are budgetary objections. Opponents of the bill worry that the Office of Violence Against Women has already wasted taxpayer dollars on some less-than-effective grants, arguing that more oversight is needed to make sure that victims of violence see the full benefit of federal investments.
The biggest problem of all, according to the bill's critics, is that liberals are using this controversy to vilify conservatives in the run-up to the big election. By including provisions that conservatives cannot embrace, Democrats have forced Republicans into the unenviable position of opposing a women's rights bill.
As Sen. Charles Grassley (R-Iowa) explained to ABC News, It's a shame that the majority party is manufacturing another partisan, political crisis. No doubt we need to consider the Violence Against Women Act at the appropriate time, but there must be a fair process that includes consideration of our alternative that ensures more money goes to victims rather than bureaucrats, and helps root out more of the well-documented fraud in the program. The Republican leadership has no intention of blocking fair consideration of this bill.
Chasing Skirts
For Democrats, this is a well-timed controversy. Pitting themselves against Republicans on an issue like this will boost their appeal to a very important voting bloc: women.
In recent elections, reported the Center for American Women and Politics (CAWP) at Rutgers, voter turnout rates for women have equaled or exceeded voter turnout rates for men. Women, who constitute more than half the population, have cast between four and seven million more votes than men in recent elections.
Obama, for one, is all over it. On March 12, reports the New York Times, his campaign sent out letters to a million women in heavily contested states. On March 14, a program kicked off to recruit nurses across the country who will advocate for Obama's health care legislation. And later in March, a concerted effort called the 'Women's Week of Action' will focus on the female electorate with media events, phone banks and local activities.
These initiatives are capitalizing on an established trend: females vote for liberal candidates in greater numbers than males do. During Obama's election in 2008, that disparity was particularly pronounced. A study conducted by CAWP in 2008 found that [w]omen strongly preferred Obama to Senator John McCain (56 percent for Obama, 43 percent for McCain), unlike men, who split their votes about evenly for the two presidential candidates (49 percent for Obama, 48 percent for McCain).
And this year, reports the Christian Science Monitor, polls indicate that Obama has an incredible 20 percent lead in female support over both Mitt Romney and Rick Santorum.
Statistics like those suggest that Democrats may not even need the extra female support they're sure to get from this donnybrook over the Violence Against Women Act -- but it couldn't hurt.
Ending the Violence
A spokesman told Bloomberg News that Senate Majority Leader Harry Reid (D-Nev.) hopes to take the Violence Against Women Act to the voting floor by the end of March.
It may be a close fight; when this bill squeaked by the Senate Judiciary Committee in February, all eight Republicans were opposed while the 10 Democrats voted in favor. In an increasingly partisan Congress, and with so much at stake, this isn't shaping up to be a civil dispute.
Not that Democrats are very worried. Whether the bill passes or fails, this episode is more than likely to boost their chances in presidential and congressional elections this November.
FOR FREE to continue reading
✔️ Unlock the full content of International Business Times UK for free
offer available for a limited time only
✔️ Easily manage your Newsletters subscriptions and save your favourite articles
✔️ No payment method required
Already have an account?
Log in
© Copyright IBTimes 2023. All rights reserved.