Virgin America's Seat-To-Seat Delivery Service Follows Trend Of Social Flying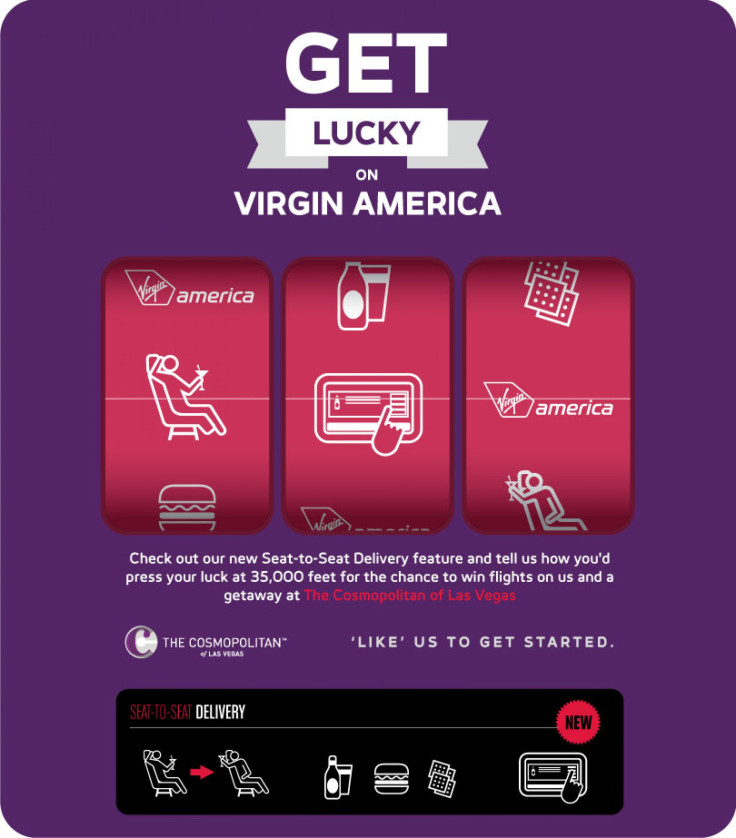 Fancy the traveler in seat 4A? Now you can send him or her a glass of wine and some cheese and crackers to go with it on Virgin America's new seat-to-seat delivery service.
Virgin boss Richard Branson is on an all-out crusade to bring glamour back to air travel, but Virgin America's latest offering takes the concept of social travel to a new level that's either creepy or cool, depending on who you ask.
The gregarious founder and chairman of Virgin Group introduced the seat-to-seat delivery service this week with a cheeky video, labeled "Sir Richard Branson's Guide to Getting Lucky."
"Just order a drink, meal or snack, select his or her seat, and don't forget to seal the deal with a suggested seat-to-seat chat," he said. "I'm not a betting man, but I'd say your chances of deplaning with a plus one are at least 50 percent."
Virgin America launched an online promotion to coincide with the new in-flight feature, inviting users to share how they are using or would use the seat-to-seat function, including "their best in-flight pick-up lines." The top two entries, as judged by Virgin America fans, will win grand prize packages to Las Vegas from anywhere in the Virgin America U.S. domestic network.
If the whole concept sounds a bit too creepy, there's an option to decline a drink and block any messages from your potential suitor.
If the concept sounds exciting, however, you may be in the majority. Recent studies have shown that many travelers are interested in a more social atmosphere.
According to a recent poll from U.K.-based Skyscanner, 45 percent of fliers admitted to flirting mid-air, with 8 percent forming relationships post-landing.
"More and more people are now traveling by air, so it's no surprise that flights have become a place to flirt," explained Skyscanner's Karin Noble, a former flight attendant. "You are sitting next to someone for an hour or more, and the fact that you're both traveling to the same place means you already have something in common."
Air travel puts people in a "holiday mood," Noble said, and the heightened effect of alcohol at altitude can make them even more relaxed.
"It tends to give people the courage to flirt with a fellow passenger or even take things further, especially on long-haul routes such as flights to Australia."
Airlines as a whole are relative latecomers to the social media party, but they're fast becoming sophisticated users of new platforms both as marking tools and as a low-cost way to learn more about their customers. Indeed, Virgin America's new in-flight service follows a trend in recent years to add more social features for frequent travelers.
Malaysia Airlines was one of the first to dip its toes into the field. Its MHBuddy program, which debuted in 2011, allows users who book and check-in via the carrier's Facebook page to see which friends are visiting a destination or taking the same flight the same time. The application claims several thousand active monthly users and enables existing friends to select seats together.
Last February, Dutch airline KLM began initial testing of its Meet and Seat program, which allows travelers to choose the people they sit next to according to social media profiles. Travelers in the program upload details from Facebook or LinkedIn profiles and use the data to select seatmates based on mutual interests. Though it's not possible to reject a potential seatmate, fliers can change their seats up to two days prior to departure or delete their profiles and select new seats using the standard anonymous platform.
Finland's national carrier, Finnair, announced a similar program last month.
A new company called SeatID has also made waves by offering a "social seating" application that airlines, trains, stadiums, theaters or hotels can choose to incorporate. For airlines, users log in via Facebook or LinkedIn to see if any of their social media connections are on the same flight.
Henry Harteveldt, travel industry analyst at Hudson Crossing, feels the applications are interesting, but he's not convinced they will find a consistent level of success.
"People who are extremely social will, no doubt, appreciate them," he said. "However, some travelers will view these apps as crossing the line between 'cool' and 'creepy.'"
Harteveldt noted that it would be important for these applications to incorporate controls so travelers who don't want to be contacted can opt out.
"Corporate travel managers may also have concerns about their employees' privacy and confidentiality," he warned. "I can only imagine the problems at a company where employees are told that everyone has to fly in economy, only to find out that some colleagues are booked in a premium cabin."
While many airlines seek ways for fliers to become more social, others like AirAsiaX, Vueling and Air New Zealand have targeted a different kind of traveler: the person who wants to be left alone. Each carrier allows passengers to request that the seat next to theirs is empty at a cost ranging from $6 to $60. If the flight ends up full, the carriers simply refund the extra charges.
© Copyright IBTimes 2023. All rights reserved.