Vivek Ramaswamy Says Stronger Ties With India 'Could Help US Declare Independence From China'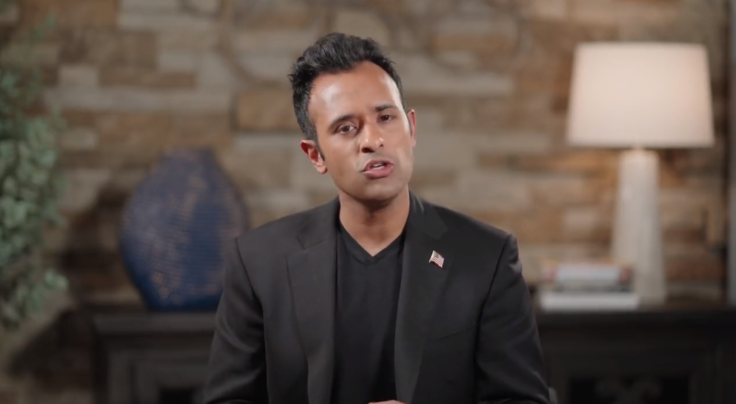 KEY POINTS
Vivek Ramaswamy called for strong strategic U.S.-India ties, including an improved military relationship
He previously said the U.S. and India are destined to be natural allies
Ramaswamy also believes "the No. 1 threat to the U.S. military" is the China-Russian alliance
Republican presidential candidate Vivek Ramaswamy believes India is the answer to helping the U.S. reduce its dependence on China.
The wealthy biotech entrepreneur and author of the book "Woke, Inc." called for strong strategic U.S.-India ties, including an improved military relationship, in an interview with news agency PTI.
"A stronger U.S.-India relationship could help the U.S. declare independence from China. The U.S. is economically dependent on China today, but with a stronger relationship with India, it becomes easier to declare independence from that Chinese relationship," Ohio-born and -raised Ramaswamy said.
"U.S. should also have a stronger strategic relationship with India, including even military relationship in the Andaman Sea knowing that India, if necessary, could block the Malacca Strait where actually China gets most of its Middle Eastern oil supplies. So, these are areas for real improvement in the U.S.-India relationship," he added
Born to Indian immigrant parents, Ramaswamy has previously said the China-Russian alliance is the biggest threat to the U.S. military and that Washington's support for Ukraine does not work in favor of the States.
"I think the no. 1 threat to the U.S. military is right now, our top military threat, is the China-Russian alliance. I think that by fighting further in Russia, by further arming Ukraine, we are driving Russia into China's hands," he told ABC News in June.
The 2024 presidential aspirant also believes the U.S. and India are destined to become natural allies and that bolstering Washington's ties with Indo-Pacific nations would help the U.S. disengage with China.
"The United States needs to re-enter the trade relationships with the allied nations in the Indo-Pacific in order to put ourselves in a position to actually decouple from China," he told WION.
Ramaswamy then said that if he won the White House race, he would avoid war with China over Taiwan while still warding off a Chinese invasion of Taiwan. India would also play a role in the plan, he added.
"If China knows that India is on the U.S. side and pro-Taiwan side respectively, that will erode Chinese President Xi Jinping's confidence in going after Taiwan. A strong India on the side of the U.S. in a rock solid manner will hold China from winning the global semiconductor supply chain starting in Taiwan and will further erode Xi Jinping's confidence," he added.
© Copyright IBTimes 2023. All rights reserved.