Vladimir Putin: Will Anna Politkovskaya's Murder Ever Be Solved?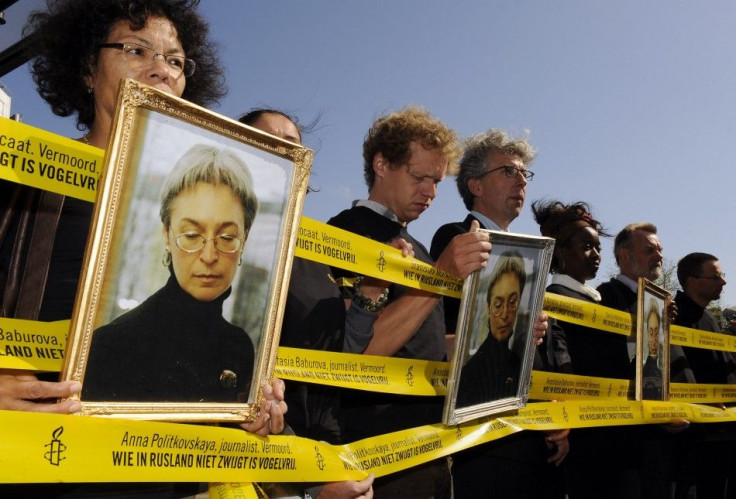 Five years after investigative journalist and Kremlin critic Anna Politkovskaya was shot dead in her apartment building, her unsolved murder is becoming a test case for Vladimir Putin on his return to Russia's presidency.
The arrest of a murder suspect and a former police officer accused of helping organize the killing has increased the chance of a successful prosecution in a case that came to symbolize the corruption of the political and judicial system under Putin.
But the most significant step in the case, and the one that could be key for Putin, would be identifying and jailing the person or people who ordered Politkovskaya's killing.
Doing so would send a signal that Putin is determined to improve the rule of law and overhaul a judiciary marred by corruption and pressure from the state.
Rights groups say 19 journalists have been victims of contract killings in Russia since 2000, the year Putin was first elected president, and none of the masterminds of the murders has been jailed. 98 journalists have been killed as a whole, under suspicious circumstances.
Not doing so would risk the case becoming a symbol of his failure to reform and of what could be a drift into political stagnation in Russia in his next spell as president.
Now it is important that the detectives do not stop there, continue to dig in and identify, detain and prosecute those who ordered Anna Politkovskaya's killing, said Nina Ognianova of the Committee to Protect Journalists in New York.
If they are able to do this, Anna Politkovskaya's murder investigation will be a benchmark for Russia. It will be a benchmark in the fight against impunity in journalists' murders in Russia because it will be the only case where a mastermind will ... go before a jury and be prosecuted.
Limited Damage in Russia
Politkovskaya, 48, was shot twice in the chest, once in the shoulder and once in the head as she returned to her Moscow home in broad daylight on Oct. 7, 2006. The fifth anniversary of her death on Friday coincides with Putin's 59th birthday.
A journalist with the Novaya Gazeta newspaper, she had made many enemies, including in the Kremlin, by writing hard-hitting articles exposing corruption in Russia and human rights abuses in the violence-plagued Chechnya region.
Her killing deepened concerns about justice under Putin, who was then president, and highlighted the risks run by government critics.
A Moscow jury acquitted three defendants in 2009, embarrassing Russian law enforcement, but the Supreme Court threw out the decision and sent the case back to prosecutors.
But the chief suspect, Chechen Rustam Makhmudov, was finally arrested in May after years on the run. Dmitry Pavlyuchenkov, the retired head of a police surveillance unit who had been a witness in the case, was also arrested in August on suspicion of organizing the killing for a fee.
While Politikovskaya's killing damaged Russia's reputation in the West, few Russians have shown any interest in the investigation and Putin said a few days after the slaying that her influence had been extremely insignificant in Russia.
It caused serious damage to Putin's image abroad but not in Russia, said political analyst Dmitry Oreshkin.
Dmitry Peskov, Putin's spokesman, is tired of hearing the prime minister's name associated with Politkovskaya's death.
Every time [I hear this] I feel even more desire to go out, open the door wide and say: 'People, you are crazy to associate this with Putin!' Peskov said in a television interview.
This is as crazy as when we read somewhere that the White House in Washington is behind 9/11, he said, referring to the attacks on the United States on Sept. 11, 2001.
Demands for Reforms
But Russian political analysts say Putin may need to pay some attention to the case if, as expected, he returns after an election next March to the post he held from 2000 to 2008.
Russians are fed up with corruption and want reforms of the justice system. Putin has avoided such reforms but his popularity has slipped and the public may be less forgiving in a second presidency.
Putin and President Dmitry Medvedev upset many Russians when they announced without consultation last month that they intended to swap jobs next year.
Although it is not in the public eye in Russia now, the Politkovskaya murder case could become a small but potent symbol of any failure by Putin to carry out reforms.
At the start of the Putin era people easily forgave him -- over the sinking of the Kursk submarine [which killed 118 crew in 2000], Politkovskaya's killing, 129 deaths when a 'harmless' gas was used to end a theater hostage crisis [in 2002]-- because he was widely loved, Oreshkin said.
But 10 years later, Putin is suddenly annoying people. People, especially in the provinces, did not want to hear anything about Politkovskaya ... but the trend of falling support is setting in and the Politkovskaya case may now be seen in a different light.
Spur for Reforms?

Such concerns ought to be an impulse for reforms of the judiciary, and rights campaigners and foreign governments hope for progress in several cases including Politkovskaya's.
They want justice over the death of hedge fund lawyer Sergei Magnitsky in custody in 2009 and a fair hearing for Mikhail Khodorkovsky, a former oil tycoon jailed in 2003 after falling out with the Kremlin.
I have a feeling that some kinds of gestures are going to be made with Khodorkovsky, with the Magnitsky case, said Igor Bunin, head of the Center for Political Technologies think tank.
But he said little could be expected on the investigation into Politkovskaya's murder, which had never been a strong moral limitation for Putin.
Other analysts said they did not expect much progress in the fight against corruption, a problem for centuries in Russia, or with overhauling the judiciary.
When it comes to judicial reform, I think this is the basis of the whole current political system and it is hard to think that the system itself will be radically reformed, said Nikolai Petrov of the Carnegie Moscow Centre think tank.
Novaya Gazeta's editor-in-chief, Dmitry Muratov, said he still hoped Politkovskaya's murder would be solved but that Putin's return as president was not a good sign for political or judicial reform.
It is my personal opinion that the return to power of Vladimir Putin is a negative turn of events in my country. I think the unchangeability of power leads to these people being unable to reform themselves, he said.
(Writing by Timothy Heritage. Additional reporting by Jennifer Rankin and Jennifer Marostica; editing by Myra MacDonald)
© Copyright Thomson Reuters 2023. All rights reserved.
FOLLOW MORE IBT NEWS ON THE BELOW CHANNELS