Voting Rights 2016: Texas Governor Blasts Obama's Voter ID Critique; Civil Rights Group Sues Over Election Law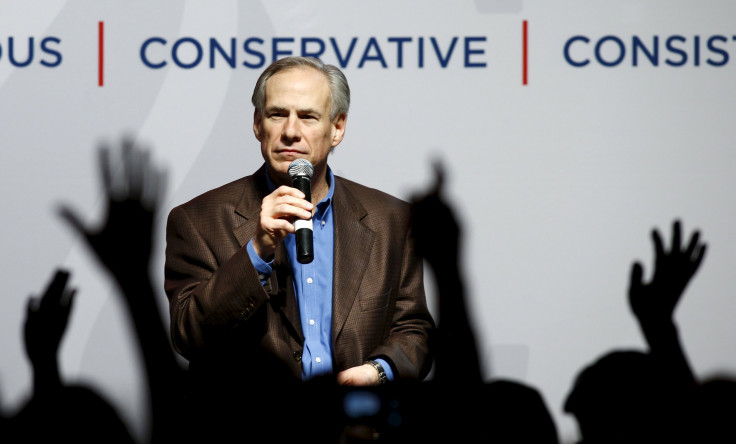 Texas Gov. Greg Abbott has dismissed President Barack Obama's recent criticisms of the state's voter laws, which have been the target of federal and civil lawsuits in recent years. Abbott argued Monday that Texas has to be vigilant against voter fraud, although he provided no evidence that fraud exists.
"What I find is that leaders of the other party are against efforts to crack down on voter fraud," Abbott said. "The fact is that voter fraud is rampant. In Texas, unlike some other states and unlike some other leaders, we are committed to cracking down on voter fraud."
Obama, in an editorial meeting with the Texas Tribune last Friday, said state leaders are to blame for Texas having one of the lowest voting-age participation rates of the states that held presidential primaries in 2016. (The state had a participation rate of 21.5 percent, according to the Tribune.) Voting laws in Texas have be changed to require specific forms of photo ID that many poor, elderly and racial minority voters are least likely to have, voting rights advocates have said.
"The folks who are governing the good state of Texas aren't interested in having more people participate," Obama said in the Texas Tribune interview. The president has previously critiqued the Lone Star State's voting laws, such as the voter ID requirement passed in 2011.
The Texas law was temporarily halted last year after a federal judge ruled that the voter ID requirement has a "discriminatory effect" by making it harder for black and Hispanic voters to access the polls. The 5th U.S. Circuit Court of Appeals last week announced that it would review whether the law violates the Voting Rights Act, a federal civil rights law banning poll taxes and other forms of voting regulations that have a suppressive effect.
As the governor responded to Obama's critique Monday, the Texas Civil Rights Project filed a lawsuit in a San Antonio federal court challenging the state's voter registration procedures, the Tribune reported. The complaint alleges that Texas violated the U.S. Constitution and the National Voter Registration Act by rejecting registration for nearly 2,000 eligible voters who changed information on their driver's license between 2013 and 2015.
"Plaintiffs, who are eligible Texas voters, have been disenfranchised — just like the thousands of similarly situated voters who complained to election officials about these same problems when their ballots were not counted," the complaint states. "Texas voters will continue to be shut out of the democratic process unless and until defendants reform their registration practices."
Percent of Black Voters Relative to White Voters in Presidential Elections | MooseRoots
Election law experts have said the incidence of voter fraud is much too rare a phenomenon to justify the types of laws that potentially suppress voters. Abbott continued to be defiant.
"We don't want to open the system up to methodologies or ways of voting that would promote or allow voter fraud," the governor told the Tribune. "To the contrary to the president's comment, the fact is — despite our voter registration laws — we had the highest level of turnout than ever before in the primary that occurred just a few weeks before he made that comment."
© Copyright IBTimes 2022. All rights reserved.
FOLLOW MORE IBT NEWS ON THE BELOW CHANNELS