WATCH: Disney Mascot Accidentally Slaps SB19's Justin While Dancing 'Crimzone'
KEY POINTS
SB19 recently released episode 3 of its "SHOWBREAK" series
Justin got slapped by a Disney mascot while dancing to "Crimzone"
SB19 spent a day in Disneyland amid its "PAGTAGTAG!" world tour in the U.S.
SB19 member Justin experienced an epic encounter in Disneyland, which will surely be engraved in his memory.
The Filipino pop boy group recently released episode 3 of its "SHOWBREAK F!VE" series on YouTube, which showed the highlights of its trip to one of the most popular vacation sites in Anaheim, California. There, Pablo, Josh, Stell, Ken and Justin enjoyed a day of rides, went around to meet with fans — known as A'TIN — introduced themselves and their music to strangers, and even completed several missions.
Interestingly, the 25-year-old youngest member of the group had an unexpected encounter with a mascot, who was dressed as one of Disney's popular animated characters, Chip.
In the video, the five members approached the mascot and asked it to dance with them. The latter immediately agreed and took a photo with SB19 before engaging in their dance lesson. Surrounded by the boys, Chip learned parts of the choreography for "Crimzone."
But as they said their goodbyes, Chip accidentally slapped Justin in the face, which shocked the latter. He then said, "Chip slapped me," while touching his face and frowning. Chip, however, noticed his disappointment and went in for a hug as an apology.
Also in the episode, SB19 fulfilled several tasks such as re-creating a throwback photo, asking strangers if they knew them, doing a "Freedom" relay dance challenge on the streets of Disneyland, recreating a memorable scene from a Disney cartoon and going on a ride together.
But, of course, the missions did not end there. Each member was also tasked to buy a special gift and take a selfie with five lucky A'TIN. They bought items from the gift shop, including a bag, footwear, a shirt, jewelry and a Mickey Mouse doll.
SB19 recently concluded the North American leg of its "PAGTAGTAG!" world tour after performing across theaters and event venues in the U.S. and Canada. The group last performed at the Northern Alberta Jubilee Auditorium in Edmonton, Canada, last Sunday.
The Pinoy pop band will now head to Boston after it recently announced that it will be part of American singer JVKE's "The End Of Tour" on Sept. 2. The artists recently collaborated to release a remix version of the latter's hit single, "golden hour."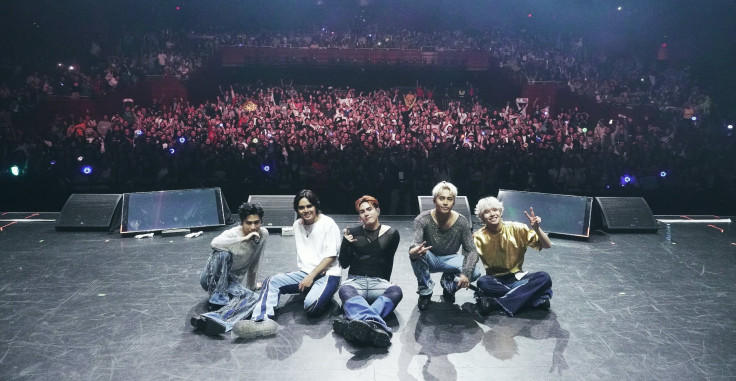 © Copyright IBTimes 2023. All rights reserved.