WATCH: WayV's Xiaojun, Yangyang Perform SB19's 'Gento' While Kun Films Them
KEY POINTS
Several K-Pop idols are jumping on P-Pop group SB19's "Gento" dance craze
SB19's "Gento" fever has reached WayV's Xiajun and Yangyang, too
They uploaded two videos on TikTok, the dance challenge and its behind-the-scenes
WayV members Xiaojun and Yangyang are the latest additions to the continuously growing list of idols dancing to Filipino pop boy band SB19's hit song "Gento."
On Thursday, two new videos were uploaded on WayV's official TikTok account, @official_wayv, and have since gained millions of views each. The first upload was a video of members Xiaojun and YangYang's "Gento" dance challenge entry.
Shortly after, a behind-the-scenes video of the two WayV members' dance video showing their leader Kun as their cinematographer was uploaded.
The "Gento" dance challenge entry of the two members of the Chinese boy band and NCT sub-unit WayV has since gained over 2.2 million views, 698,400 hearts, 45,700 bookmarks and 13,400 comments on TikTok.
"Everybody, please rise for the Philippine National Anthem, 'Gento,'" one user joked, while another commented, "'Gento' has come so far. I'm so proud of being a Filipino."
"This is 'Gento' domination," commented another one. A fourth user stated, "Every time I open TikTok, I see 'Gento.'"
Meanwhile, the behind-the-scenes video featuring WayV's 27-year-old leader has gained over 1.2 million views on the platform. Fans are commending Kun as an "ever-supportive leader" and requesting that he upload a "Gento" dance challenge entry, too.
"The ever-supportive leader Kun! Thank you for filming their Gento DC! Please do it with Ten as well. Thanks! 💙," commented one fan; another added, "Kun is really an all-rounder."
"[I am] in desperate need of Kun's version," quipped one supporter. A fourth fan wrote, "Kun, it's your turn!"
"So, who is filming behind Kun?" one fan joked, while another stated, "We want to see the behind-the-scenes of the behind-the-scenes."
"Gento" is a pop, hip-hop track recorded by Filipino boy band SB19 for its "PAGTATAG!" EP. The song, which talks about empowerment, was written by SB19's leader Pablo and co-produced by Joshua Daniel Nase and Simon Servida.
In the song, Pablo used gold mining and refining gold as a metaphor for achieving success.
The inviting dance steps of the chorus of "Gento" attracted many to join the dance challenge on TikTok, regardless of age, gender and race.
"Gento" continues to dominate South Korea, most notably in the K-Pop industry, with several K-Pop idols jumping on the craze. South Korean personalities like singer-songwriter Oh Sae-bom, TikTok star Vincent Hsu and fashion model Haesung also joined in on the "Gento" dance craze.
It has also reached Malaysian idols. Just recently, Malaysian pop boy band O.V.A covered and performed SB19's hit song during the Absolut Food Fest in Kuala Lumpur.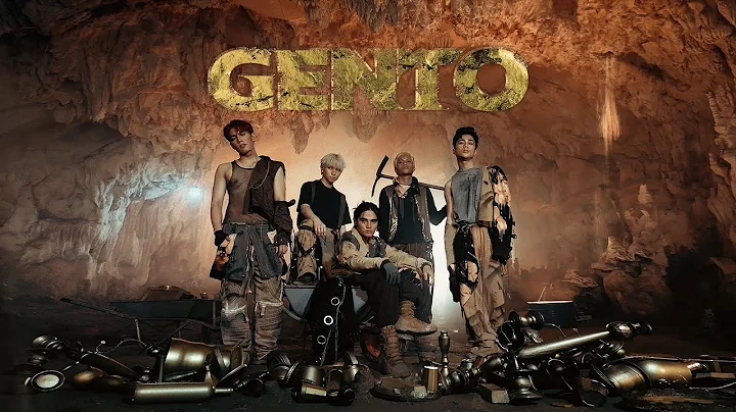 © Copyright IBTimes 2023. All rights reserved.