What Is 'Make America Sick Again?' Democrats Mock Trump's Slogan In Obamacare Fight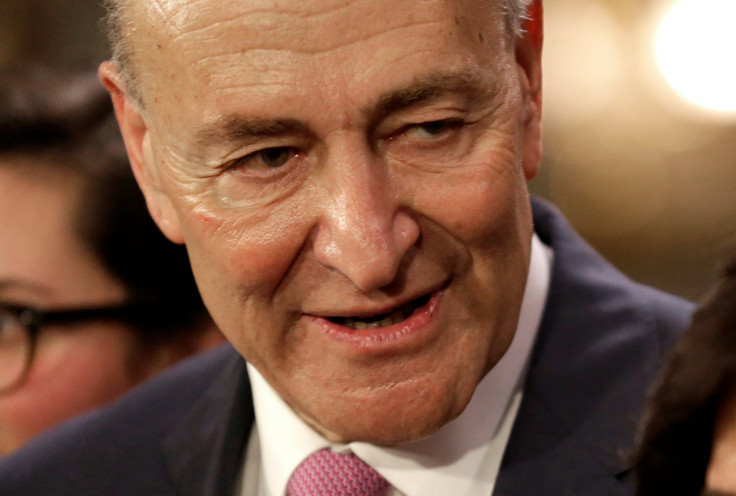 Senate Minority Leader Chuck Schumer has jacked the slogan of the GOP's President-elect, Donald Trump, in an effort to fight Republicans' plans to repeal Obamacare. Getting rid of the President Barack Obama's signature health-care law will "Make America Sick Again," Schumer, a New York Democrat, said in an interview published by Politico Wednesday.
"Less health care and it will cost more," Schumer said of a world without Obamacare in the Politico Playbook interview. "And it will create chaos. Because you cannot repeal a plan and put nothing in its place. It doesn't matter if you say the repeal won't take place for year or two years."
The modified version of "Make America Great Again" even briefly trended on Twitter Wednesday morning. At least a portion of those tweets were, of course, mocking the Democrats for stealing the slogan.
Schumer said he and other Senate Democrats planned to continue a fight to save health-care for Americans at all costs. "Our message is not just on Obamacare. Our message is don't cut health care," he said to Politico. "Medicare. Medicaid. Obamacare."
And if Republicans do try to rework the law, Schumer added that Democrats wouldn't simply give in and help make the changes. "I've talked to just about every one of my colleagues," he said. "Obviously they're not going to say we won't look at anything. But the idea of just tweaking a Republican plan that takes away these benefits, the bottom line is there is virtual unanimity in our caucus that we're all from Missouri: Show me. If they show us a plan, and it's a plan that we can live with, of course. But we're not going to sit down in a room with them once they repeal and say let's figure out a joint plan."
Repealing Obamacare, otherwise known as the Affordable Care Act (ACA), has been cited as a top priority for both the president-elect and many in both chambers of the Republican-controlled Congress.
"These folks have a mandate to repeal and replace Obamacare," Kellyanne Conway, a senior Trump advisor said Tuesday on MSNBC, citing the election results. "Obamacare was on the ballot. People want it repealed and replaced."
GOP lawmakers have begun formulating plans to repeal the health-care law in pieces over years. Some 6.4 million Americans get their healthcare through the ACA, which could make reworking or replacing the law very difficult. A December poll, meanwhile, found that about one-in-four Americans want the law repealed.
© Copyright IBTimes 2023. All rights reserved.
FOLLOW MORE IBT NEWS ON THE BELOW CHANNELS