What Will Ivanka Trump Do About Equal Pay And Childcare? Maternity Leave Proposal Only Applies To Pregnant Mothers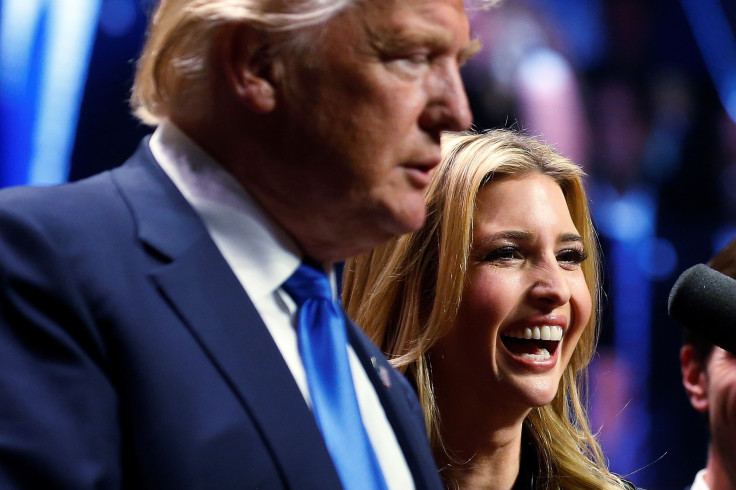 Donald Trump's daughter, Ivanka, has positioned herself as his leading operative on equal pay and child care over the past year. But her child care proposals would exclude man, including gay fathers, and women in same-sex couples who aren't carrying the child, and she doesn't link the wage gap between men and women to sexism.
"I've said throughout the campaign that I am very passionate about certain issues," Ivanka Trump said in an interview on CBS' "60 Minutes" several days after her father won the election. "And I want to fight for them. Wage equality, child care. These are things that are very important for me."
In September, Donald Trump unveiled a childcare policy largely credited to his eldest daughter, which offered six paid weeks of maternity leave, income tax deductions equal to the full cost of parents' child and elder care expenses based on the "average cost of care" in each state—a step away from the conservative tradition of limited government involvement in social services.
The policy also differs with the company that manages Ivanka Trump's clothing line, which offered 12 weeks of unpaid maternity leave. One woman, whose LinkedIn profile says she is a former creative director for Ivanka Trump's line, wrote in a Facebook post that she was denied maternity leave altogether soon after she began working for the brand.
Although the president-elect's policy proposal recognizes same-sex couples as beneficiaries, Ivanka Trump, in an interview with Cosmopolitan Magazine, said under her plan, fathers, including gay dads who have recently adopted, would not qualify. Neither would women in same-sex couples who aren't carrying the child.
"It's meant to benefit, whether it's in same-sex marriages as well, to benefit the mother who has given birth to the child if they have legal married status under the tax code," she said. "The plan, right now, is focusing on mothers, whether they be in same-sex marriages or not."
The policy's limitations angered critics, as, along with excluding certain members of same-sex couples, the proposal shied away from paternity leave, which some argue is a great way to evenly distribute childcare duties between parents, rather than predominantly relegating them the mother in an opposite-sex couple.
In the same interview, Ivanka Trump, the author of "Women Who Work," grew defensive when the Cosmopolitan reporter cited 2004 interview footage of her father calling pregnancy "an inconvenience for business," which resurfaced in May.
"So I think that you have a lot of negativity in these questions, and I think my father has put forth a very comprehensive and really revolutionary plan to deal with a lot of issues," she said when Cosmopolitan's Prachi Gupta asked her if her father's views might've changed since he made the comments. "So I don't know how useful it is to spend too much time with you on this if you're going to make a comment like that."
A related issue, equal pay, is another area in which Ivanka Trump and her father have publicly stumbled a bit, and its less clear how they intend to handle the issue. In a Wall Street Journal op-ed, Ivanka Trump appears to point to lacking childcare and maternity leave policies in the U.S. as the main reason behind the pay gap, and while she starts her editorial with the issue, she doesn't directly address equal pay in the remainder of the piece. Many advocates—including the Institute for Women's Policy Research and House Rep. Carolyn Maloney, who authored a report on the gender wage gap in April—cite discrimination as a dominant factor in the wage gap between men and women.
Regardless of whether Ivanka Trump's ideas are meet favorably by the American public or not, it's unclear how she can lawfully work as a policymaker for her father at all, as it's illegal for federal employees to promote or hire family members.
Nevertheless, both Trumps have drawn ire from equal pay advocates over the past few months, when a Boston Globe inquiry found that Donald Trump's campaign paid its male workers 33 percent more than its female employees, and New York Magazine pointed out that Ivanka Trump didn't pay her 100 percent female summer interns. Earlier this year, the New York Times published a story on a female Trump campaign worker who filed a discrimination complaint alleging that she not only was paid less than her male counterparts, but was denied opportunities to plan and speak at rallies often granted to her male coworkers.
Donald Trump has also raised eyebrows on several occasions in 2015, when he suggested that equal pay may be too much to ask.
"Here is the problem. If you start getting involved with government on 'this one gets this pay and this one gets that pay,' and then you say — 'Where does it all start?' Because you could have a woman that's much better than a man, or you could have a woman that's not as good as man, if you sort of say, 'Everybody gets equal pay,' you get away from the whole American Dream. You get away from capitalism in a sense," he said in an interview with a local Iowa TV station in November 2015. "I can tell you, that I have women, honestly that are just, in many cases, they're better than men, and I pay them more than men. And to a certain extent, people have to go out there, they have to fight for themselves. … I don't know if people agree with me, once you get where everybody gets the same, I mean, you're into a socialistic society."
Donald Trump also said, in an interview with MSNBC's Morning Joe in August 2015, that equal pay for both genders would be "very tricky" because "people do different jobs."
"If they do the same job, they should get the same pay, but it's very hard to say what is the same job," he said. "It's a very, very tricky question."
FOR FREE to continue reading
✔️ Unlock the full content of International Business Times UK for free
offer available for a limited time only
✔️ Easily manage your Newsletters subscriptions and save your favourite articles
✔️ No payment method required
Already have an account?
Log in
© Copyright IBTimes 2023. All rights reserved.