What Will Jill Biden Push For As First Lady?
KEY POINTS
Jill Biden plans to make education a priority as first lady
She'll push for debt-free community college, and continue to teach personally at a community college
It will likely be a more active schedule than Melania Trump's, who preferred to take a back seat on the national stage
Jill Biden hopes to take education to the forefront of politics as she enters the position of first lady, pushing for debt-free community college and continuing to teach students personally. It will be a departure from the Trump administration, where Melania Trump's "Be Best" campaign was largely abandoned.
Biden has a doctorate degree in education from the University of Delaware, along with two master's degrees. Beyond her own education, teaching has proven a personal passion of hers.
"Teaching is my life's work," said Biden in a 2015 address to the Community College National Legislative Summit. "I teach because I love seeing the difference that I hope to make in my students' lives. My goal is to always give them confidence in their own abilities, because I know confidence will carry them well beyond my classroom in whatever they do."
That drive will express itself through policy as Biden pushes for debt-free community college for all, something she pitches as both ethically right and a smart investment for society.
"That is what she would like to see. We have often talked about community colleges as the unsung heroes," said Dr. Martha Kanter, who worked with Biden for over a decade.
Kanter told Yahoo News that Biden wants "to really help people understand the value proposition and the return on investment and why it's important."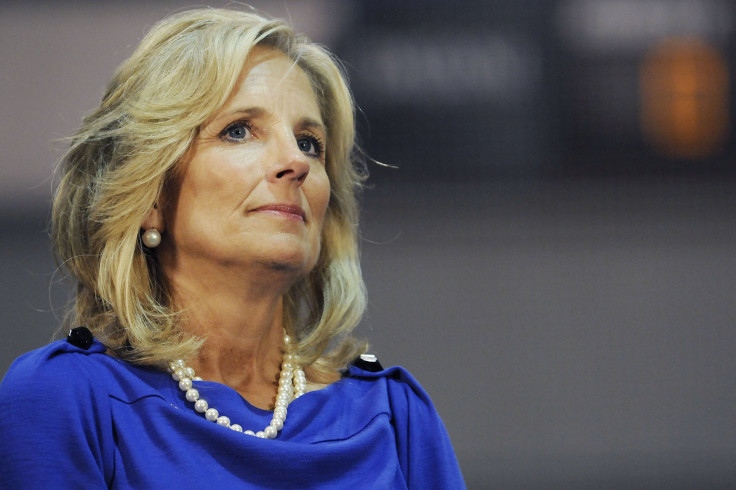 Biden's also not ready to hang up her professor's robes just because she'll be in the national spotlight. She scaled back her presence at the Northern Virginia Community College (NOVA) during her husband's campaign, her first break since 1981 according to Jim McClellan, NOVA liberal arts dean, but she's attending training courses and plans to return.
"If we get to the White House, I'm going to continue to teach," Biden told CBS News before the November election. "It's important, and I want people to value teachers and know their contributions, and lift up the profession."
It's an active schedule even for a first lady, and something of a return to the Obama administration when Michelle Obama regularly made headlines with national initiatives and policy proposals. Trump has, in contrast, taken a less obtrusive stance, preferring to focus on overseeing care of the White House and maintaining traditions like visiting children's' hospitals.
© Copyright IBTimes 2023. All rights reserved.