What's In A Name? Will RIM Prosper Changing Its Name To BlackBerry?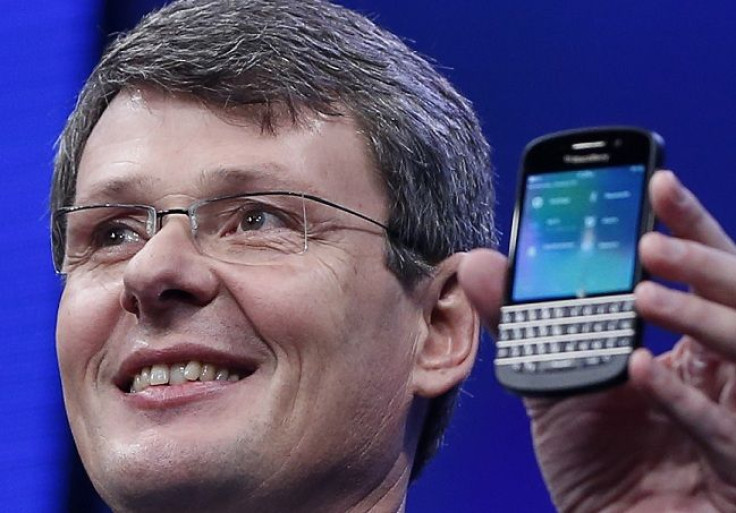 When the CEO of Research in Motion (NASDAQ:RIMM) introduced the BlackBerry 10 on Wednesday, he also announced the company will be known henceforth as BlackBerry, chucking its corporate name in use since 1984.
"We will be known just as BlackBerry from today on," Thorsten Heins, 54, who took over the Waterloo, Ontario-based company a year ago, said.
Approved by the board of directors, the name change takes effect on Monday. The company's stock symbols will change to BBRY on the NASDAQ national market and BB on the Toronto Stock Exchange.
"It's exactly the right thing for them to do to increase brand awareness," Clive Chajet, one of the world's leading experts in corporate images and brands, said. "It's a low-risk decision that should enable BlackBerry to compete in a very competitive field."
Chajet isn't one of BlackBerry's 80 million subscribers, but his wife is.
RIM is far from the only company in technology or in general to change its name. Indeed, in the last two days, its shares have already fallen 20 percent, in part because the first model, the $200 Z10, won't be available for U.S. and Canadian customers until mid-March. The company's fiscal year ends on March 2.
In Thursday trading, RIM shares fell another 80 cents to $12.98, still 82 percent above their price six months ago. Investors had been betting on Heins and the BlackBerry 10 to resurrect the company.
Top technology companies have changed their names before. Dell Inc. (NASDAQ:DELL) the No. 3 PC maker, used to be Dell Computer Corp. after founder Michael Dell founded it as PC's Limited in his dorm room at the University of Texas.
Apple Inc. (NASDAQ:AAPL) used to be Apple Computer Inc.; Oracle Corp. (NASDAQ:ORCL), the No. 1 database company, was known as Oracle Systems Corp., and NCR Corp. (NYSE:NCR), now the No. 1 maker of point-of-sale terminals, used to be National Cash Register Co. even when it was a giant computer maker.
Some monickers are derived from contests, such as Unisys Corp. (NYSE:UIS) created from the 1986 acquisition of computer mainframe giant Sperry Corp. by Burroughs Corp. An intern created the name from "United Information Systems." Unisys remains a server provider with a market value of $976 million, a far cry from years ago.
Other names come from consultants like Chajet or "name doctors" that also devise product names like iPod. Others come from management.
Seagate Technology (NASDAQ:STX), the biggest maker of disk drives, was originally Shugart Technology because of co-founder Al Shugart, who had sold his earlier company, Shugart Associates, to Xerox Corp. (NYSE:XRX). Shugart adopted the new name because its offices were close to the Pacific, in Scott's Valley, Calif.
Seagate's current market value is $12.3 billion.
Other technology companies have had mixed performance.
Accenture (NYSE:ACN), one of the top professional consulting companies, was once the consulting unit of defunct Arthur Andersen, one of the top accounting companies. With a market capitalization of $49.3 billion, it competes against Hewlett-Packard Co. (NYSE:HPQ), the No. 1 computer company, and International Business Machines Corp. (NYSE:IBM), the No. 2.
Shares of Accenture have more than tripled in the past decade.
Others, like United Telecommunications Corp., changed their names to principal subsidiaries, Sprint, and then changed again after an acquisition. Now Sprint-Nextel Corp. (NYSE:S), the company has agreed to be acquired this year by Japan's SoftBank Corp. (TYO:9984) for about $21 billion. It's value now is around $17 billion.
Shares of Sprint have fallen 50 percent over the past decade.
Some name changes flop.
One, devised by Chajet 26 years ago, was Allegis Corp., which rolled up the old United Airlines, Hertz rental cars and Westin and Hilton International Hotels. The brands all survived on their own after the ill-fated conglomerate broke up.
Private Allegis Group, meanwhile, in Hanover, Md., with no links to the prior company, has become of the top U.S. provider of staff and personnel.
"There are no guarantees of success," Chajet said.
© Copyright IBTimes 2023. All rights reserved.