Where Is Tropical Storm Nate Going And When Will It Hit?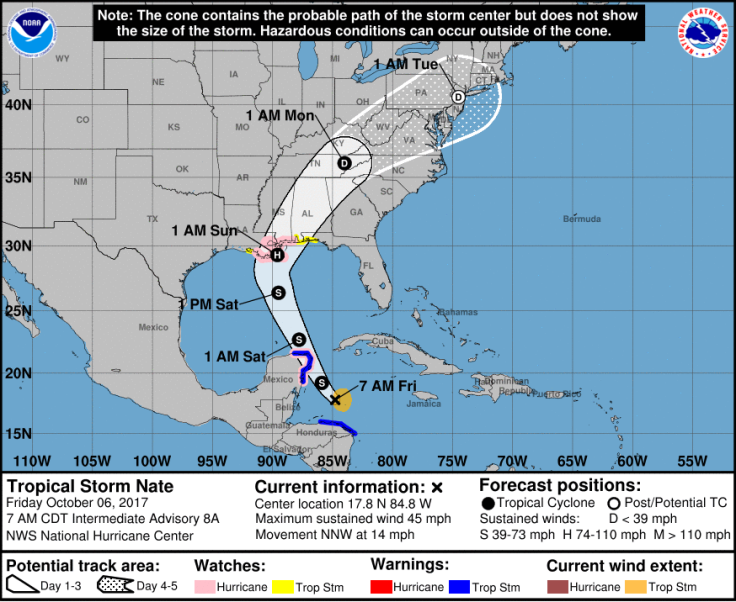 UPDATE: Oct. 6, 2017, 10:46 a.m. EDT – Tropical Storm Nate swept through Central America Wednesday, bringing winds of up to 40 mph and leaving at least 22 people dead. The storm was churning in the Caribbean Sea north of Honduras Friday, moving northwest at 14 mph.
Nate was expected to make its way toward the Gulf Coast of the United States in the coming days, potentially reaching the area as a hurricane this weekend. A state of emergency was declared in Alabama as well as parts of Louisiana and Florida. The storm was expected to pass about 50 miles east of New Orleans sometime late Saturday or early Sunday.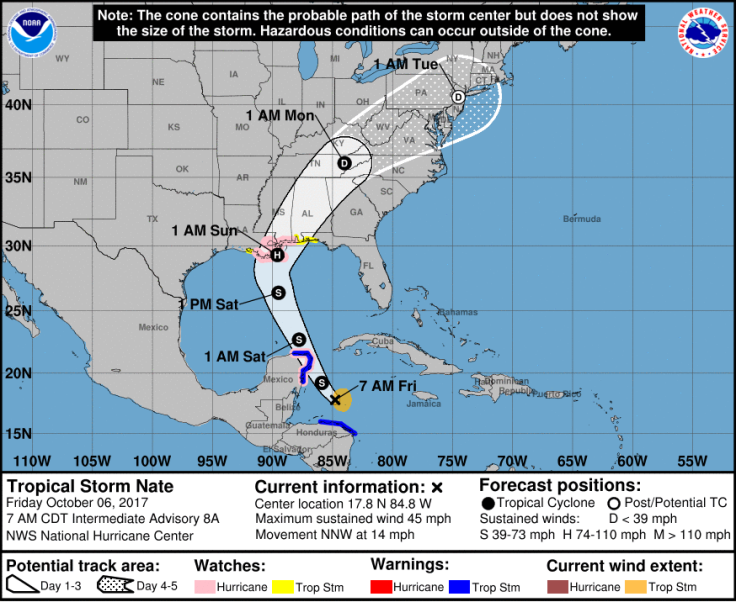 Original story:
Tropical Depression 16, churning over warm Caribbean water Wednesday, was poised to become Tropical Storm Nate sometime in the coming hours. The depression was about 200 miles southeast of Nicaragua Wednesday, moving northwest at 7 mph with winds of about 35 mph.
Depression 16 was expected to continue on its northwest trajectory, nearing the coast of Nicaragua and Honduras by Thursday. Both places had tropical; storm warnings in effect. While it's too early to predict with certainty the future path of the storm, the United States Gulf Coast, including portions of coastal Louisiana and Florida, could see an impact by the weekend.
"The system is forecast to continue strengthening over the Gulf of Mexico and could affect portions of the northern Gulf Coast as a hurricane this weekend, with direct impacts from wind, storm surge and heavy rainfall," the National Hurricane Center said Wednesday. "However it is too early to specify the timing or magnitude of these impacts."
The storm could bring up to 20 inches of rain in Nicaragua Thursday, while forecasts predicted it would pass over the Yucatan Peninsula near Cancun on Friday. The storm would likely reach the Gulf of Mexico by Friday, continuing on a northbound path as it gets stronger. Sunday would likely bring it to the Gulf Coast.
A tropical depression is categorized as a storm with winds of less than 39 mph, while a tropical storm has winds between 39 mph and 73 mph. A hurricane occurs when winds reach between 74 mph and 110 mph, while a major hurricane is categorized as one with wind speeds greater than 100 mph, according to the National Weather Center. Warm waters mean Nate has the potential to eventually intensify into a hurricane.
"We could quickly have a powerful hurricane on our hands," said AccuWeather hurricane expert Dan Kottlowski. "There is the potential for a tropical storm or hurricane to make landfall along the Gulf Coast from southeastern Louisiana to the Florida Panhandle this weekend."
In addition to the Gulf Coast, Nicaragua and Honduras, forecasts warned those in southeastern Mexico, Cuba, the Cayman Islands and Belize to keep a careful eye on the storm's trajectory in the coming days. Alabama and Mississippi could also see winds and flooding, according to AccuWeather. Nate could make its way inland by Monday, bringing heavy rain and flooding into the Appalachians and parts of the Carolinas, the Weather Channel reported.
© Copyright IBTimes 2023. All rights reserved.
FOLLOW MORE IBT NEWS ON THE BELOW CHANNELS