Who Is Alex Jones? Spotify Users Want Conspiracy Theorist's Infowars Podcast Stopped
Days after YouTube and Facebook took action against conspiracy theorist Alex Jones, the man behind the controversial Infowars talk-show is in the news again. This time, it is audio streaming service Spotify which is facing demands from several users to discontinue his podcast on its platform.
While Facebook suspended Jones' account for 30 days and removed some videos posted by him, YouTube removed the same videos too and also gave his Infowars channel first of three warnings that bars live broadcast for 90 days (if the third warning, prompted by complaints from viewers, comes within two months, the channel will be removed).
Episodes of Jones' podcast, dating back to June 4, 2017, are now available on Spotify (even though the podcast seems to have been added to the platform only in the last couple of days), and Jones himself promoted the service in a tweet Monday evening, which would make sense, given his shrinking reach on social media platforms.
But that didn't sit well with many users of Spotify, as well as with some musicians, who threatened to boycott the service if it didn't remove the podcast.
In its reply to various tweets, Spotify said feedback would "be passed on to the right folks."
It should be noted that Jones' podcast is also available on iTunes.
Jones is well-known for his conspiracy theories and absurd claims, such as the 9/11 terrorist incident or the Sandy Hook school shooting in 2012 being orchestrated by the United States government, and his support for the latter theory (he said no children were actually killed in the incident) also led to a lawsuit against him in April, filed by parents of several children killed in the massacre.
He runs at least three different websites, and is most commonly associated with Infowars.com (NewsWars.com and PrisonPlanet.com are the other two), which hosts content that promotes conspiracy theories and often, fake news. He also hosts a talk show on the website where he promotes his conspiracy-laden right-leaning agenda, and also sells consumer products that are sometimes dubious solutions promising to cure problems that his conspiracy theories describe.
A vocal supporter of President Donald Trump, Jones has also consistently used his platforms to rail against any form of gun control in the U.S. and reportedly owns dozens of firearms himself. He is also opposed to vaccination, and has been heard equating them with infections, calling them dangerous. Among other well-known topics he has frequently brought up on his show are using weather engineering as a weapon and the idea of a white genocide that was being promoted by Democrats and communists.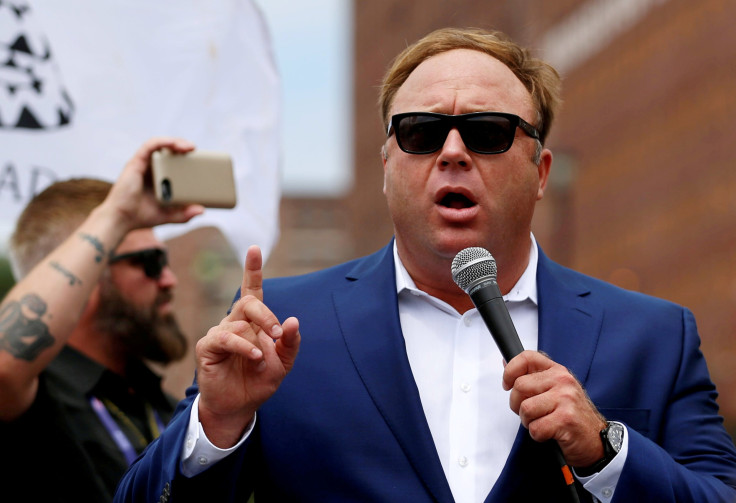 An underlying theme to many of Jones' claims and theories is the concept of a "New World Order" — an idea which has been around for a long time, which talks about the world being largely controlled by a few people who would do anything, including starting wars and pushing their own countries into chaos, to stay in power.
Due to his frequently inflammatory comments and the controversies they ignite, Jones has frequently been involved in legal proceedings and has, on multiple occasions, retracted previous claims he made. For instance, in 2017, Jones apologized to both Comet Ping Pong pizzeria owner James Alefantis and Chobani yogurt company, and retracted allegations connecting them to child exploitation rumors.
At one point in his media career, Jones also tried to make a switch to politics, running as a Republican candidate for a state representative seat in a district based in Austin, Texas. Born in Dallas, Austin is where Jones has spent most of his adult life. He was married to Kelly Nichols till March 2015, and the couple had three children together.
Apart from documentaries and conspiracy theory films, Jones also played minor parts in two Hollywood movies — "Waking Life" and "A Scanner Darkly."
Shares of Spotify fell over 5 percent on the New York Stock Exchange during Monday's trade, underperforming the broader markets.
FOR FREE to continue reading
✔️ Unlock the full content of International Business Times UK for free
offer available for a limited time only
✔️ Easily manage your Newsletters subscriptions and save your favourite articles
✔️ No payment method required
Already have an account? Log in
© Copyright IBTimes 2023. All rights reserved.