Who Is The Best Player In The NBA? Players Say It's James Harden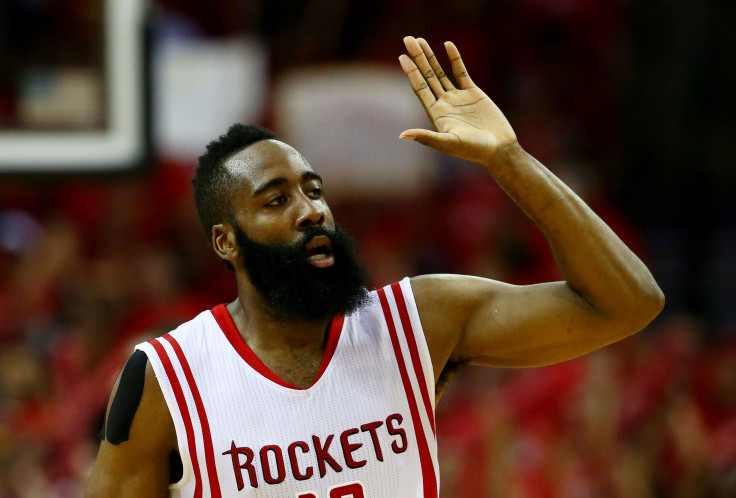 Stephen Curry was named the 2015 NBA MVP by the media, but the players had a different selection for the league's best player last year. James Harden was given the honor, as voted on by his peers, at the first annual NBA Players Association "Players' Awards."
The awards show was taped on Sunday in Las Vegas and aired on Tuesday night on BET. Harden won the award over Curry, LeBron James and Russell Westbrook, who were also nominated.
The media gave Curry 75 more first-place votes than Harden when they selected last season's MVP, rewarding the Golden State Warriors guard for leading his team to a league-best 67-15 record and averaging 23.8 points and 7.7 assists per game. But the players were apparently more impressed with Harden, who led the No.2 seed Houston Rockets to the Western Conference Finals, where they lost to the Warriors in five games.
Harden's 27.4 points and 5.7 rebounds per game topped Curry's totals last year, and he barely trailed him by posting 7.0 assists per contest. Playing without an injured Dwight Howard for half the year, Harden shouldered much of the load for Houston. He became just the 11th player in NBA history to make at least 700 free throws in a season, and he only need 18.1 field-goal attempts per game to become the league's No.2 scorer.
Curry did leave the ceremony with two awards of his own. He was named "Hardest to Guard" and "Clutch Performer" for the 2014-2015 season. James was named "Player you secretly wished was on your team," while DeAndre Jordan won the award for "Best Defender."
Even though Curry and Harden both won MVP awards, James is still regarded as the best basketball player in the world. His 25.3 points and 6.0 rebounds per game last season were his lowest totals since he was a rookie, though his 7.4 assists per game were his best since he ended his first stint with the Cleveland Cavaliers in 2010. James also shot less than 50 percent from the field for the first time since 2009.
New Orleans Pelicans power forward Anthony Davis finished fifth in the voting for 2015 NBA MVP, yet he didn't win an award. The 22-year-old led the league with a 30.89 PER last season, earning himself a record-setting $145 million contract this summer.
NBA Players Association Executive Director Michele Roberts explained in April why the players decided to introduce their own set of awards.
"Fans and coaches choose the all-stars. Media votes on League awards. Our members want to recognize outstanding performance of their peers too. Players have not voted on awards since 1980," Roberts said in a statement.
Before a foot injury ended his season last year, Oklahoma City Thunder forward Kevin Durant made it clear players were better suited than the media to decide who should win the league's top awards.
"Yeah, I think media and guys get too much power to vote on stuff that, quite frankly, I don't think you really know a lot about [or] as much as we know about it," Durant said.
"So, yeah, we play against these guys every single night. We battle against these guys. We know what they say on the court. We know how they handle their teammates. We know how they approach the game. And our vote should count. Our opinions should count. Like I said, I don't think you guys know as much as we do, and I don't see why you have more power than we do."
© Copyright IBTimes 2023. All rights reserved.