Who Is Monifa Sterling? Bible And Religious Freedom Debated By Military Court After Marine Discharged For Sharing Scripture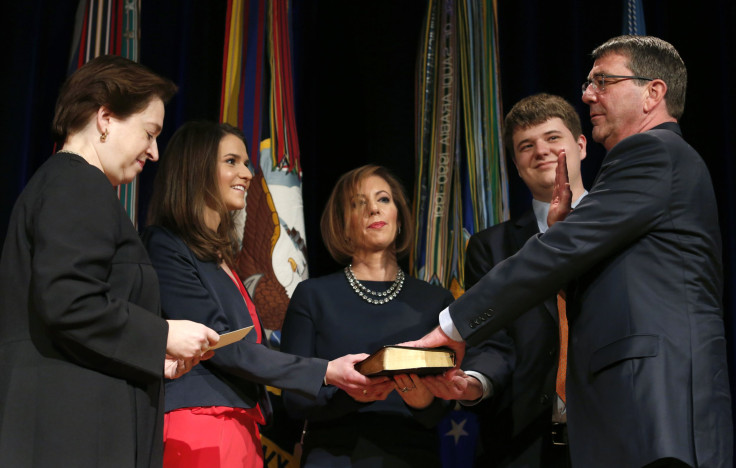 A Marine discharged for putting up a Bible verse in her work area is fighting to ensure that federal laws protecting freedom of religious expression are upheld in the military. Lance Cpl. Monifa J. Sterling sought an appeal Wednesday in the nation's highest military court after she was discharged for disrespecting a superior commissioned officer and four counts of disobeying a lawful order.
Sterling seeks to overturn the decision in the Court of Appeals for the Armed Forces. Her supporters include more than 40 members of Congress who filed an amicus brief. A previous appeal was denied last year by the Navy-Marine Corps Court of Criminal Appeals.
Sterling was reduced in rank after she was convicted in 2014 in a court-martial at Camp Lejeune, North Carolina. She is now ineligible for veterans benefits such as the G.I. Bill. She was also found guilty of refusing to wear the uniform ordered by her superior and refusing to come to work.
"The other charges aren't being challenged in this appeal. The only issue before the court is whether the military violated Lance Cpl. Sterling's right to religious freedom by discriminatorily forcing her to remove her scripture verses from her workspace," Daniel Blomberg, legal counsel for The Becket Fund, told Military.com.
Sterling was charged after she refused to take down a single Bible verse she used to decorate her cubicle in three locations. She later told the court she had posted them in a triangular shape to represent the Holy Trinity.
The message read, "No weapon formed against me shall prosper," and derives from Isaiah 54:17, which reads: "No weapon that is formed against you shall prosper." A staff sergeant who told her to take the statements down said her refusal to do so was "combative." After the staff sergeant took down the signs, Sterling put them back up the next day.
"This is a case of insubordination," Brian Keller, the attorney representing the federal government, told a five-judge panel Wednesday during the hearing. The judges are expected to weigh the arguments and release their decision later this year.
Sterling's case has been embraced by the First Liberty Institute, a conservative group that promotes religious freedoms. Mike Berry, Sterling's lead attorney, said her case should be overturned under the Religious Freedom Restoration Act, the 1993 federal law that protects freedom of religious expression.
"If you look at the legislative history of the law, Congress made it very clear that they intended this to apply to people in the military," Berry told the Washington Post. "And there's never been a court case to decide if that's true or not until now."
But because Sterling did not initially tell her supervisor that the signs were religious, lawyers for the government are arguing that trial judges should not be "blindsided by reversal of their trial rulings on ground of statutory defense never litigated before them at trial."
"She didn't even mention it was religious until her trial, which was six months later," attorney Bradley Girard of Americans United for Separation of Church and State told Military.com.
Judge Scott Stucky also questioned during the hearing whether it was appropriate to cite the use of religious freedom in the case. He noted that the military is supposed to be neutral in matters of religion, Stars and Stripes reported.
"Does throwing a cloak of religion on it excuse her from thumbing her nose at her supervisor?" he asked.
© Copyright IBTimes 2023. All rights reserved.
FOLLOW MORE IBT NEWS ON THE BELOW CHANNELS