Why Doesn't Jana Duggar Have A Boyfriend? Fans Sound Off After Joy's Wedding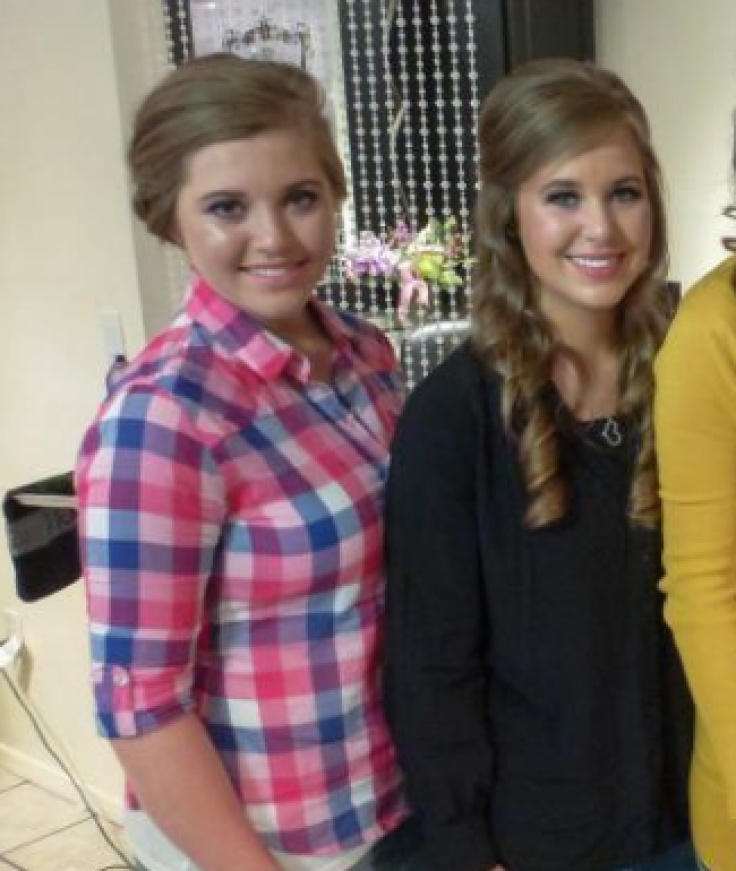 Jana Duggar is still very much single, a fact which has "Counting On" fans talking. Following Jana's 19-year-old sister Joy-Anna's wedding over Memorial Day weekend, fans of the 27-year-old reality star have been discussing her love life, or lack thereof, online.
Jana, the oldest daughter of Jim Bob and Michelle Duggar's 19 children, has watched four of her younger siblings get married in recent years. Her 22-year-old brother Joseph also just got engaged to girlfriend Kendra Caldwell. And while Jana can be seen happily smiling in a shot from Joy and Austin Forsyth's wedding weekend, her lack of an official courtship has fans talking.
"Jana is so beautiful! Is she not wanting to court (totally fine) or if she not finding anyone she likes?" one fan asked on the Duggar Family News Facebook page.
READ: Jana Duggar's Sad Nickname Revealed By Friends
"Part of me is happy that Jana remains single but then I remember all those younger siblings for whom she has to shoulder most of the responsibility and it's like she's trapped somehow," wrote another fan.
Since Joy's wedding, fans have shared wild predictions about why Jana has yet to officially date or marry. Some have speculated that Jim Bob and Michelle enjoy having Jana around to help them raise their younger children, while others have questioned if she suffers from an illness that keeps her close to home, an idea which has not been proven. Others have posted the eldest Duggar daughter is simply "smart" for waiting to get married.
Unlike many of her siblings, Jana did not make a video congratulating Joy and Austin on their wedding, which also raised some suspicion among TLC viewers. In a series of clips on the Duggar family's blog, Joy's siblings, including Jana's twin brother John-David Duggar, can be seen giving the newlywed couple their best wishes. "Look forward to watching ya'll's future here as you start a family of your own and have lots of nieces and nephews for us to play with," John-David says in one clip.
While it's unclear when and if Jana will settle down, Michelle has made it clear she's already thinking about her youngest daughter Josie's wedding day. On Sunday, Michelle posted a photo of her with Josie, 7, three of her other young daughters and granddaughter Mackynzie enjoying a tea party.
"Even the little girls got in on the wedding week fun with their own little tea party. Every minute with them is so precious. They grow up so fast!" she wrote. "Next thing I know sweet Josie will be grown and walking down the aisle, too. It happens so fast – sometimes too fast for this momma's heart!"
Jana has not spoken about her love life since Joy's wedding, but she did discuss her life plans in March with Crown Of Beauty. The business owner told the magazine she sometimes finds it hard to see her sisters get married but added that she hasn't been sitting around idly waiting to find "the one."
"I know how it feels to wait for 'Prince Charming' to come along. I'm still waiting. Waiting is not always easy," she said. "We need to be busy with where God has us and being content and joyfully serving Jesus there. My parents have always encouraged each of us to serve those around us... I've found that when I'm having a hard or discouraging day, I try to look for ways to bless or serve someone else. And in turn it usually blesses and encourages me."
READ: Anna Duggar Baby No. 5 Pregnancy Update
Jana has been linked to several men over the years, including NFL star Tim Tebow in 2014, but she was most recently thought to have found a boyfriend in family friend Jonathan Hartono. The dating rumors started after the Florida student was seen on an outing with Jim Bob and an insider told Radar Online that they were an item. Hartono shot down the reports on Instagram, writing, " No, not courting Jana haha God Bless y'all #stillsingle."
Friends of Jana's that run the family's unofficial blog also denied the reports. "A rumor that Jana Duggar is in a courtship with Jonathan Hartono, a foreign exchange student from Indonesia who has been close friends with the Duggars since he and his sister Jennifer met Jana and John-David [Duggar] on a mission trip seven years ago, has been circulating in the tabloids," wrote the Duggar Family Blog.
"Many of our readers have been asking if the rumor is true, so we wanted to inform you that it is not. Jonathan has confirmed that he is still single and not in a relationship."
© Copyright IBTimes 2022. All rights reserved.
FOLLOW MORE IBT NEWS ON THE BELOW CHANNELS