Why Jailbreak Your iPhone? 5 Reasons You Should Download Evasi0n And Jailbreak iOS 6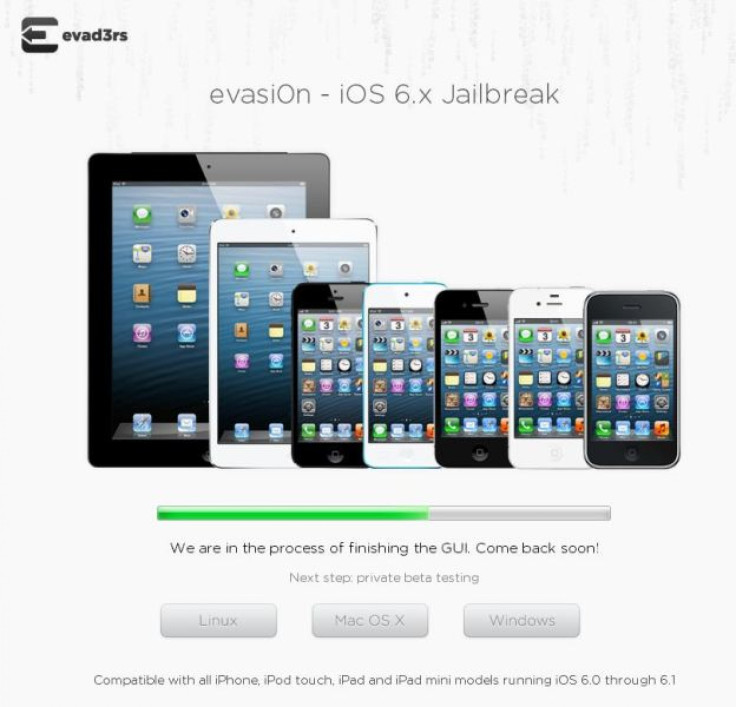 The iOS community waited five months for Apple's newest mobile operating system, iOS 6, to be jailbroken by developers. On Feb. 4, the group of developers, known as the Evad3rs team, released their jailbreak tool called Evasi0n, and the reaction has been stellar so far. Evasi0n has been downloaded more than 7 million times in just four days, implying that a large number of iOS users are not satisfied with Apple's standard operating system.
But why? There's nothing wrong with iOS per se; the updates to Siri, turn-by-turn navigation, integration with social networks like Facebook and Twitter and a more efficient iCloud make iOS 6 a must-download. On the other hand, longtime Apple users are disappointed with the incremental changes and lack of innovation between iOS 5 and iOS 6, which has those users clamoring to download Evasi0n.
But gripes aside, what makes jailbreaking so intriguing for these iOS users? Here are five reasons why many have already downloaded the Evasi0n jailbreak tool for their iOS 6 device:
Customization
Customizing your iOS device to your heart's content is one of the many reasons users jailbreak their devices. With a jailbroken iPhone, iPad or iPod Touch, users can change almost anything they want on Apple's mobile operating system.
A jailbroken iOS device adds a number of customizable tweaks and fixes that can help you personalize your device while adding efficiency. Unhappy with Apple's mundane app switcher? You can download Auxo, a tool that displays live app tiles instead of just the app's logo. Springtomize 2 allows users to hide app labels, add more apps to the dock, hide the carrier's name in the status bar and more. For those users unhappy with Apple's text-messaging service, you can download biteSMS, which allows users to quickly reply to a text or iMessage without actually leaving the active app. And for those users who love using gestures on iOS, a tweak called Zephyr allows users to add new swiping gestures to quickly switch between apps and easily open the app switcher.
'Free' Tethering
Tethering is a little-known function that turns your iPhone, iPod Touch or iPad into a wireless modem that provides Internet access to other Wi-Fi-enabled devices, like a computer or a different mobile device. Tethering is actually allowed on regular devices, but both AT&T and Verizon charge customers an additional $20 per month for the feature. When customers already pay through the teeth for their mobile and data plans through their carrier, many users don't want to pay an extra $20 a month.
On a jailbroken device, you can tether your phone for free. With apps like MyWi, you don't need to use a carrier hotspot; you can just use your own wireless network. On MyWi in particular, the iPhone's data can be shared through Wi-Fi, Bluetooth or a direct USB connection.
Tethering should be beneficial for users who have an unlimited data plan and can afford to use as much data on their iDevice without having additional charges. However, Cult of Mac warns that carriers can catch onto free tethering in some cases and may start charging you for the service.
Downloading Unapproved Apps
All apps must be submitted to Apple for approval before entering the App Store, but the company doesn't allow apps that change "the native user interface elements or behavior of Mac OS X," which means many of the tweaks and fixes available for customizing the iOS experience aren't available in the App Store. As a solution, Cydia, started by Jay Freeman, serves as the unofficial "App Store" for jailbroken devices, allowing users to download tweaks, fixes and, occasionally, unofficial apps that were rejected by Apple and the App Store. While Cydia is more for tweaks and fixes -- Freeman said in a recent interview with the IBTimes that he did not like adding previously rejected apps -- third-party apps are easy to find on Google.
It's Getting Safer
Besides the fact that jailbreaking is frowned upon by Apple and jailbreaking your tablet is technically illegal, there aren't many repercussions to jailbreaking your iOS device. As we can see from the statistics, the fact that the legality of jailbreaking is under consideration doesn't really matter to those users who have downloaded Evasi0n.
Yes, there is a possibility that jailbreaking can "brick" your phone, rendering it useless. However, as Apple adds more innovative security features to lengthen the jailbreaking process, jailbreak developers have matured as well, working to find and fix the causes of "bricking" your phone, which have virtually been eliminated since then. As a reminder: Make sure you save all of your data before starting the jailbreaking process, so you have a backup either in iCloud or your hard drive.
No Warrantee, No Problem
Similarly, there are solutions for those who are apprehensive to jailbreak their phones because it voids the AppleCare warranty. Forbes writes that third-party warranties, almost identical to Apple Care Plus, allow users to insure jailbroken iOS devices. SquareTrade, a company that sells protection plans for various products, including smartphones, tablets and laptops, apparently doesn't mind if you jailbreak your phone. In an interview with GigaOm, VP of Strategy Vince Tseng said, "It makes no difference to SquareTrade what users do with the software. ... If a device hasn't been played around with on the inside, we don't have a problem with that."
Voiding your AppleCare warranty was one of the biggest risks the average user took when jailbreaking an iOS device, but with that conundrum solved, very few obstacles remain for Apple users who are thinking about jailbreaking.
FOR FREE to continue reading
✔️ Unlock the full content of International Business Times UK for free
offer available for a limited time only
✔️ Easily manage your Newsletters subscriptions and save your favourite articles
✔️ No payment method required
Already have an account?
Log in
© Copyright IBTimes 2023. All rights reserved.