Why Meghan Markle, Kate Middleton Never Wear Orange
Kate Middleton and Meghan Markle avoid wearing orange because it apparently doesn't photograph well.
It was reported earlier that the Duchess of Cambridge has never been spotted in orange outfits. Latifa Yedroudj, a journalist for Express, revealed that the Duchess of Sussex also avoids the same color. In fact, Markle has been seen in bright yellow, olive green and even purple, but not orange.
The publication noted that there's no royal rule preventing Middleton and Markle from wearing vibrant hues like orange. However, they have reportedly distanced themselves from the shade because it doesn't photograph well compared to other colors.
Daisy Schubert, a style expert, said that Middleton doesn't wear orange because it doesn't suit her natural features. "I believe that Kate is a 'winter' colour type," Schubert explained. "If my suspicion is correct, she would look dreadful in orange and does well to avoid it."
"Having a cool, blue undertone means that the orange colour pigments would clash with her natural features. You'd only see the dress, not her!" the expert continued.
Color analyst Gabriella Winters also said she believes the same thing. According to her, orange is not flattering on Prince William's wife.
"I think the answer lies in DNA and Kate's awareness of how certain colours [are] less flattering compared to other colours," Winters told Hello!
"People absorb and reflect the same colours differently depending on their unique biological makeup. When a colour is placed adjacent to your face, it will reflect its wavelength onto you," she continued.
Winters proved her point by editing one of Middleton's photos and changing her clothing into orange. "If you look closely, you can see a visible yellowish cast on Kate's skin when wearing that orange-red coat. This is essentially scattered orange light around her face because she could only partially absorb the temperature of this specific colour. The yellowish cast is not there when she is wearing colours that are cooler toned though," she explained.
In related news, a photo of Middleton wearing shorts recently resurfaced. The snap was taken when she attended a roller disco in London in September 2008. Since Middleton joined the royal family, she was never seen wearing shorts again.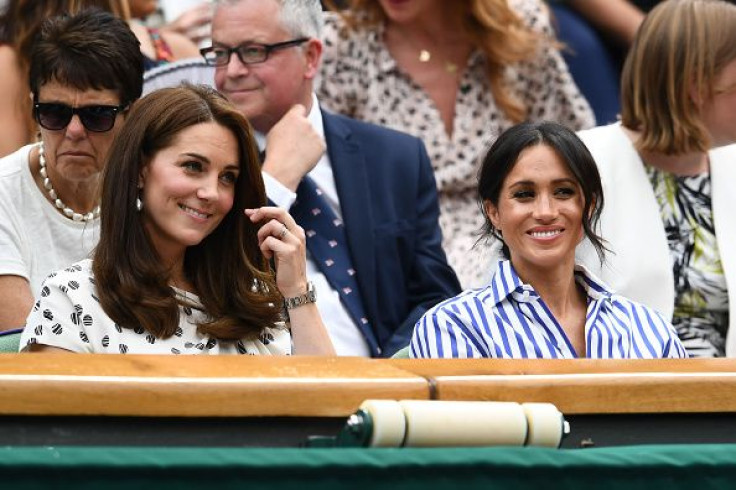 © Copyright IBTimes 2022. All rights reserved.
FOLLOW MORE IBT NEWS ON THE BELOW CHANNELS