Why Turkey is Coming to Somalia's Aid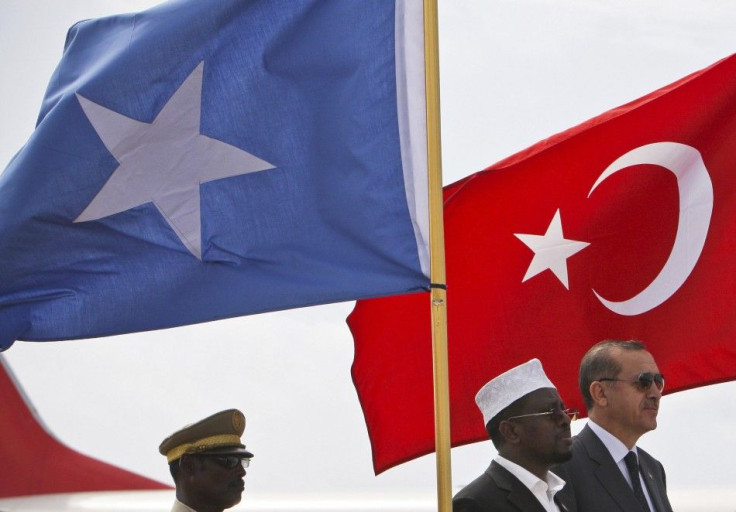 Somalia was home to the world's worst humanitarian crisis for the second half of 2011, and while the famine has been officially declared over, drought, militancy and instability still ravage the East African country.
Tens of thousands of people died and hundreds of thousands displaced as a result of the crisis in the Horn of Africa last year. Millions more are still in need of immediate assistance, but due an almost total lack of political infrastructure and authority in Somalia, most nations in the world are either unable or unwilling to provide more than the occasional aid package.
But Turkey has moved in the opposite direction, paying more attention to Somalia than any other nation in the world.
Turkey has given more than $350 million in humanitarian assistance in the past year, a percentage of it donated by Turskih civilians. The country has also re-opened its embassy in Mogadishu, assigned a new ambassador, built refugee camps and, on Tuesday, began the first regular commercial flights to the Somali capital in more than 20 years.
Every Western country has ignored Somalia, said Joshua Walker, the head of the Turkey program at the German Marshal Fund of the United States.
Turkey has said 'our intentions are peaceful,' and it wants to make Somalia a foreign policy crown jewel for what can be accomplished in the world.
Although Turkey has less to offer Somalia financially than a country like the United States can, it could be better positioned to help.
Because this type of humanitarian assistance is a relatively new endeavor for the country, Turkey can bypass the bureaucratic red tape associated with Western governments and inject money directly into specific projects, including the construction of schools and hospitals.
The United States, on the other hand, was notably unable to deliver aid to parts of Somalia most affected by famine because of the proximity of al-Shabab, an al-Qaeda-linked rebel group that is officially an enemy of America.
Additionally, Turkish Prime Minister Recep Tayyip Erdogan has made Somalia his personal priority, so the country's top businessmen and politicians have also pledged their support, if only to get into the Prime Minister's good graces.
New Ottoman Empire?
In the past few years, Turkey has spread its influence across the Middle East and Africa. Turkish businesses are investing in infrastructure projects in Iraq and expanding into African countries like Cameroon, South Africa and Congo, while the Turkish political leadership is making friends in Egypt and China.
Before the current crisis, Turkey was expanding its relationship with Syria. But after Bashar al-Assad began attacking protestors in his country, Turkey quickly switched sides and accepted thousands of Syrian refugees and led the campaign to end the violence.
Turkey has completed its adjustment to the post-Cold War era, said Carter Findley, a professor of Islamic civilization at the Ohio State University's Mershon Center for International Security Studies. It's developed a fully globalized foreign policy.
But is Somalia a different story?
As in Iraq, there is believed to be latent economic possibilities in the Horn of Africa. Somalia is thought to have huge oil fields under the autonomous region of Puntland, which is practically ungoverned. Hypothetically, Turkey could be in a better position to extract wealth there than the Somali government.
Additionally, the current government in Somalia is preparing to transition into an entirely new political entity by the summer, with hopes of finally uniting the country. With a foot already in the door, that would mean that Turkey would be first in line for new business and diplomatic opportunities.
Late last month, Turkish Foreign Minister Ahmet Davuto?lu said that it would provide military assistance to Somalia, an indication that political stability is something Turkey wants to see happen there.
However, Turkey has denied that it's trying to gain influence with a new government, adding that all assistance and aid is simply to establish peace in a country which shares the heritage of the Ottoman Empire, according to Today's Zaman.
Turkey extends aid to Somalia as a humanitarian obligation, not as a result of strategic interests, Davuto?lu said when speaking about Somalia's security troubles.
With Erdogan continuing to push his country and other nations to pay attention to Somalia, Davuto?lu claim seems believable.
Is Turkey going to get a return on investment? Probably not, Walker said. But they can showcase their humanitarian prowess. Turkey, which was receiving aid a decades years ago, is finally able to give and they can pick and choose who that goes to.
It's a great thing for the world community if Turkey is willing to 'adopt' Somalia, said Findley. There is nobody else who is going to do that.
© Copyright IBTimes 2023. All rights reserved.