Why Won't Nicki Minaj Get Involved In Meek Mill's Beefs? 'Anaconda' Rapper Reveals Real Reason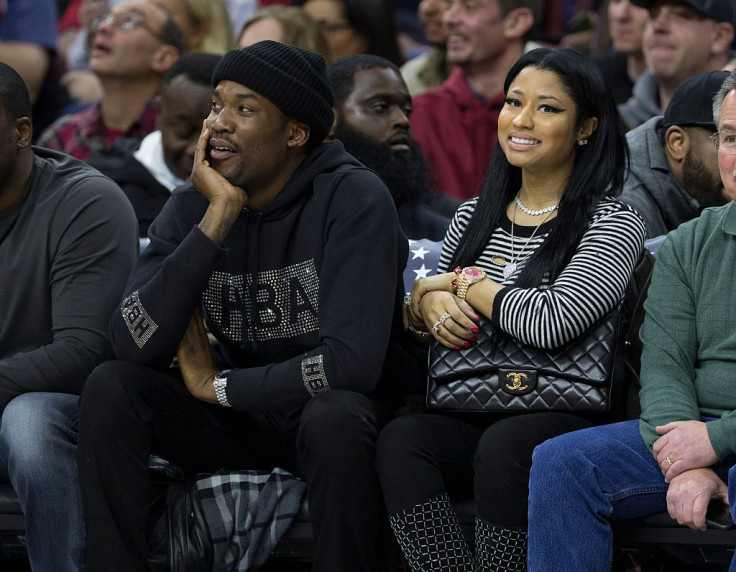 Meek Mill has been involved in a few beefs over the past year including feuds with The Game, Drake and Beanie Sigel. But with a rapper girlfriend in his corner, many have wondered why Nicki Minaj hasn't stepped up to defend Meek Mill on his songs.
During a recent interview with Hot 97, Minaj revealed her reasons for not getting involved in Meek's feuds. According to Nicki, Meek is the "boss of his stuff" and she doesn't want to "step in too much."
"As a man and as a rapper and as an artist, he runs his s--- the way I run my s---. He's the boss of his stuff. I don't really want to step in too much, because it's not my place," said Minaj. "Behind the scenes, I'm such a rapper that I'm always critiquing everything but he gotta live his own life at a certain point in terms of his career choices."
Minaj also said Meek's ongoing feuds with other rappers are just fuel for Meek to release more music. According to the "Pinkprint" performer, "great music changes everything."
"If n----- got your name in they mouth for a year or two, thank them, because if you come out with great music after all of that then it's nothing, none of that matters," she said. "Social media has given so much power to irrelevant s--- because the masses now have a voice and if you're not careful you will allow them to shape what you do."
As for Meek constantly being in the headlines, Nicki believes in an old saying. "I do not believe there's any such thing as negative publicity, and that's what I tell him," she said.
© Copyright IBTimes 2023. All rights reserved.