Why Your Next Trip To Florida May Come With COVID Travel Restrictions
That trip to Disney World may get postponed if the Biden Administration implements COVID travel restrictions that it is considering for the state of Florida.
According to a report by the Miami Herald, Biden's team is looking to reduce the spread of the virus, especially as new strains of the coronavirus crop up across the nation, and Florida is on their radar for possible domestic travel restrictions.
While it is unclear if the travel mandate would be ordered or what it would entail, the CDC issued a statement obtained by WTVJ, an NBC affiliate out of Miramar, Florida, saying that it was considering options to further mitigate the spread of the virus.
"As part of our close monitoring of the pandemic and in particular the emerging variants, we will continue to review public health options for containing and mitigating spread of the virus. CDC will also continue to work across government on recommendations for the travel space, and no decisions have been made."
Restrictions on international travel have already been issued that require anyone entering the U.S. to produce a negative coronavirus test result.
Florida Gov. Ron DeSantis, however, is calling out the White House for even considering the possibility, citing that the state's COVID cases have been declining since December.
The CDC has confirmed 343 cases of the U.K. variant of the coronavirus as of Wednesday, which is said to spread faster and be more contagious than COVID-19, the Orlando Sentinel reported.
DeSantis said at a news conference on Thursday that the restrictions would be "unconstitutional and "unjust."
He continued by saying, "Any attempt to restrict or lock down Florida by the federal government would be an attack on our state done purely for political purposes."
DeSantis has issued his own travel restriction during the pandemic, requiring travelers from New York, New Jersey, and Connecticut to self-isolate upon entering the state.
The Florida Restaurant and Lodging Association supported DeSantis' sentiments, issuing a statement from President Carol Dover that said, "To restrict individuals and their families from coming to Florida would absolutely kill the economic progress we have made in recent months. As more vaccines are distributed, we are confident that even more people will want to travel to Florida, and we are more than ready and eager to welcome them."
Visit Orlando announced an ad campaign to promote travel to Central Florida earlier this week.
Florida Sen. Marco Rubio also opposes the travel restrictions, writing a letter obtained by WTVJ to Biden that read in part, " If you are concerned about the coronavirus spread in Florida, I urge you to fast-track additional vaccines to the state instead of attempting to cripple our economy."
Florida had administered 2,933,920 doses of the COVID vaccine as of Tuesday, according to the Orlando Sentinel.
A spokesperson for the White House told WTVJ, "To be clear, there have been no decisions made around additional public health measures for domestic travel safety. The administration is continuing to discuss recommendations across the travel space."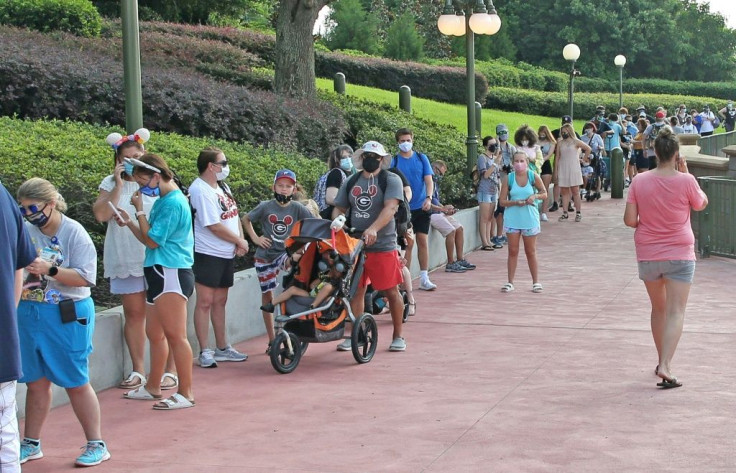 © Copyright IBTimes 2022. All rights reserved.
FOLLOW MORE IBT NEWS ON THE BELOW CHANNELS