Will Donald Trump Torture Terrorists? President May Reopen CIA Black Site Prisons With Executive Order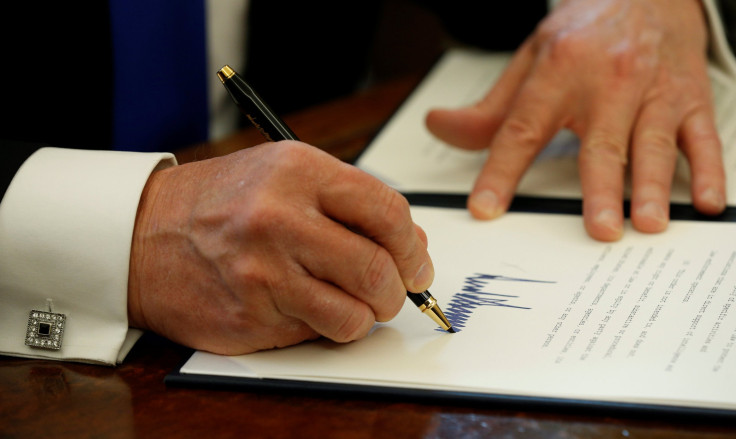 Among the latest in a sweeping number of executive orders during his first five days in office, President Donald Trump is reportedly prepping a new order that could allow the Central Intelligence Agency to reopen "black site" prisons overseas that were used to house, interrogate and torture suspected terrorists in the advent of the War on Terror, The New York Times reported Wednesday.
A three-page draft of the order is titled "Detention and Interrogation of Enemy Combatants" and could also scale back some of the restrictions President Barack Obama put in place following the creation of the overseas prisons under George W. Bush's Administration in the years following the Sept. 11, 2001, terrorist attacks in New York and Washington, D.C., according to a copy of the draft obtained by the Times.
If Trump goes forward with the order, the latest such after his reported plan to order a temporary ban on immigration from predominately Muslim countries and the execution of another for the continued plans for the Keystone and Dakota Access oil pipelines Tuesday, it would instruct the Department of Defense to continue using the Guantanamo Bay prison in Cuba for detaining suspected terrorists and allow the Pentagon to send new suspects to the site, including those captured and suspected to be members of the Islamic State terror group.
After learning of Trump's perceived intentions, Senator John McCain (R-AZ), who serves as Chairman of the Senate Armed Services Committee and was himself a prisoner of war during the Vietnam War, issued a statement questioning whether Trump could go forward with the order.
"The President can sign whatever executive orders he likes. But the law is the law. We are not bringing back torture in the United States of America," McCain said in a statement released Wednesday.
Previously, Obama, who proved unsuccessful in closing Guantanamo during his eight years in office, had stopped sending suspects to the prison and had allowed the International Committee of the Red Cross access to suspects in American custody. Such access would be denied under Trump's new order, the Times reported.
While on the campaign trail, eradicating and preventing terrorism was a common stump speech talking point for Trump and last February he praised the use of torture, like acts of waterboarding.
"Don't tell me it doesn't work — torture works," Trump said at a retirement community in Bluffton, South Carolina, according to the Washington Post. "Half these guys [say]: 'Torture doesn't work.' Believe me, it works."
Several months before those remarks, Trump also said at a rally in Columbus, Ohio: "If it doesn't work, they deserve it anyway, for what they're doing."
© Copyright IBTimes 2023. All rights reserved.
FOLLOW MORE IBT NEWS ON THE BELOW CHANNELS