Wizards Shopping Bradley Beal; Four Destinations That May Trade For Him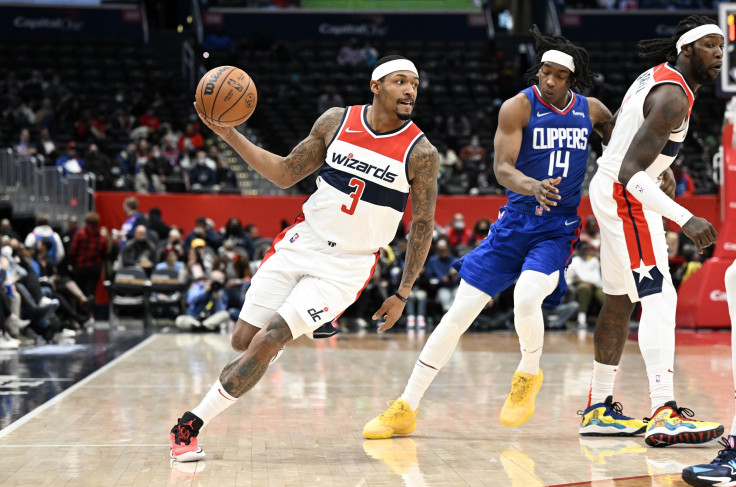 KEY POINTS
The Bradley Beal era in Washington is quickly coming to a close
The Miami Heat and Boston Celtics have stellar cases to make for a Beal trade
Other teams that could go after Beal are the New York Knicks and Los Angeles Lakers
The Washington Wizards have decided to fully move on from the last vestiges of the John Wall era as they have reportedly put up Bradley Beal for sale on the trade market.
The three-time NBA All-Star has struggled to remain healthy over the past three seasons after only playing in a total of 150 games out of a possible 246 and Beal's agent, Mark Bartelstein of Priority Sports, is keeping close contact with Wizards president Michael Winger according to sources.
It should be noted that Beal is the only player in the league with a no-trade clause in his contract worth $251.01 million over the next five years that he signed ahead of this past season.
Him having about $207.74 million left for the next four years, including this upcoming season and his player option worth $57.13 million in the 2026-27 season, makes for an interesting prospect for front offices interested in his services.
Below are some franchises that could trade for the offense-oriented shooting guard facilitated through Fanspo's trade machine.
Miami Heat
Coming off a painful NBA Finals loss at the hands of the Denver Nuggets, the Miami Heat still have a lot to be proud of their run last season after stringing together one of the best postseason performances in recent memory.
However, with how Heat president Pat Riley operates, anything less than a title can be considered a failure. That may push them to go after Beal–a few months after they supposedly went for Kyrie Irving ahead of the February trade deadline.
Trading for Beal will be a little bit more complicated with the Heat being relatively cash-strapped after committing a big chunk of their salary cap to Jimmy Butler, Bam Adebayo and Tyler Herro.
Should they decide to trade for the former Florida Gator, the Heat will likely have to let go of Herro plus Kyle Lowry for salary reasons while including a few picks to entice the front office to send the guard their way.
Boston Celtics
Another disappointing season for the Boston Celtics has them looking elsewhere for help after being ousted by the Heat in seven games in the Eastern Conference Finals and adding Beal might help get them over the hump.
That would allow Beal to reunite with Team USA teammate Jayson Tatum in a more favorable situation as the Celtics will be adding a proven flamethrower on offense while being able to provide somewhat of a defensive presence.
In that same vein, the Celtics have Jaylen Brown's upcoming contract issues to deal with and because of his relatively better defensive presence, it may cause Boston's front office to hold off.
A potential trade for Beal will have them sending Brown and Danilo Gallinari while also adding their 2024 first-rounder plus two second-round picks to sweeten the deal.
New York Knicks
The New York Knicks had their most successful season since the days of Carmelo Anthony, but they lacked that proven scorer to contend with the Heat's unwavering defense, which led to them falling in six games in the second round.
Adding Beal to the equation will have them better offensively while also allowing them to remain competitive on the defensive end thanks to the presence of Mitchell Robinson, Julius Randle and Josh Hart.
For a Beal trade to work, the Knicks have a bevy of draft picks to attach and will likely have to sacrifice RJ Barrett's future potential plus Evan Fournier's massive contract to win now.
Los Angeles Lakers
Beal and the Los Angeles Lakers will forever be linked thanks to LeBron James' quickly closing championship window after nearly making the NBA Finals this past season but instead ran into a sweep at the hands of the Nuggets in the Western Conference Finals.
Bringing Beal to Hollywood will be a bit more of a challenge after they committed their cap space to co-stars James and Anthony Davis, forcing general manager Rob Pelinka to be creative.
They can offer the Wizards a sign-and-trade involving Austin Reaves or D'Angelo Russell which would put Washington in a bind as they also have Kristaps Porzingis and Kyle Kuzma to pay in the coming season.
Factor in that they only have the No. 17 pick in this year's draft, this does bring up the question of how much the Lakers can flex their creative muscles which may lead to a third or even fourth team being roped in to help facilitate the deal.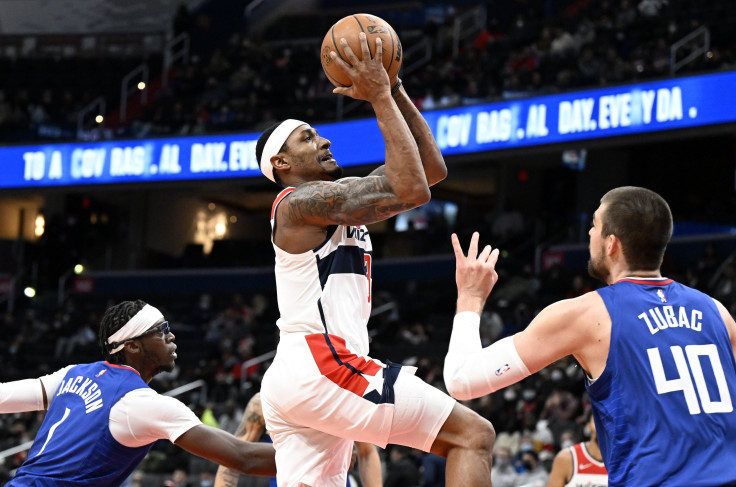 © Copyright IBTimes 2023. All rights reserved.